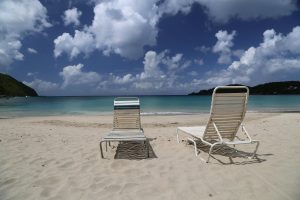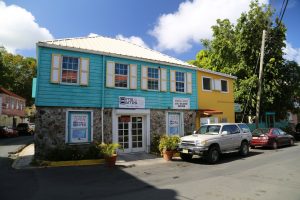 I hopped on the ferry this morning from Charlotte Amalie in the US Virgin Islands and in an hour I was going through customs at Road Town in the British Virgin Islands on the lovely mountainous island of Tortola. Spotting a huge Celebrity Cruise ship at dock I thought Road Town would be overwhelmed with passengers but this was not the case. Road Town is the largest town on the entire island – the total population of Tortola is only about 24,000 of which over 9,000 live in Road Town. Much of the town has been built onto what was previously the bay – with landfill.
Making a beeline for the beach – I headed to Cane Garden Bay – a number of restaurants and establishments serving alcohol lined the edge of the beach. I headed down to the far end of the beach where I was the only one along with my bottle of cider – and enjoyed crystal clear waters and no other swimmers.
The last active rum distillery on the island is located here (Callwood Distillery). It dates back to the mid 1700's and has been owned by the same family since the late 1800's.
Looking to find even more privacy I headed across the mountain to the neighboring Brewers Bay. Noticeably absent were bars and restaurants – one small set of cottages and a restaurant on one side of the bay was all. For someone looking to get away from it all, this little bay is a fine choice!
It is the start of the "#Caribbean season", when the waning warmer weeks of the Indian summer months quickly turn into Autumn chill, grey skies and rain or snow for much of the Northern Hemisphere. And those looking to escape the 'feel' of winter (especially from Canada and parts of the USA) find their sunshine and antidote to winter's depression in the waters of the some thirty island nations and territories in this part of the world.