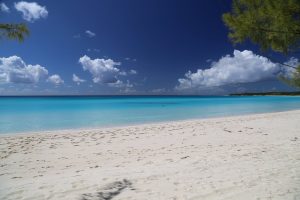 There is a private island where the wind blows in the beach pines and the gentle surf laps on the silky white sand. A place that is much loved for moments that can be counted as too short and then left to it's natural state just as quickly. This place is Half Moon Cay in the Bahamas, a private island. Holland America Line has a 99 year lease from the Bahama government to manage the island and their ships exclusively anchor off shore and passengers are tendered in via smaller boats.
The island is small enough that one can walk it, or stick with the crowds but large enough to easily find sources of solitude should one want some private time.
I've been to many tropical islands around the world – but this place is special because of the stunning surrounding waters.
And Holland America Line has created a number of memorable water activities to get your adrenaline flowing. One of the activities offered by the cruise ship is riding a horse in the surf. There is something invigorating simply watching a herd of horses surging and swimming through the clear waters. Better yet is to be on the back of one of these animals to experience this rare activity for yourself.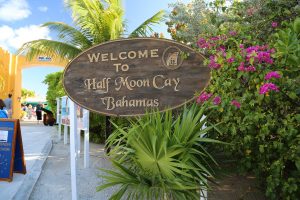 And for those wanting some speed the Aqua Trax vehicles are highly recommended. No prior experience is needed – simply sit on the saddle, start it up and pull back on the throttle to start jetting through the water. A natural lagoon is perfect for racing these water vehicles – following a guide who creates an S pattern through the water.
New riders may be tentative at first – but one quickly discovers these vehicles can turn at higher speeds quite smoothly (especially if the water is calm). Then if the ocean is not to rough you will race out of the lagoon into the choppy swell – needing to slow down due to the surf. But you will soon discover it is fun to race over the crest of a wave, catch some air and slap down on the other side, and then repeat again … many times. You will be bouncing around more than a bobber in a happy baby's bathwater!
And there are plenty of snorkeling and swimming opportunities on parts of the island with a plethora of underwater life just waiting for the visitor.
Food comes ashore. Don't worry about going hungry on this island when you are with Royal Holland America. A sizable covered cooking area soon wafts smoke from the grill – chicken, hamburgers and hot-dogs. Salads, fruit and plenty of drink of course awaits you.
As you so very reluctantly walk back to the tender ship to return aboard – you may see a bar and beach and a sign that somehow reads the thoughts of nearly every passenger, "I wish I could stay here forever". Exposed to this island for a tantalizingly short time, once you are back on board in your stateroom, the recent memories wash over you like the water on the edge of the beach and you begin wondering if it was just a dream.
It most certainly was not. I already need to go back.
For more information about this particular cruise, click here.
Holland America Line is also offering a chance to win a 7-Day cruise for two to either Europe, Caribbean, Alaska or Canada & New England! Enter the Choose Your Cruise" Sweepstakes here: