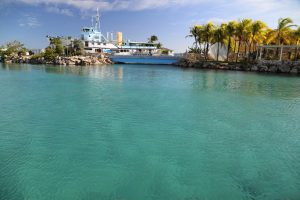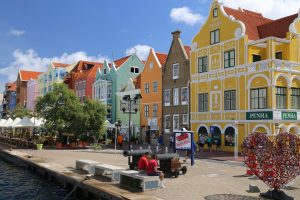 Our introduction to Curaçao wasn't an awe inspiring inspirational place of stunning natural beauty (for instance a secluded white sand beach framed by a crescent shoreline and aquamarine waters). Rather it was in a rough part of Willemstad, the capital city.
A friend and I found ourselves wandering around the dark streets late at night in search of food in a neighborhood near our hostel. We passed walls topped with razor sharp barbed wire – long menacing shards of steel that make regular barb wire look like something you would be happy to wrap your hands around. We kept moving. Quickly.
We spotted an iconic symbol glowing in the darkness – a friendly reminder of home but an extremely undesirable restaurant for both of us – KFC (apologies to all who are big fans of their fried deliciousness). The door was locked and it looked like we would go to bed hungry this evening. But a security guard peered through the glass window – judged we were there to eat and not rob the establishment and quickly let us in and then just as quickly locked the door.
Our time on the island only improved from here!
Curacao is one of the ABC Islands along with Aruba and Bonaire. Despite being so close to each other each island is remarkably different. Aruba has experienced dramatic growth and is now home to numerous resorts. It is a major cruise stop. The capital city of Oranjestad experiences bad traffic at times (on several trips to this island we've spent far to long trying to get into the city in both directions). It is a very popular destination for those from the United States.
Bonaire is the least populated and developed of the three islands. It is a very dry island with lots of cacti growing. The main town of Kralendijk is easily navigable and is spread along the picturesque waterfront. Very walkable. And Bonaire is extremely popular with divers with many marked dive sites located off its shores.
But back to Curaçao. I only have three countries/territories left to visit in the Caribbean (Haiti, Cuba and Montserrat); I consider Curacao to be among my top three favorite islands in the Caribbean along with St Barts and Dominica). Curacao delivers a nice mix of both urban and nature experiences. We explored the island over several days – we could have used more time. Here are a few highlights:

JAN THIEL
Despite the perceived close distance to the popular Samba Beach, there is no direct road connecting the two beach communities. One can hike between both on the beach (this will take 40 minutes). Since the daylight was starting to fade, and with no car and limited bus service in the evening between the two areas, we opted to hitch hike from Samba Beach. After a few minutes a kind young soul originally from Amsterdam stopped by to give us a ride. She dropped us off at the Papagayo Beach Club where we wandered down to the sandy shores.
A beautiful infinity pool is located above the beach with mesmerizing reflections overlooking the ocean. Zest Beach Cafe is located next to the infinity pool – where food is served to guests lounging on beach chairs under cabanas. We opted for a picnic table and soon ordered several tasty cocktails and a blackened tuna (which we ordered basically raw). Great place to watch the sunset and chill on the sand for a few hours.
MAMBO BEACH
Easy to get to from Willemstad if you have a car – almost as easy if you don't – a number of public vans regularly transport people between the two areas. This wildly popular hangout stretches out for some distance – often full of beach lounge chairs, umbrellas and sun worshipers. A sizable swimming area is protected from the open ocean by a rock wall. Several restaurants and bars are located on or next to the beach as well as massage service above the sand.
Mambo Beach Boulevard is a series of beach related shops and restaurants located on an upper and lower level directly next to the beach. Prices tend to be rather expensive but there is a good selection of beach ware and related clothing.
Chill Beach Bar & Grill is worth noting – located directly on the beach one cannot miss its beckoning presence because of all the colorful wooden signs decorating it's exterior; also noteworthy for the hammocks hanging between palm trees – offering up the quintessential Caribbean bar experience!
A canal featuring stunning aquamarine waters leads from the ocean inland on the southern part of Mambo Beach. Hemingway Restaurant & Bar offers excellent seating outdoors, overlooking this canal as boats make their way inland. Great spot to throw back a few cold drinks but not necessarily their food.
And the ever popular Curacao Sea Aquarium is located within a short distance of Mambo Beach.
SABANA WESTPUNT
Shete Boka National Park is only about a 6 minute drive from Sabana Westpunt. Entrance is charged per person and includes admission to several natural attractions including a natural stone bridge, a blow hole and a number of scenic rocky overlooks. Sea turtles seasonally lay their eggs on several of the beaches. A number of hiking trails meander through the park.
Worth stopping for food (on the edge of town) is the Caribbean Restaurant Landhuis Misje (looks like it is a someone's home). They have established themselves as the go to higher end restaurant in town. Seating is limited and is intimate; the food is worth the stop, especially the fish tacos. Excellent drinks as well. Very clean kitchen. Friendly staff.
Most people come to Sabana Westpunt for the diving or the small rocky/sand beaches. The northernmost road on the island eventually becomes dirt for a short distance and leads to the fairly small Watamula Hole. This natural hole is located in the very rocky shoreline – don't stand to close less you fall into the turbulent waters.
Playa Grandi is a tiny rocky beach (often a fruit juice vendor will be on site) with a small wooden pier. Nice because there are usually not a lot of people here. Playa Kalki is a sizable sandy beach located next to the Kura Hulanda resort and a dive center.
Grote Knip is probably the most popular beach in the region; reclining beach chairs are available for rent and often there are a number of tourists lounging or swimming in the beautiful waters. The beach is accessible via a short hike down steps – a juice stand is located next to the parking lot. The much quieter and smaller Klein Knip is located just south of Grote Knip; this is an excellent place to go swimming and watch the sunset.
WILLEMSTAD
Parts of this city are among the most visually charming and inviting of any city in the Caribbean. The view across St Anna Bay at the colorful collection of Dutch styled buildings is iconic. A short floating bridge (for pedestrians) connects the Otrobanda part of the city with the Punda neighborhood. Or during the day hop on the free ferry that crosses over this short 'canal'. A strip of outdoor restaurant seating is located overlooking the Bay on the Punda side – great place to see and be seen and enjoy the charm of this part of the city.
The old town is best explored on foot taking in some of the oldest buildings which date back to the 1600 and 1700's.
Floating Market offers a diverse selection of fruits and vegetables as well as some seafood. Much of the produce is from Venezuela and Columbia.
Plasa Bien (Food Market) – should be on any culinary visitors map. A variety of vendors housed under one roof serve a number of foods (all cooked on site) ranging from cow tongue to goat leg. Attracts travelers rather then tourists – especially visitors who sit down and eat rather then just walking through.
Ronde Market (round market) is appropriately named as numerous vendors are located in a circular pattern around the covered semi open space of the round building. One enters and soon loses track of their location as they make their way in a clockwise or counterclock wise direction. The selection of products here is impressive from medicinal ointments to souvenirs. It resembles a flea market.
Several cool museums in town are the Postal Museum (located inside a building that dates from 1693), the Curaçao Maritime Museum and the Tele Museum (about local telecommunications on the island).
Fort Amsterdam was built in 1634; you can't miss it when you visit Willemstad – it is a collection of yellow colored buildings. A cannonball was fired into the church on site in 1804 – it remains embedded inside one of the church's walls. Like everything in the old part of Willemstad – Fort Amsterdam is within a short walk of other attractions.
Supreme Bar, World's Best Mojito – this tiny bar is not shy about advertising the worlds best mojito. Arguably, we say but an argument we are happy to get into. For once when a business makes a bold statement such as this it is nice their product holds up to the hype. Having tasted mojitos around the world I tend to agree with their assessment of their own mixology prowess. A beautiful balance of sugar, flavor, mint, plenty of alcohol and lots of lime that you chew on as you swallow. And a live band banging out Caribbean tunes only adds to the ambiance of a stop here. Do your drinking by the late morning otherwise with limited seating this bar tends to fill up quickly.
Another do not miss is the Irie Tours hop-on hop-off party bus; when it passes by you, you certainly won't miss seeing or hearing it. At night the interior is lit up by what looks like flashing strobe lights with people screaming while dancing. At least that was the impression we got the several times we passed this nightlife dynamo.