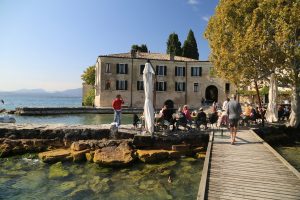 One of the advantages of living in Verona (besides the obvious history and being a picturesque town) is the fact that it is located fairly close to the mountains.
We headed out this morning (I would say early but after a late night of walking the streets of Verona we didn't rise until many hours after sunrise)! I had heard about the charms of Lake Garda for a number of years (more frequently now that my brother is living in the area). Lake Como (north of Milano) gets all the press but Lake Garda is equally amazing. We drove over one of the passes and dropped down the steep mountains approaching the lake through small villages perched on the edges of the hillsides. I can only imagine how beautiful this place would be on a warm clear summer's day.
One of the highlights of any trip to Garda is to visit one of the many places serving Gelato. We took full advantage of this in the charming lakeside town of Malcesine.
We ended our day at a local supermarket and when one of the gentleman helping us behind the deli counter heard we were from California he perked right up and had a smile a mile wide! He wanted to know all about California – it is his dream to visit the state; he kept shaking our hands and enthusiastically saying, "I love California!"
Our friend and Napa Valley wine maker Emil Tedeschi loves cooking – so he is treating us to Napa/Italian style cuisine each evening. Unfortunately his Italian is basic at best (ie he keeps saying Gracias as thank you instead of Grazie!) — so we are relying on my brother who speaks conversational Italian.