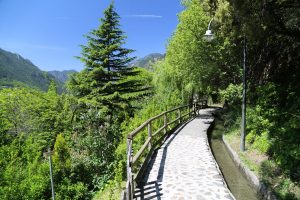 We stood on the rocky outcrop above the tiny parking lot next to the consul generals office in old Andorra la Vella and heard the distinctive sound of a rooster crowing in the distance. The shrill came from across the narrow valley high up on the steep hillsides. It echoed in clear contrast to the continuous low thrum of the city.
We followed the bird's call until we were soon climbing narrow stone walkways leaving us high above the valley floor – among terraced gardens perched precariously on top of ancient stone walls.
The dramatic difference in feel between the Gucci type shops minutes away and the site of an old farmer in overalls hoeing his small plot of land is quite remarkable.
We soon discovered the narrow stone Cami de la Curruba accompanied by fast flowing cold water contained in a shallow channel next to the path. Our spirits soared as we slowly walked this path – fueled by the warm weather, the blue skies, the cold water and the uniquely sublime views; a combination of picturesque mountains and the long valley below.
We deeply absorbed the springtime smells: warm burlap in the sun, shade under pine trees, the bright aromas of blooming lilacs and onions pulled fresh from dusty soil.
This morning was the result of not planning our day. We woke up and simply started walking around town – this is the freest form of Independent travel. Our morning simply "happened" as the result of following the sound of a crowing rooster!