On a bright partly cloudy sunny day I found myself tethered to a speeding boat in Lake Zürich Switzerland, attempting my first wake boarding. Several fellow journalists enjoying cold beers and sunshine were watching me from the boat while I found myself struggling to stay warm in the early summer's cold waters. Fortunately they were also cheering me on. I was pulled out of the water successfully on the first try and then again 5 subsequent times. The thrill of speeding over the water while simultaneously trying to catch glimpses of the jagged snow covered alps in the distance created a unique thrill.
I was happy with my initial progress until I tried wake surfing. There are no bindings in this sport – and one uses a rope to be pulled on top of the wake board as the boat speeds up. Those who master this can then let go of the rope and ride the wave next to the boat indefinitely without being towed. Watching someone do this is rather impressive.
Moments over shared experiences make memories (admittedly helped in part by a bit of alcohol) and we were all high on life. The location was just off shore from Fischers Fritz Campground, Zürich's only urban campground. We were here as guests of Zürich Tourism and we were enjoying a little bit of the country so close to the city.
The word 'Glamping' is a blend of the words glamour and camping; Fishers delivers both. Our canvas tents were not ordinary campground accommodation; they were spacious and featured comfortable beds, waiting wine glasses perched on top of a wooden vintage trunk, a pretty chair and some dried sage for light aromatics.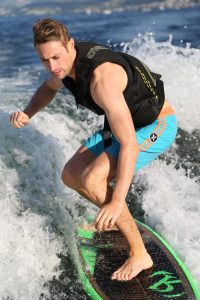 No need to start a fire and scramble for making food in the fading light at this campground. The restaurant on site is located within a short walk from the tents – not only does it deliver a variety of excellent food (including fresh fish from the lake caught daily by their resident fisherman) accompanied with Swiss wine but on a warm evening, great views overlooking scenic Lake Zürich. As a result, one is in no hurry to rush through meals here – if the chill of dusk descends simply grab a few blankets on site and after the meal wander over to the nearby fire.
While 12:30am was the latest I could muster – friends spent another couple of hours bonding over wine and conversation and were greeted by a cute campground hedgehog who made several repeated appearances. They all stumbled in prior to sunrise (minus the hedgehog).
One wakes in the mornings with the first rays of sunlight gently caressing the canvas above your head. Then you head over to the deck in front of the campground store and enjoy a diverse breakfast including meats, cheese, fresh fruit, juice, yogurt and breads. A number of the items sold here are fresh from their farm.
With a full selection of water sports gear at the campground offered through the Wake Boarding Academy, one can choose from a variety of activities including wake boarding, wake surfing and stand up paddle boarding among others.
Visitor's come to this campground from all over Europe and beyond to simply relax and enjoy a good time. It is an ideal spot to meet both International tourists as well as locals. And based on close proximity to Zurich – it is easy to spend a few days here going into the city as necessary (either by car or bus – the local bus stop is merely a minute or two walk from the campground store).
And when you do visit the city, you will want to visit the official Visit Zurich City Guide first. Click here for help with planning your trip.
Our trip to Zürich was in part sponsored by Visit Zürich. All content and editorial opinions are my own.