We are enjoying the long light this time of year in the northern latitudes. And as far as capital cities, it doesn't get much more north than this; Helsinki is at 60 degrees north latitude. A few hours of semi darkness settles in around 1230pm until 3pm and then by 4am its fully light again.
Wandering the streets in bright light at 10:30pm is perhaps an odd feeling for those who live in the middle latitudes. And furthermore it seems strange seeing empty streets at this hour – but then realizing that most people have already retired to their homes or gone to bed – even though with the light, it feels like 6pm!
Much of this trip has been planned by recommendations made from Twitter followers. One such excursion involved a recommendation for Tavistia, a heavy metal club located in downtown Helsinki. I've never been to a heavy metal club in my life but we thought we would give this one a visit. This is one of Europe's oldest rock clubs and is the most well-known in Finland. As it turns out nothing to "heavy" was playing this evening but rather it was a small band featuring a young rock musician half Indian, half Finnish – Sandhja. The crowd was really getting into it – waving back and forth under the bright lights flashing above the stage and the lead vocalist giving it her all.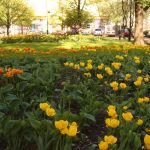 The Hietalahden Kauppahalli Market (not sure how to pronounce this!) is well worth visiting. It is located near the West Harbour and features many vendors selling a variety of local and International delicacies. One highlight is the reindeer meat. Finland has approximately 250,000 reindeer, most of which live in the north in Lapland.
Reindeer do not do well in captivity so any reindeer meat you purchase is from managed "wild" animals left to roam fairly freely. We ordered the reindeer carpaccio – thinly sliced and full of intense flavor, this by itself made a delicious meal. This market also features plenty of berries when in season (many of which are grown in Finland) as well as locally caught seafood.