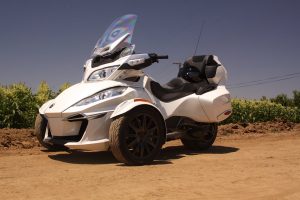 As I rode through the California foothills on a late Spring day it certainly felt very summer like. Warm temperatures and the wonderful smell of dry grass baking in the sunshine greeted me as I made my way up to Brentwood, California to test out a new Can Am Spyder Model RT-S. In the early morning I rode past all the windmills that dot this part of California enjoying the fact there wasn't yet that much traffic around.
As I rode through the hills I soon discovered some sort of motorbike creed or code because every person on a bike that passed me waved. I was not familiar with this particular code of conduct but I picked up on it fairly quickly and soon I began to wave back at other bikes.
This time of year (especially on the weekends) Brentwood U-pick farms are a hive of International activity; the diversity of the cultures that live in the San Francisco Bay Area are well represented in the cherry orchards. People from around the world live in San Francisco and invariably many discover the pull of these U-Pick farms. It is a great outing for families; grand-kids, kids and grandparents combined are often seen helping pick the fruit. This year I even noticed tour buses had pulled into some of the orchards.
The Spyder is a head turner. I parked it the side of the road to take a few pictures of it with the backdrop of corn fields a truck soon pulled over behind me. A lady stepped out to make sure I was OK – and when she found out I was in no trouble she proceeded to tell me her own story of Can Am Spyder ownership. She purchased a used one recently and loves driving it in the early mornings around Brentwood.
This new model is an eye catcher. Several people came up to me and asked the price and also wanted to know how it rides. It is almost "scary" how quickly you can be up to 70 miles an hour on the freeway and not even know you're going that fast. The only indication of your speed is the two numbers on your speedometer.
It handles quite well at both low and high speeds and feels very stable. I love the fact there is so much storage – which became especially important as I visited numerous farms picking up bags of fresh fruit. Storage includes the spacious front hood, a back trunk and side compartments.
Thanks to Kregg, the owner of Speed Sports in Livermore California for helping facilitate the demo of this model.
Model: Spyder RT-S – MSRP: starts at $26,449 – Can Am has dealers nationwide. Visit: www.can-am.brp.com to locate one to take a test ride and for more information.
#ad I have been commissioned by and will be working with Can-Am Spyder for this program and resulting content