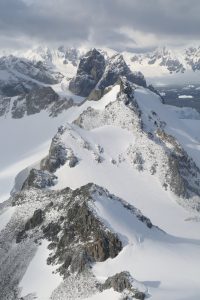 With the ski season now in full swing, you may be looking to get in on the action. Before you hit the slopes though, you'll need to know what to wear. If you're wearing the correct clothing you'll feel much more prepared, meaning you'll enjoy the experience a lot more!
Dressing in layers is far more effective than wearing a couple of warm items. Although it may sound easier and more practical to just wear a thick jumper and an insulated jacket, you're limited to what you can change if you become too warm. By wearing a nice blend of layers, starting with a baselayer as well as a midlayer and jacket, you're giving yourself the ability to add or remove a layer – which helps to keep your body's temperature regulated.
The first layer to pack is a baselayer, which sits next to your skin. Baselayers are crucial in a good layering system, especially if you obtain one which is made from a wicking material, such as synthetic polyester, polypropylene or ideally, merino wool. These materials are soft but most importantly, keep any moisture away from your body allowing your skin to remain dry. A full baselayer set will cover the majority of your body – with options available for tops and bottoms.
In between your baselayer top and your jacket should be home to a midlayer, such as a sweatshirt or jumper. This layer should keep you warm but also have the ability to wick away moisture. Fleece and wool are both commonly used materials.
The final part of the layering system is the outer layer, which includes jackets and trousers. Although these items are covering different parts of your body, they need to have very similar traits. Being waterproof and breathable are the two basic requirements, with different styles offering various features. Ideally, you would like your items to be insulated and vented also, but other options such as the number of pockets, depends solely on the preference of the skier.
Now that we have a large amount of our bodies shielded, we need to focus on protecting the other areas that are still exposed – including your head, face, neck, hands and feet!
We lose a lot of heat through our heads, which makes a beanie or a helmet a must-have. As well as retaining heat, helmets are also used for protection, so make sure that yours fits correctly – if it wobbles when you move your head, it needs adjusting! To protect your face and neck, we would recommend wearing a balaclava which would shield your skin from the wind and snow. Add a pair of goggles to your attire too, so that your face is fully shielded but doesn't obstruct you at all!
Gloves and mittens are both great options when you're trying to protect your hands, but deciding which one to use is completely down to personal preference. Mittens may keep your hands a little warmer as your fingers are grouped together which generates more heat, but gloves may be preferred by some as they are easier to handle gear with. On your feet, you'll want to wear fully extended ski socks, and nothing else, inside your waterproof and insulated ski boots. Make sure that both the sleeves of your jacket and your trouser legs are pulled over your gloves and ski boots!
If you decide to leave any areas of skin uncovered, make sure that you always apply sun cream. The sun's rays can be doubled in strength when reflected off the snow, so whatever the weather, make sure to apply it!
This post was contributed by Outdoor Look – a leading retailer of outdoor clothing. To view their full range of products available now at discounted products, check out their website.