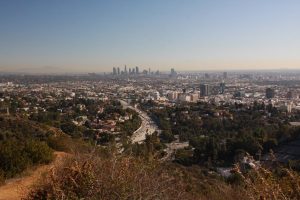 Rode in to town on the 5 on the inspirational wings of Don MaClean's American Pie blasting away on KRTH 101.1 FM. Needed some inspiration in the form of music as I certainly wasn't getting it from staring into the haze and smog that often hits the Los Angeles area this time of year. I was in town for only about a day and it was packed with events. I always like how whenever I spend any sort of time in Los Angeles events just seem to materialize. October 18th is the National Meet Plan Go meetups and the Los Angeles meetup is being organized by Lisa of www.wesaidgotravel.com – I will be holding a wine tasting at this meetup and stopped by India's Oven on Wilshire to meet with the owner and check out the venue for the tasting. Looks good!
Still early enough in the day so jetted over to Thai Town via the 405S to the 10E to the 110N to the 101N – at this time of day all sections of these freeways were moving quite well. Looking at SigAlert 90 minutes later all we saw was red – slow slow. Thai Town has the most authentic (by far) Thai food in the entire state of California. Its always nice to pop into some of the small restaurants and have affordably priced good Thai food cooked mostly for the Thai population here, rather than for the uneducated American palates.
I always pop in and see Tony (owner of Hollywood Hair Design) with his $3 "Recession Special" that he's been running for 3 years now. "Best piece of marketing I ever did" he told me. He's been cutting hair here well before Thai Town was even here. Its LA, so along with the photos you might find in Laundry Mats, Dry Cleaners and other day-to-day service businesses, Tony also has a number of photos of himself taken with celebs.
Then it was over to meet with representatives from the Maui Visitors Bureau focusing on the County of Maui which includes the small islands of Molokai and Lanai. There's a diversity of outdoor options on all three islands – if your looking for a very relaxed vacation and a slower pace of life, choose one of these islands. We talked about LA traffic because that's always an easy topic to chew on – and compared this to how there are no stoplights on the entire island of Molokai! And then it was noted that the population of Molokai is about 8000 of which the entire population can probably can fit into a few blocks in Koreatown!
Then it was about a 1.5 mile drive (taking about 25 minutes with nasty traffic on the blvds) over to the Andaz Hotel on Sunset Blvd. My friend has worked there for several years and our September meeting of LACOT was held in the posh RH Restaurant and Bar. The hotel was originally owned and operated by Gene Autrey and a number of rock bands partied here over the years including: Led Zeppelin, The Who and the Rolling Stones. Stories of TV's flying out the windows thrown by famous rock stars are part of its history. Having never owned a TV in my life, those are stories I can relate to.
It was very nice to connect and reconnect with the following travelers:
Bob of @Vagabond3Live
Lori of @visitmaui
Arlene of @travelpr
Brenda of @wagstaff_la
Michelle of @myTravelingLens
Marianne of @TravelProducer
and Lisa of @wesaidgotravel & others.