There's always, always something to do in Los Angeles and this past weekend was no different. Stumbled into a place to stay at the last minute – turned out to be where George Clooney used to live and Quentin Tarantino wrote Pulp Fiction. Nice! Location was quintessential West Hollywood – minutes from the "strip". Hit the LACOT Travel Tweetup at the Xbar at the Hyatt in Century City. Good to reconnect with other LA area based travelers @MyTravelingLens and meet some others @LATravelWriter @wesaidgotravel @abbiemood.
I had been here before – when I visited the Annenberg Center for Photography last year. The tunnel leading to the Hyatt is cool – its directly under the Avenue of the Stars and a bunch of historical photos of the area hang on the wall. These photos give one perspective on how much change has ocurred in this area in simply 100 years. I wonder how many people who use this tunnel for their walking commute have actually looked at the photos or read the captions. Its not Hollywood "LA" if there isn't some glitterati event – American Idol was holding some sort of party at the Hyatt and lots of well-dressed folks were walking around as well as photographers.
Hit a bunch of museums in Long Beach/San Pedro and updated everything under our Museums Page on our main Los Angeles article – Museum of Latin American Art, Pacific Island Ethnic Art Museum, the Los Angeles Maritime Museum, and the Long Beach Museum of Art (currently having an auction on all art hanging inside the museum – held only 1x every 2 years).
By far the top museum that I have visited in Orange County over the years is the Bowers Museum in Santa Ana. They currently have one of the best exhibits on the South Pacific I've ever seen. Stopped by there for over an hour. Wasn't enough time. Further down in the great OC, @brienadal gave me a great insider's tour of Oakley's dynamic headquarters in Foothill Ranch (I'll have a post about that later this week).
Finished out by covering the big Andre Ward – Arthur Abraham fight. Hit the weigh-in at the Crowne Plaza LAX the day before and then didn't leave the Home Depot Center in Carson until 1130pm after the remnants of the press conference.
Traffic around downtown a standstill at midnight – at least an hour delay going just a few miles. Typical and wasn't surprised. Love SigAlert.com and altered my freeway of choice several times! Always more updates to **by far** the most popular page on our site: The Freeways of Los Angeles. Also just updated our LA Sports Arena page. A friend and I run www.andre-ward.com fan site – still undefeated at 24-0, ranked #2 in his division in the world out of 863 boxers. Nice!
Photos below: Ring at the Home Depot Center & Boxer Andre Ward, Promoter Dan Goosen and Trainer Virgil Hunter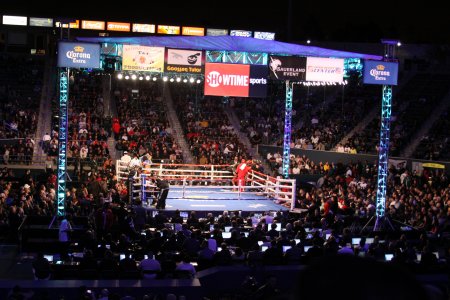 .