I recently attended a memorable party for the launch of Austrian Airline's new first ever route from Vienna to Los Angeles offering daily (except Sundays). This party was held at a Bel Air mansion tucked away in one of the highest canyons – located at the end of a cul de sac. Cars snaked down the road – we used uber and walked the last 1/3 of a mile.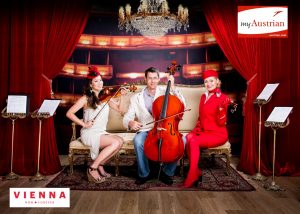 A red carpet entrance greeted us with Austrian Airline flight attendents wearing a color that matched the elegance of the carpet. Feeling like stars, we took full advantage of the provided photographer to capture our red carpet moments followed by some perfect poses in front of the provided screen. More photos followed later … upstairs with classical musical instruments in hand.
It was pointed out to us during the party that a number of Austrian composers have written film scores for various Hollywood movies and both cities share a thriving startup scene.
It is Austria after all and the music provided did not disappoint. Well-known duet Jonathan and Lorena performed the Viennese Walz followed by the world-famous Janoska Ensemble (founded by three brothers).
And of course delicious Austrian cuisine was paired with Austrian wines.
And then appreciating the diversity of Los Angeles terroir – I ended up spending the next few nights in Compton.
Austrian Air offers daily (except Sundays) nonstop service between Vienna and Los Angeles using a Boeing 777 – to book this flight visit: www.austrian.com/en_us/flight-to-vienna.html