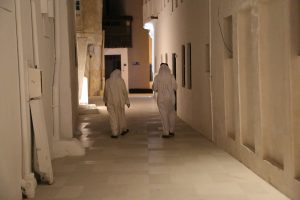 In doing some research prior to my travel to Bahrain I stumbled upon a website advertising private tours. I emailed the owner, Hanan (she no longer offers tours) but she kindly agreed to meetup after work. This was a real insiders tour from someone who grew up in Bahrain and knows the island extremely well. Her diversity of interests, local knowledge and passion for both travel and for Bahrain were clearly evident.
We immediately drove to some of the villages surrounding Manama and I was introduced to 'Loz' a Bahraini fruit that is in season later in the year. This fruit comes in several colors depending on the variety – smells wonderful and is a bit bitter when you eat it. Apparently the inside of the seed pod is also quite tasty but I was unable to break it open.
We also stopped by one of the premier horse stables in the country where Hanan keeps her own horse (if there was a celebrity horse world, this horse would fit the bill having been featured in several Bahraini magazines in the last few months!).
And it pays to have a local make the recommendation for your dinner stop! Visitors from around the neighboring countries come to Bahrain for the quality of the Hamoor (fish). Hanan dropped me off at Alabraaj Restaurant – which specializes in this type of fish. It is a white fish that has a very pleasing and delicate flavor.