Thank you Capital One for sponsoring this post! All opinions are my own and were not directed by Capital One. To learn more about the Capital One Venture Card, visit: https://www.capitalone.com/credit-cards/venture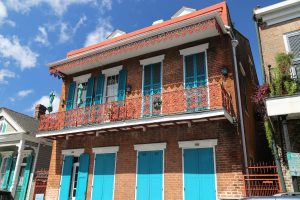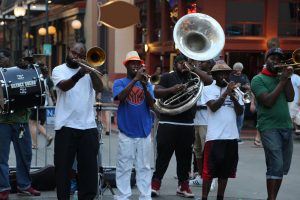 I boarded the plane in Las Vegas to New Orleans after just about breaking even on a quick play of several slot machines in the airport (a unique airport feature!). I knew this wasn't a typical flight when I saw all the Silver and Black T Shirts. After the flight took off the energy was good – at times people started screaming and chanting their team's slogan in their slow methodical voices. At one point the flight attendant had to say "quiet people" – this same flight attendant later came on the PA again and emphatically indicated the home team was going to win; this caused quite the outburst with the audience including a plethora of boos and more chants.
One fan in the row next to me made sure to announce his tattoo of his favorite team's logo and then prominently displayed it to all the surrounding rows. They way he described it, we were all under the impression that he crudely burned it on himself – as he mentioned heat burns and extreme pain. He later indicated "because of this baby, I will never switch team allegiance".
I arrived a few minutes south of 1am at the beautiful International House Hotel – recommended to me by a former employee of the New Orleans Tourism Board. I booked this hotel using the HotelTonight app His recommendation did not disappoint. This was the world's first World Trade Center – a candlelight ceremony was prepared in the lobby to commemorate the 11th anniversary of the World Trade Center tragedy in New York.
I arrived to my elegant room, browsed the items listed for sale and spotted one that stood out, the Naked Dream Intimacy Kit. I never asked what this is – perhaps best left to the imagination!
I've been drawn to the creative and energetic vibe of New Orleans for a number of reasons since I first visited in 2008; the culinary aspects, the unique history, the beautiful and colorful architecture of the French Quarter, the varied live music scene and easy access to the nearby swamps. And of course the city's resilience – having been significantly damaged in a number of hurricanes – the most recent of course, the effects from Katrina which physically took several years to recover from – mentally, perhaps more time was needed.
I was in New Orleans this time as part of my work with Capital One and HotelTonight – I am a Capital One Venture card holder and used it while exploring the city as well as booked my hotel using the HotelTonight app. Through a partnership recently announced between the two companies you can use your Capital One VentureOne card to not only earn miles but also a 10% discount on thousands of hotels through January 2017. This is not all. With the Capital One VentureOne card you earn 2 miles for every dollar spent and or 40,000 one-time bonus miles if you spent $3000 within the first three months.