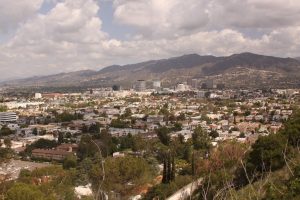 Here is an example of a single day microcosm of the diversity of Los Angeles.
In the morning we visited the oldest McDonald's still in operation on the planet (out of some 20,000 McDonald's worldwide!), located in Downey. It was built in 1953. The original McDonald's was founded in San Bernardino California in 1948 and was a barbecue restaurant serving over 100 different barbecue recipes. This particular restaurant was the third ever and has an informative museum adjoining the actual restaurant. The other two are gone – the only remaining evidence of the first one in San Bernardino is a commemorative plaque marking the location.
Unfortunately I must report that my streak of avoiding fast food is no longer intact after this visit.
Then it was over to South Central Los Angeles for a stop at the tiny South Central Farmers market (actually, one of four farmer's markets we visited today). There were several booths offering opportunities to expose kids to "dirt" – offering classes on how to grow vegetables.
Then over to Compton where we visited with Robin Petgrave founder of Tomorrow's Air Museum at the Compton Airport. He has long been involved in aviation having run a flight school at this airport and a tour company, Celebrity Helicopters. When we arrived he was helping film a music video with a man dripping with gold chains and gold teeth and a very scantily clad woman as the centerpieces in the video.
Robin is an inspirational leader in the community. He created after school programs for students to educate and interest them in aviation or educate them about going into fields of engineering – focusing on technology and science. He showed us a number of plaques from several US Presidents honoring his work and photos with a number of prominent leaders and celebs including Hugh Jackman who was recently at his hangar doing some filming. I will be back at some point to do a story.
Then it was up to Little Osaka along Sawtelle in West LA for a stop at the tiny Tsujita Annex for some excellent Ramen. Many noodle shops line Sawtelle Blvd. Unfortunately we arrived at 12pm, fighting everyone and their uncle for limited parking in this busy area of town. After this, we drove into the hills and stopped in front of Hugh Hefner's Playboy Mansion and spotted one play girl wandering around on the street.
The highlight of the afternoon was a curated visit in the Frederick Weisman Center for Art in the Holmby Hills. Frederick Weisman, now deceased was the former President of Hunt Foods; during his life he acquired a significant collection of contemporary and modern art. For nearly 2 hours we explored his collection in his private home with an extremely knowledgeable docent. What a appeared to be a security drone noisily buzzed overhead – zooming in every now and then to keep an eye on us.