Thank you Capital One for sponsoring this post! All opinions are my own and were not directed by Capital One. To learn more about the Capital One Venture Card, visit: https://www.capitalone.com/credit-cards/venture
I was standing in front of camera in HotelTonight's headquarters in San Francisco as part of some work I was doing to help promote a partnership recently announced between Capital One and HotelTonight. I had just spun a wheel which listed several domestic cities. In the seconds leading up to before the wheel stopped spinning I felt a mix of nervous excitement. Once the wheel stopped on a city, my airfare and hotel would be immediately booked and I would then be leaving for the airport.
The wheel slowed down, almost stopped on Charleston but continued for one more tick and stopped; the audience started cheering. I was going to New Orleans one of my favorite cities in the country. As part of my work promoting this partnership, right before I went on this trip I applied for and received a Capital One Venture card. The benefits are enticing – earn double the miles for every dollar spent every day and an excellent service especially for travelers includes Capital One WalletSM which helps keep track of customers' purchases in real-time and stay organized on-the-go anytime, anywhere. And for first time card holders if one spends $3000 within the first 3 months of being approved, you earn a bonus one-time 40,000 miles.
Upon arrival in New Orleans, I told my driver about my unplanned trip – visiting her city based on spinning a wheel. She thought it was great and couldn't get over the fact a few hours prior I had little idea of my trip destination. "This is something my husband and I need to do" she told me, further clarifying that she was drawn to the randomness of it all.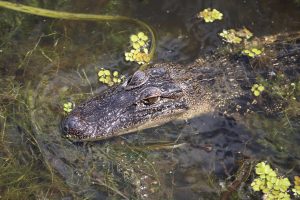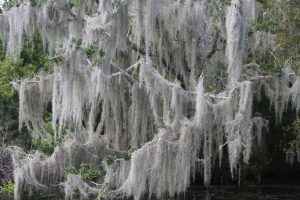 Remembering my fun visit to the swamps the last time I was in town – I soon reserved a tour to visit the closest swamps to the city – merely a 30 minute drive south of downtown near the small town of Jean Lafitte (named after a famous French-American pirate plying the waters in the Gulf of Mexico). Soon I was on an air-boat but before we left the dock, our rotund captain stood prominently on the bow and announced that anyone who would not be able to hold their bladder for the next 2 hours must exit his boat immediately. He went on to say there would be no peeing over the side of the boat in respect to the women on board. He also acknowledged he enjoys beer a lot but there would be no beer drinking while on board (a few enthusiastic guests who clearly had been enjoying more then a few beers, sadly gave away the rest of their beverages to those on the shore).
Fan boats are loud. We were given protective ear pieces for the journey. Soon we were speeding along canals built by early settlers to harvest cypress trees. The harvest of these trees today is highly illegal. The beauty of the natural surroundings cannot be understated. We have moss in California growing from trees but not like this. It is thick at times, completely covering some trees, slightly eerie in an ethereal sort of way contrasted further by the murky dark waters of the canals.
Stopping in a small swamp channel we relished the silence. Soon we saw ripples on the still water from a far distance – moving closer. These were gators coming to feed on marshmallows our guide threw in the water for them. Our guide also threw his hand in the water next to a 2 foot long gator – but our guide was fortunately quicker then the snap of the gator's jaw. None of us wanted to duplicate his show of bravado.
Another stop was on the shores of Lake Salvador. Remarkably this 'lake' was formed as a result of a storm surge created by Hurricane Betsy in 1965 (flooding all the levees) and our guide informed us this is now Louisiana's 3rd largest lake. This hurricane still has a direct effect on this land today; sizable pieces of land succumb to it's waters every year.