With so much happening on any given day, visits to new York City can be easily be organized by themes. This, the largest city in the United States is not a city that sleeps easily. There is something for everyone at all hours of the day and night. As it should be, the metro here never stops running – all day and night 365 days a year. You won't be bored here – New York is an eclectic mix of cultures from all corners of the world – one of the true global melting pots.
Time Square is certainly one of the most visited areas in the city – the last time we were in town we stayed here, in the heart of all the action. However there is an incredible variety of accommodation and good New York apartments throughout the city.
The following are our picks for
Vertical
The Empire State Building boasts two observation decks; from these you will have stellar views in all 360 degrees of the city skyline as well as of Central Park. Lines can be super long during the summer (especially on the weekends). The decks open at 8am and it is recommended to get here early during these busier times.
The 86th floor is the more popular of the two stops and on a clear day you can easily look far up the Hudson River or the East River and north into Central Park and beyond and south into downtown. Tickets for the highest floor (102) are only sold on site – this higher floor is entirely enclosed in glass and is much smaller than the open air 86th floor.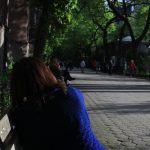 Quiet
Central Park serves as New York's important urban oasis. With a size of 843 acres there is plenty of space for walking, jogging or biking. This great contains woodlands, ponds and lots of green grass.
Willow trees grow near a number of the ponds and makes for good spots for enjoying a picnic lunch. There is always a "hum" on the streets of the city – but when you enter the park you will quickly notice how relatively quiet it is here compared to the endless noise of the nearby streets.
Shop
5th Avenue is one of New York City's most visited shopping districts. This is within easy walking distance of Times Square. Highlights include the famous Rockefeller Center and major name brand stores.
One such store is Abercrombie & Fitch. This clothing store is a hit with tourists and the "shopping" here is an "experience". The inside of the store is seemingly modeled after a nightclub! In fact models hang out here displaying the latest styles and drawing the crowds. Extremely loud vibrating music spits out of every corner in this store