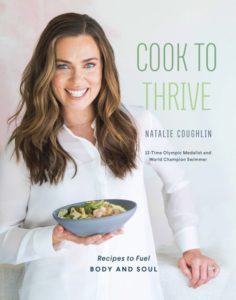 Author, Natalie Coughlin nurtures several passions, food being one of them. Raising her own vegetables, fruit trees and chickens in her San Francisco Bay Area backyard has given her access, like so many others living in Mediterranean climates access to a diversity of fresh ingredients.
She has brought her passion to a number of food focused Television shows including the Food Network's Chopped and was a judge on Food Network's Iron Chef America. And she has cooked on NBC's Today. And of course one can't discuss food without its companion, wine. Natalie is co-owner of Gaderian Wines, a boutique Napa Valley based producer.
This book is her mouth-watering collection of recipes (simply thumb through the book and you will be salivating over some of the photographs!). But its not only a straight up recipe book – she has included tips for cooking, stories, and her ideas about a holistic approach to cooking.
The book is organized by sections, beginning with breakfast and ending with the sweet stuff. With heritage from the Philippines on her mother's side – and growing up enjoying her grandmothers Philippine recipes, several Asian dishes are scattered throughout the book.
To purchase this book, click here