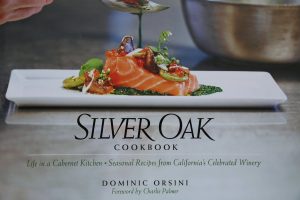 This mouth watering culinary tome written by long time Napa Valley Silver Oak Winery chef Dominic Orsini (with a forward by chef Charlie Palmer) features a treasure trove of recipes that anyone with a culinary interest in preparing creatively inspired dishes made from fresh ingredients will want to get their hands on. Just thumbing through the recipes – each one with a 'tasty' photograph will leave you salivating, regardless of whether you are hungry or not.
One of the most intriguing recipes from not only from an artistic point of view but from a flavor profile is the Heirloom Tomato Mosaic with fresh Mozzarella and Petite Garden Herbs. Not only does the book feature Dominic's personal seasonal recipes (all listed with suggested Silver Oak or Twomey wine pairings), but various chapters are sprinkled with notes about their vineyards, wine making, gardens and winery events.
And should you find yourself planning a trip to the world-famous Napa Valley, check Silver Oak's websites for select dates throughout the year offering private cooking classes with Dominic.
Purchase this book: