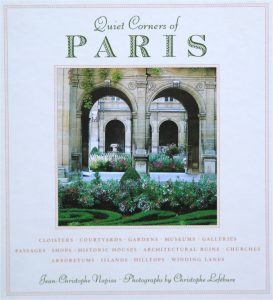 Opposite to the title of this book – there are plenty of noisy corners in Paris frequented by both locals and tourists alike. This tiny square book highlights nearly 70 of these places including a photograph of each and a short description highlighting historical aspects or a cute nearby eatery of interest.
Places like cloisters, courtyards, gardens, museums, galleries, shops, historic homes, ruins, churches and more are highlighted in this book. And a number of these places are hidden so that often Parisians do not even know of there existence.
A must grab quiet accompaniment for those seeking some of Paris's more hidden locales.
To purchase this book