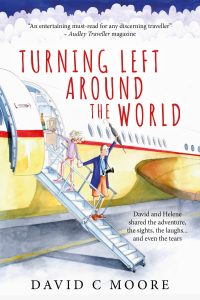 Written first hand by David Moore, one half of the traveling duo David & Helene, this is an engaging tale by two travelers who decided to take a 10 month round the world trip later in life. When moving in to a new house, rather then deciding to throw themselves into the obligatory home improvement projects that invariably accompany one with moves such as this, Helene created her own project. She hung a map of the world on the wall and instructed David to mark with pins, countries and destinations he still wanted to visit.
After a few weeks of excitedly marking spots on the map, a visual outline of a potential round the world trip was created – focusing entirely on destinations that neither one had yet visited.
Europe was out. But North and South America, Australia and Thailand were definitely in. In creating an itinerary they focused on adventure, cultural interaction and foods of each destination. They spend time in some of the world's most memorable rural destinations including deserts and rain forests along with stops in big cities.
With detailed historical insights and stories about each location, this is an ideal armchair travelers book. It reads slowly, full of rich descriptions and surprises including a variety of quirky experiences and places that will inspire travelers to add them to their own bucket list.
We are often sent a number of first hand written traveler tale books to review – this is one of the most interesting and intriguing reads of the lot.
For more information and to purchase a copy of this book, visit: www.davidcmoore-author.com