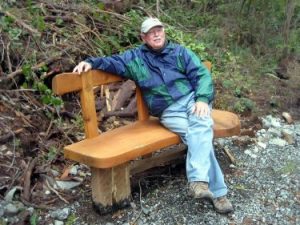 David Stanley is a well-heeled travel writer who has written a number of books about the South Pacific for Moon Handbooks. We have admirably followed his career for a number of years. He has been writing guidebooks for over 30 years and has maintained his South Pacific website since the late 1990's. We recently had a chance to ask him about his career, travels and advice in regards to travel writing.

Q. You are a prolific writer how has been authoring guidebooks for over 30 years – tell us how you started in this line of work and touch upon how you met Bill Dalton, the founder of Moon Publications?
On a trip around Asia in 1978 I used a guidebook called "Indonesia, a Travelers Notes". Upon returning home, I sent feedback to author Bill Dalton with the suggestion that he include a brief section on the South Pacific in his next edition. Bill replied that his Indonesia book was becoming too big and that a separate South Pacific guide was required.
So the following year I island hopped across the Pacific researching what eventually became the 1st edition of South Pacific Handbook, published in June, 1979. Bill co-authored the book, but after that he refocused on Indonesia and I researched and wrote the next seven editions of Moon Handbooks South Pacific single-handed.

Q. On your original website, southpacific.org, you focus on the South Pacific – what has drawn you to this part of the world and why do you keep returning?
The South Pacific is an amazing region comprised of 15 diverse destinations. It's quite easy to visit as visas are not required and the facilities are good. I enjoy returning to favourite islands like Moorea, Rarotonga, Upolu, Ovalau, Vanua Levu, and Efate to check what has changed or stayed the same. While it's fun to revisit my old haunts, there's always something new to hold my interest.

Q. It is my perception that the South Pacific is a fairly expensive destination – can you address this and perhaps list a few islands in the region that provide a reasonably affordable vacation?
No doubt about it: The three French colonies are expensive. This is because wage scales in French Polynesia and New Caledonia are based on those in France and the Pacific franc is linked to the euro. Yet even there, you can avoid the high cost of visiting Bora Bora by taking a ferry to Moorea instead. Most other South Pacific destinations including the Cook Islands, Tonga, Samoa, Fiji, Vanuatu, and the Solomon Islands are reasonable by North American or European standards. Naturally, your travel budget will be much higher if you choose to stay at fancy resorts or engage in costly activities such as scuba diving instead of sleeping in local guest houses and snorkelling.

Q. You recently returned from Liberia and Sierra Leone – destinations that typically are not at the top of travel lists – how was your trip and were there any pleasant surprises from your travels through these two West African countries?
Visiting new places is one of my hobbies and after touring Liberia and Sierra Leone last month, I've now been to every country in West Africa. It's not easy to travel widely in Africa, not because it's more dangerous, expensive, or primitive than other continents, but mostly due to the onerous visa regulations set by African governments themselves. Unless you live in a world capital such as London, Paris, or Washington, collecting visas can be quite a task, and many embassies want to see flight and hotel reservations. Making such bookings when you're not even sure you'll be able to go, then having to mail your passport to a distant consulate, discourages all but the most determined traveler. That's sad because Africa badly needs the tourist dollar and ordinary Africans are universally friendly and welcoming. A few countries (including Ethiopia, one of my favourites) sell visas upon arrival which works a lot better.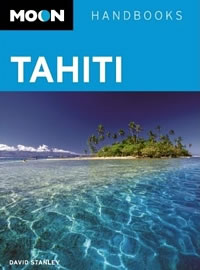 Q. That photo on the cover of your latest Tahiti guidebook looks amazing – where is that island and is it easy to reach once you are in Tahiti?
The tiny coral island or motu on the Moon Tahiti cover could be any one of hundreds of barrier reef islands in the Leeward and Tuamotu groups. (The publisher obtained the photo from a stock agency and I'm not exactly sure where it is.) Getting to islands like this isn't hard as snorkelling trips with a picnic lunch on a coral islet are almost always available. At low tide you could also swim or wade across lagoon passages to some but one must always be aware of unperceived currents which drain the lagoons into the ocean as most South Pacific drownings are caused by such currents.

Q. What do you find the most challenging in being a guidebook writer?
As a guidebook researcher in the South Pacific, I find that one of the hardest things is to maintain my anonymity while asking a lot of questions. On a small island, if one person knows who you are, everyone knows who you are, and it can become impossible to research your guide honestly. Hotel and restaurant owners will either waste your time with unnecessary chatter or simply stonewall you. I usually deny who I am even if someone guesses. Back behind the screen, it's often impossible to check small details overlooked during a research trip. Information on the internet is often misleading and the level of detail required for any good guidebook simply isn't there.

Q. What defines a "good" trip for you?
I consider a trip successful if I experience something new without being hassled by officials or robbed by thieves. Affordable accommodations and reliable public transportation are also a relief. Food isn't a major concern as one can always buy groceries if the local restaurants are unacceptable for some reason. I'm a bit of a culture buff and I visit as many museums, art galleries, churches, mosques, temples, and historical sites as I can. Failing that, I enjoy browsing through markets, or simply walking along the beaches or streets. It may come as a surprise that I almost never go swimming during my visits to tropical areas. That's partly due to security concerns as I often travel alone, but I generally prefer to devote my time to observing the locals rather than basking in the sun.

Q. What perspective have you gained from visiting more than 180 countries – and was there a certain point in your travels (i.e. 20, 30 40 countries visited etc) where you started noticing your perspective and outlook on life started becoming broader (as a result of your travels)?
In my travels and writings, I've always tried to see the world through local eyes. Whenever a controversial issue came up in my guidebooks, I took the side of local residents, even when it would not be considered "politically correct" in North America. This approach has helped me avoid many pitfalls. I believe that one should never write about an area they don't like. If you do, your book will be full of negative stereotypes and prejudices which won't please anyone.

Q. With the knowledge you have learned over the past 30+ years in travel writing and all the changes in the industry – if you had to start over from scratch as a travel writer – where would you star, what would you focus on?
Frankly, very few of those starting out as travel writers today will be able to make a living at it. For most, travel writing will remain a hobby and they'll live from money earned elsewhere. Big guidebook publishers like Lonely Planet now require newbie authors to sign away all their rights in exchange for a flat fee which barely covers expenses. With the internet, it's simple enough to get published electronically, but where's the income? I was lucky to start out during an era when guidebook writers still were allowed to own their copyrights and collected royalties. At Lonely Planet all that ended in 1996. Avalon Travel, the publisher of Moon Handbooks, still pays royalties and lets authors keep their copyrights, but book sales have been declining steadily since 1997 and Moon authors have a hard time breaking even.

Q. Tell us a few of your favorite activities in your hometown of Nanaimo on Vancouver Island in British Columbia.
Happily, Nanaimo has plenty of coastal parks where one can enjoy nature. This town is also an ideal base for touring the rest of Vancouver Island and I do lots of daytrips. It's also a perfect base for international travel as ferries ply between Nanaimo and Vancouver every two hours with good onward connections to Vancouver International Airport. This allows me to avoid the big city bustle and expense while enjoying the advantages of living in Vancouver's back yard.

BIOGRAPHY
David Stanley is the author of Moon Handbooks South Pacific, Moon Fiji, and Moon Tahiti. He has also written many Lonely Planet guides, including three edition of Eastern Europe on a Shoestring and two editions of LP Cuba.
Over the years he has visited 181 of the 193 United Nations member countries.