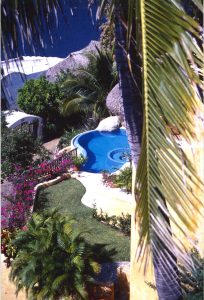 This is the second of 4 articles that originally appeared on Dave's Travel Corner about select locations in Mexico. The first one was about Oaxaca City, and the 3rd and 4th articles include Colima City and Guadalajara. A 5th article about Xcalak on the Yucatan Peninsula is also available.
The beautiful town of Manzanillo is located in the state of Colima, Mexico. For reference, Manzanilla is located about 4.5 hours south of Puerto Vallarta. Many travelers to Mexico, especially those from the United States and Canada have heard of Puerto Vallarta but not Manzanillo. Manzanillo sits on two small bays located right next to the Pacific Ocean.
Manzanillo in some ways has a feel of Puerto Vallarta but is not nearly as touristy. Sure, there are parts of Manzanillo housing all-inclusive resorts, where people lounge around with pink bracelets on their wrists or others decorated in gold and silver chains hanging from their necks hanging out poolside with margaritas in hand. And that is one way to travel, a relaxing way to spend a vacation. But for independent adventurous travelers, Manzanillo offers a lot more.
Due to its location the city has always enjoyed a special relationship with the ocean. It is one of the oldest ports in Mexico. The two nearby bays have played an integral role in the growth of the city. They offer protection from the ravages of the sea. Bahia de Santiago is the most northern bay, and Bahia de Manzanillo is located directly north of the city.
Manzanillo most likely was trading with the Orient before the Spaniards arrived in Mexico. It was eventually settled by Europeans who used the town as departure points for other locations, not only in Mexico, by other parts of the world as well. Latin America's first shipping yard was established in Manzanillo in 1531. Even Manzanillo is well setup for tourism and beach activities, it is still first and foremost a commerce and shipping destination.
Downtown has an industrial feel and you get a sense that this is a real working city. It wasn't until the mid 1970's that Manzanillo began attracting mainstream tourists. Advertising its recreation as a "seaside playground" Manzanillo soon became much more popular with American tourists. The filming of the 1979 movie "10" starring Bo Derek certainly didn't hurt Manzanillo's image.
What really secured the region' place among the country's iconic tourist destinations was the opening of Las Hadas Resort in 1974. I remember my grandparents visiting this resort from one of their round the world cruises – soon after it opened. I recall their excitement of staying here – and they certainly didn't always get excited about every place they visited. Las Hadas was founded by Bolivian tin baron heir, Antenor Patino.
Fishing
Besides the shipping industry and tourism, people come to Manzanillo to fish. Manzanillo proudly boasts its claim to fame as being the "Fishing Capital of the World." The nearby waters have some of the best sailfish fishing in the world. The sailfish season is from November to March. In fact Manzanillo holds a well-known international fishing tournament every November. Smaller tournaments are held in February. Other fish readily caught in these waters are marlin, red snapper, sea bass, yellowtail, and tuna.
—
One other item worth mentioning are the beautiful tidal lagoons seen from the main road (Highway 200) both north and south of Manzanillo. These lagoons attract a variety of bird life and often bird watchers. We have seen herons, pelicans, and flamingos in and near these lagoons.
Lastly, Manzanillo does not appeal to shoppers simply because there is a fairly limited selection of shops. The zocalo or main square has several shops but they sell mostly cheap touristy type items.