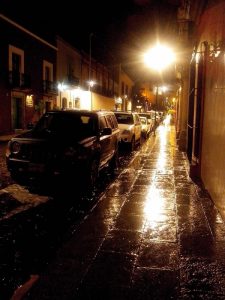 We first visited the city of Oaxaca in December, during the dry season so some of our mentions in this article may be seasonally related. For example, some of the fruits we saw in the markets are only ripe during that time of year, and some of the festivals we experienced certainly only occur during December.
Oaxaca (elevation 5,084 feet, population 265,000) is located in the state of Oaxaca in southern Mexico. The Oaxaca airport offers services to other parts of the country as well as international flights – and one can also take a bus Mexico City to Oaxaca. The city and surrounding area is primarily composed of 16 different tribes with additional influences from those of Spanish ancestry. Oaxaca is located in the middle of three valleys, Valle de Tlacolula, Valle de Zimatlan and Valle de Etla in the north. The early peoples who inhabited this area were among the first in North America to develop astronomy and systems of writing.
The city of Oaxaca is a wonderful place to relax, shop and meet friendly locals. The town revolves around the main square or what is called the "zocalo".
This is the first in a series of travel articles that originally appeared on Dave's Travel Corner about cities in Mexico. The four articles are Oaxaca, Guadalajara, Colima, and Manzanillo. An article about Xcalak in the Yucatan Peninsula is also available.
Similar to many towns in Mexico, the zocalo is composed of a large open square located in the heart of the city. Numerous plants and trees grow in this particular square. Like other Mexican towns of similar size population, Oaxaca also has a second smaller plaza located next to the central zocalo. Both areas are surrounded by 1st and 2nd story restaurants, hotels and lots of shops. The main plaza features a large church towering above the surrounding buildings. This church was built in the 1800's – one should surely take a peek inside to see its impressive interior.
Processions, gatherings, and religious events begin and end in the zocalo. December is an ideal time of year to witness these; with large gatherings of people almost every day – even well into the night. The zocalo is also an ideal place to shop. Local vendors display their products along sidewalks. Four city streets surrounding the zocalo are permanently closed to traffic. To date, this is the only city in Mexico that I have visited featuring this smart urban planning. All of the other zocalos I have visited, were open to vehicular traffic – which completely changes the pedestrian experience.
Luxury shops are not located directly on the zocalo. For these one will need to travel a few blocks north of town. One thing that I learned from Oaxaca and other Mexican cities is that luxury shops are often located in what appear to be crumbling and dilapidated buildings. Therefore, one can never tell what sort of merchandise will be inside from the exterior.
Oaxaca, unlike less visited towns in the country has really changed in recent years. In certain areas including outdoor markets, bargaining is now much more difficult. The peso is stronger and the economy is better then it was several years ago. People have told me that several years ago cars were much older and more dilapidated then they are today. More luxurious shops have also settled near the zocalo. Oaxaca, as a tourist destination began to become known in the mid 1990's and tourism has slowly changed the city.
Getting Around

Walking is definitely the best way to see the zocalo area and the markets. Taxis are ideal for visiting attractions in and around the city of Oaxaca.
I found that hiring a private tour guide through a reputable tour company was perhaps the most ideal way to quickly visit attractions. Granted, it was a little more expensive then a taxi, but one could be more flexible. For example if you wanted to stop and see something on the way, you could tell the tour guide. Unlike most of the taxi drivers, my private guide/driver waited around while I took pictures and toured through sites. He was also quite knowledgeable about the local history, architecture and indigenous peoples and spoke enough English so I could understand him.
Weather
The weather in Oaxaca can be summed up by one word, mild. This is because of the higher altitude. If one were to travel elsewhere in the state of Oaxaca one would find rather humid and tropical conditions.
Temperatures throughout the year average in the 70s and 80s during the day and at night often in the 50s and 60s. The rainy season is from June through September. This precipitation usually falls in the afternoon, however the months of July and August often produce torrential downpours at any hour of the day or night.
For travelers visiting during the northern hemisphere winter months, from a country that actually experiences winter, be prepared for very strong sun. This is due to Oaxaca's southern latitude + high elevation; for those with fair skin, sunburn is a distinct possibility.