Downtown San Luis Obispo (www.downtownslo.com) is a collection of numerous cafes + restaurants + brew pubs, clothing stores, sports stores, a few galleries, quaint shops, and reflective of a college town, quite a few stand alone bars. The downtown area is best seen by walking. Ditch the car along one of the side streets just outside of the downtown area, or one of three parking garages (Two on Palm Street and one on Marsh Street).
Our favorite garage is the one located on Palm Street across from the Palm Theatre. Its not quite as central as say the garage on Marsh Street but its usually less crowded. Usually a several minute walk will get you to the main part of downtown from the Palm Street Garage.
There are three primary streets in San Luis Obispo: Monterey is a two way street which ends at the Mission; as you drive south on Monterey you must turn either left or right in front of the Mission. Higuera is a one way street with traffic moving southbound. Marsh street is also a one way street with traffic moving northbound. Marsh and Higuera run parallel to each other.
A good place to start your visit to downtown is at Mission San Luis Obispo Tolusa, founded in 1782. Dave's Travel Corner has more information about The Mission Here. The Mission Creek Plaza is nice to visit on a warm sunny day. This is a collection of shops located near the wooded downtown creek across from Mission San Luis Obispo.
In the last few years shops in the raised style of Rodeo Drive have been built upon an old parking lot at the corner of Higuera and Osos Street (Court Street Mall). Several clothiers and other boutique style shops are located in this short open air block.
Bars & Pubs . Being a college town, San Luis Obispo has its share of bars and pubs. Some of the more popular restaurants/bars are Woodstock's Pizza (always crowded with boisterous college students) and Firestone Grill. Spikes Brewery gives you a card with 40 beers on it…when you drink one, they will punch a hole in that slot – when you drink all 40 you get to engrave your name on a cup and hang it on the ceiling.
Frog and Peach is located on Higuera street and is a British style Pub (be sure to try their Pear Cider). SLO Brewery is a very good restaurant with a bar and live entertainment. Additionally Moe's smokehouse, Mothers and Bulls Tavern are located in the downtown area. Bulls Tavern is owned by a former Oakland Raider – sports pictures are hanging on the walls as well as pictures of scantily clad people.

Bubblegum Alley is certainly something out of the ordinary! It is located between 733 and 737 Higuera Street. A picture of this alley even made one of the recent Ripley's Believe it or Not photo books!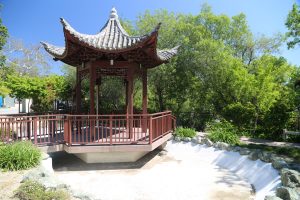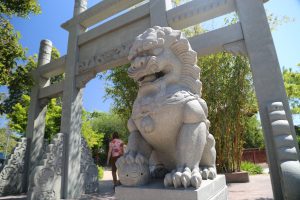 Cheng Park is located at 1095 Marsh Street on the northern reaches of downtown and was built by the San Luis Obispo Rotary Club. This postage stamp sized park is easily noticed based on it's Asian theme. Two Chinese stone Lions 'guard' the entrance to the park – although it looks like someone removed their 'bite' based on the missing teeth of at least one of them.
This is a wonderful place to relax on the several benches. It's a little oasis in the urban core – a space that seems suited for those intrested in meditating. Oh and the tiny San Luis Creek runs right behind the park. And also of note is the nearby Kundert Medical Clinic building was designed by Frank Lloyd Wright (one of his few commercial use buildings).

History Center of San Luis Obispo County was founded in February, 1953 and is housed in the stately old stone Carnegie Library building (built in 1905). Admission is free but donations are welcome (volunteers and docents donate their time to greet visitors and try to answer any historical related questions you may have).
Located near the Mission Plaza at 696 Monterey St. A research room is located inside containing many historical documents including newspapers that date back to the 1860's. Special exhibitions are available for visitors – during a recent visit an exhibition displayed the history of San Luis Obispo County organized by decade. A small gift shop is on site. For more information visit: www.historycenterslo.org
Jack House and Gardens is located at 536 Marsh Street and features a beautiful Victorian built around 1878. It has been completely restored with a variety of era furnishings. Named after the Jack family (were involved in a variety of local businesses including ranching, travel and banking). The family lived here for over 90 years.
A small side building on the ground has been converted to a gift shop. The grounds are very peaceful and one can wander here during daylight hours. The site is popular with locals for weddings and or receptions. Docent led tours of the interior of the house are held every Sunday from 1-4pm.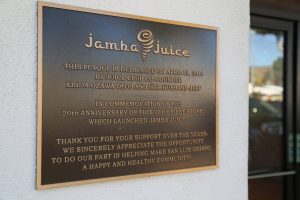 Jamba Juice has two locations in San Luis Obispo – one on Marsh Street downtown across from the Marsh Street Cinemas and one located on Foothill Blvd – about 6-8 minutes from downtown. The Jamba Juice located on Foothill Blvd is Jamba Juices's first ever store.
This particular Jamba Juice is quite special considering that Jamba Juice now has many locations in most US states. Jamba Juice began as a "Senior Project" for several students while they were at Cal Poly.
For more information please visit their website at: www.jambajuice.com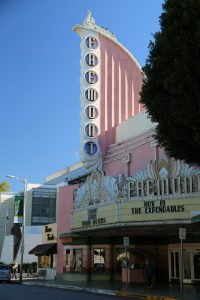 Movie Theatres . Three primary movie theatres are located in San Luis Obispo. The Palm located on Palm Street across from the Palm Street parking garage shows older and non mainstream movies. The historic Fremont Theatre on Monterey street run by Jeff Harrington was built in 1941; it features a large theatre that is colorfully painted .
The Fremont also contains smaller theatres and shows current movies. The Marsh Theatre on Marsh street is probably the most popular theatre in town. The Madonna theatre was torn down to make way for the SLO promenade – which is a unique mix of shops located away from downtown on Madonna Ave.
The theatres mentioned above are all located downtown.

San Luis Obispo Children's Museum is located at 1010 Nipomo Street on the southern fringes of downtown. Traveling with young children? Put this museum on your to do list. The museum is geared towards children from the ages of 1 to 10. Like with other Children's museums we have visited adults are allowed entry only if accompanied by children.
Three floors of play-space as well as outdoor activities are on site. The Thinkery, is a program for children between 2.5 to 6 years of age which encourages them to ask questions and encourage curiosity and creativity. Various programs are offered daily – for more information and to check their calendar of events, visit: www.slocm.org
San Luis Obispo Museum of Art is located at 1010 Broad Street – just above the creek on the west end of the Mission Plaza. Parking is metered on nearby streets. Established in 1998, this tiny museum focuses its efforts on collecting, preserving and displaying various art significant to the Central Coast as well as other art relating to California. Unlike many museums, this one focuses on contemporary art created artists who are still living including works in various mediums: painting, sculpture, fine craft, printmaking and photography.
Admission is free but donations are welcomed. The museum also fund raises through its adopt a painting program. They maintain a permanent collection as well as rotating exhibitions. Events are also held here from time to time. For more information, visit: www.sloma.org
San Luis Obispo Railroad Museum is about a 15 minute walk from downtown or a 3 minute drive. Conveniently located along the railroad tracks, if one times their visit here correctly, one can see the Amtrak Pacific Surfliner pull in on it's way up the coast from San Diego. Amtrak also provides train service up to Oakland from here. This used to be a rather run down part of town – today it is well maintained and visiting this museum is arguably one of the highlights of a visit here. Plenty of free parking in the lot surrounding the museum and train tracks.
The museum opened in 2013; it is currently open every Saturday from 10-4pm. Housed in the old Southern Pacific Railroad Freighthouse. The building dates from 1894 and was originally constructed to load goods including lumber onto the Pacific Coast Railway trains – which connected to other towns in the Central Coast (see Los Alamos for the last remaining train depot on that particular railway).
The museum itself is very small (perhaps most appealing for a long time locals and or train enthusiasts rather then out of towners) but contains a wide diversity of railroad memorabilia including a working model of the old Southern Pacific Coast Railway. Other highlights include an old iron ore cart used in a cinnabar mine in southern San Luis Obispo County, a display about brakesman and their communication systems including block signals, local railroad history and a beautifully restored Pullman Car (still standing on the tracks). Visit: www.slorrm.com