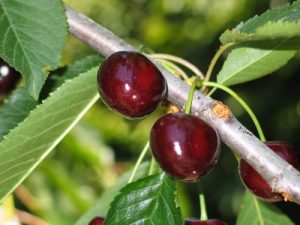 Some of the best U-pick fruit farms in California are located in Brentwood – east of San Francisco by approximately 90 minutes to 2 hours. This area is known for its U-pick due to the variety of fruits and the number of orchards offering this service. Brentwood Cherries are available from approximately mid/end of May to mid June. There are over 40 U-pick farms in the Brentwood area. For more information visit this very informative website for picking locations, times, maps and approximate dates for when the fruit is ready: www.harvest4you.com
2019 Cherry season longer than previous years – rain in May caused split skins for early ripening cherries but in large this was one of the best cherry seasons in the 20+ years we have been going to Brentwood. Seko Ranch closed later this year. Mike's U-Pick and neighboring Bloomfield Cherries were still open weekend of June 7th and 8th. This year we saw several large tour buses pull into Mike's U Pick. It was a busy time in the Brentwood cherry orchards! Seko Ranch still one of favorites – the varieties at both Mike's and Bloomfield orchards either not yet super ripe or just not as sweet as the Seko Ranch varieties.
And that is just about a wrap on the 2014 Cherry season in Brentwood – Seko Ranch closed today – we got there just in time yesterday to spend a fun filled hour or two picking cherries from the back of their orchard. The sweetest cherries this year – really helps in that regards in going towards the end of the actual season.
Just missed the two person fatality accident on Lone Pine Road Went which apparently happened just after we left. Also went next door to the nectarine and peach farm – nice peaches but as usual the nectarines were terrible.
This page receives between 1500 and 2000 unique visitors during each month of May and June and really spikes in traffic around Memorial Day Weekend. Please help others out and add your comments to the bottom of this page!
2009 was a very weird year for fruit in Brentwood – cold and a very late harvest with lots of white worms living in the cherries.
During a normal harvest, our favorite farm in Brentwood is Seko Ranch – they have old trees and very sweet cherries. Walk further away from the main entrance and you may find trees where you won't need the tall ladders to reach the fruit. We have found at least 3 varieties of cherries. Weekends can be insanely busy so get there early! Weekdays during the cherry season are much less crowded and if you are there early generally you will be able to park in Seko's small gravel parking lot rather than the stacked parking in their orchards found on the weekends. View our general fruit photos Here