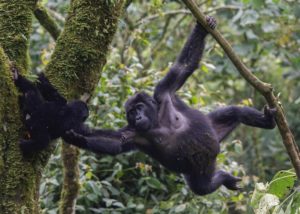 According to IUCN, there are close to 8410 critically endangered species in the whole world. These include but not limited to African savannah elephant, African wild dog, western lowland gorillas, and Eastern lowland gorilla among several other species.
The mountain gorillas have recently made it off the critically endangered species to the category of endangered species because there is hope in the efforts of Uganda, Rwanda and Democratic republic of Congo conservation efforts. However there is more that need to be done given the relatively low population of the mountain gorillas.
It should be noted that unlike other gorilla species, mountain gorillas can only survive in their natural environment. In the whole world, there are only three countries where you can find mountain gorillas; that is Uganda, Rwanda and the Democratic republic of Congo.
As of 2022, there is an estimate of 1063 mountain gorillas surviving in Mgahinga gorilla national park, Bwindi impenetrable forest national park, Virunga national park and Volcanoes national park combined. However the recent gorilla babies were not put into consideration when coming up with the 1063 gorilla population in 2022.
The number 1063 might sound little, but it has taken more than ten years for the mountain gorilla population in the whole world to shift from 600 mountain gorillas to 1063 mountain gorillas in 2022.
A lot of efforts have been pushed into conservation of the mountain gorillas in Uganda, Rwanda and the Democratic republic of Congo and if you are wondering how you can be part, here are the five best ways to support mountain gorilla conservation with Uganda as the case study.
Gorilla Trekking
One of the most popular safari adventures in Africa is gorilla trekking but what most people do not know is taking a gorilla safari is more of a conservation fund raising activity than it is an adventure activity. The more people trek gorillas, the more they contribute to ensuring that these great giants are preserved.
Given the fact that gorilla trekking is a worthwhile activity, the number of people who are allowed to visit a gorilla family per day is limited. This is to ensure that these animals do not lose their wildness.
Every time someone considers a gorilla safari in Uganda (Bwindi impenetrable National Park), or volcanoes national park in Rwanda, or Virunga national park in D.R. Congo or any other gorilla trekking destination in Africa, they are directly contributing to the conservation of both critically and simply endangered gorilla species.
Direct Donation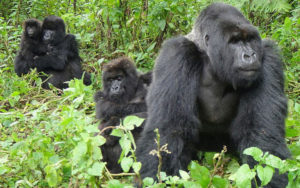 One of the most famous ways of supporting conservation is through direct donations. The same can be done for gorilla conservation. It is very possible to make direct donations to the gorilla national park of your choice. These include but not limited to Volcanoes national park, Virunga national park, Mgahinga gorilla national park among several other national parks.
You can make a direct donation by contacting the national park. However it is recommended to earmark your donation to a particular purpose so that you can easily follow up on your donation. Without earmarking your donation, it is very hard to get proper accountability for your donation.
Volunteer in Gorilla Communities
Human beings are the main threat to the survive of their gorillas in their natural habitats. In order to reduce these threats, a number of initiatives have been established. These include community schools, hospitals, as well as community empowerment schemes.
A number of people have volunteered in community hospitals such as Bwindi community hospital. Through such initiatives that have a direct impact on the people; the community come to appreciate the importance of conservation.
Once you participate in community work, you get a chance to see the world through the eyes of the community and also get a chance to learn why some do not value conservation. But through your volunteer work, the get to see the direct value of your work and also start to value conservation the way you value it.
Hire A Porter During Your Gorilla Trek
Many societies in Africa were generally surviving through hunting and subsistence food growing. There was no need for formal education or hospital bills. Once the society rose to the point where formal education is a necessity, it laid demand for a need to have money in order to meet medical bills and education bills.
Several porters are either parents or youth trying to save up some money for their dream. Some are farmers who through farming cannot meet the necessary bills. Others are former poachers. The easiest way to support them is hiring them as porters. The $5 or $10 they receive in a day makes a huge difference in their life.
If someone can afford a permit of $700, they can afford a porter of $10 too. It is through such little support that some of the former poachers entirely give up on poaching after finding another survival alternative through working as gorilla trekkers' porters.
Supporting Community Owned Lodges
Most of the lodges in the locality of the gorilla parks are owned by either foreigners of rich people that have nothing to do with the communities around the gorilla parks. Every time a tourist supports community lodges such as Ruhija community rest camp; they are directly improving the livelihoods of people who would have been a threat to the survival of the gorillas.
Gorilla community initiatives are largely growing in Uganda and Rwanda; but the same needs to be done in Congo, Democratic republic of Congo, Gabon and other gorilla conservation locations. It is through community initiatives such as community lodges, community saccos among other initiatives that people's survive cease to be a threat to the survival of the gorillas.
The above five are not the only ways you can support gorilla conservations but with them you have a point of reference in case you wish to support gorilla conservation in Uganda, Rwanda, Congo, Cameroon, Gabon and several other natural gorilla habitats. See junglesafarisuganda.com to learn more.