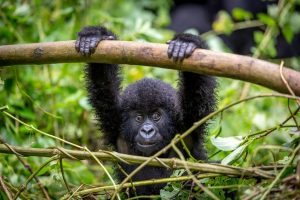 Congo is one of the 3 countries in the world where tourists have an opportunity for gorilla safaris and spend upto one hour with mountain gorillas in the jungle. Virunga national park is home to 6 habituated gorilla families available for trekking with other families still undergoing habituation process. The Democratic Republic of Congo shares a portion of the virunga volcano region which also occupies a small part of Rwanda called the Volcanoes national park and Uganda called the Mgahinga national park. In this portion of the Virunga massif, Virunga national park comprises of the second largest gorilla population at about 250 mountain gorillas after Volcanoes national park holding over 400 gorilla species with Mgahinga national park having just one gorilla family.
A journey into the Democratic republic of Congo on a safari is something many tourists fear to consider, but for those who dare to take the chance have come back with the best typical wildlife experience of a life time and a great chance to support the persistent effort of rangers and the daily risks they take, to conserve mountain gorillas in the jungle. Congo is very safe and the part of tourism including gorilla trekking safaris, Nyiragongo Hiking in Eastern Congo is managed by the Virunga national park offices who guarantee security of the clients and many tourists today are selecting destination
Congo for the ultimate adventure
Congo's Virunga national park offers a guarantee to view mountain gorillas at half the price of a gorilla permit in Uganda and quarter the price of a Rwanda gorilla trekking permit making Congo the cheapest destination for gorilla safaris in Africa, and while in the low seasons (April – May and November) prices of gorillas permits are cut to half the normal Price from $450 ordinary price to $200 for the rainy season.
How to Go Gorilla Trekking in Congo
All Gorilla tours in Congo set off from Rwanda – Kigali driving to Gisenyi – Lake Kivu the Rwandan border into Goma town Congo. Congo visas are usually booked at least 2 weeks prior to crossing into Congo and can be booked through the Virunga website or Rwanda tour operators already dealing with Virunga. Crossing into Congo requires one to have a valid yellow fever certificate, and if one arrives without it can receive the yellow fever shot at the crossing point. Crossing into Goma is a smooth process and one can have a tour pre organized with a Congolese guide waiting on the Goma side or there is plenty of public transport like matatu to drive you to a hotel in Goma. Virunga national park also organizes transportation to and from the park at a small fee and even arranges visas, accommodations.
What to Expect
Gorilla trekking starts with briefing at the Bukima head offices with the head guide preparing you on what to expect, how to behave while with the gorillas. You will be split into tracking groups with a maximum of 8 people, but with less tourists travelling into Congo, numbers are mostly 2- 5 people per group. All groups are escorted by 2 armed guards to enhance security of tourists in the forest plus tourists can choose to take porters to carry their bags.
Virunga national park, just like Rwanda's volcanoes national park and Uganda's Mgahinga national park are all bamboo forests with easy hikes to the gorillas, less undergrowth and generally not as tough as trekking in Bwindi impenetrable forest. Hikes last upto 1 – 4 hours and are generally less strenuous with good light through the forest making photography very good.
What you need to know about Mountain Gorillas
Gorillas are very susceptible to human diseases like cough, flue, and its important you only track gorillas when you are healthy and be very precautious while in the presence of gorillas. In Congo tourists are encouraged to wear masks when gorilla trekking so as to protect the endangered species.
Gorillas in Virunga live in families with members of varying ages led by a silverback gorillas, there babies, juviniles, black backs females. When you meet your gorilla family, gorillas are used to human presence and go about doing their activities eating leaves, playing with the silverback gorilla overseeing the entire group wellbeing.
Essential Tips while planning to go
• Trekking gorillas in all locations requires good physical fitness and Congo is o different but the terrain is much gentle compared to gorilla trekking in Bwindi national park. Plan for hiking for about 1 hours and more searching for the gorillas in the Virunga forest.
• Virunga national park offers 100% guarantee to see any of the 6 habituated gorilla families all year round and they are mostly much nearer.
• In case you travelled with your bags, tourists can leave their staff at the virunga park offices in Bukima with the staff and find it after the trek. It's advisable to carry only the necessities for the trek in your day pack so it's not heavy to inconvenience you during the hike.
• Arrive with your gorilla permit or payment receipt for the gorilla trekking as you will go through a verification process right before the trek. Gorilla Permits in Congo cost $400 in the onths of December – April 24th and June –October and in the low seasons of April, May and November permits cost only $200 Per trekker.
• You must have overnight in Congo and not in Gisenyi since you must be at the park had office by 7:00 am. The Gisenyi – Goma border opens at 8:00am and this will be too late to find briefing for gorilla trekking in Bukima. Accommodations available include; Mikeno Lodge, Kibumba Lodge within the Virunga national park and in Goma, one can sleep at Kalitos hotel, Ihusi Hotel, Lac Kivu loge
• You must have travel insurance as you cross into Congo, Virunga national park has had its share of several kidnappings and yes the virunga authorities are enhancing a tight security system but you need to plan for just in case.
• Yellow fever card is a must and cannot cross into the Democratic Republic of Congo without it. Inase you don't have it, its possible to pay fine at the border but your taking a health risk to cross without it.
• If you have time, its advisable to buy a Rwandan simcard which you will need for communication and data use. Many network service providers are available in Kigali and it's easy to get a simcard for just $10.