You may wonder what there is to do in Botswana. This large country has only one major city, Gabarone, and Botswana is not greatly publicized when it comes to tourism. I'm not even sure how I found out what a great destination Botswana is. But at some point in my travel research, I decided I had to go on safari in Botswana, most famous for the Okavango Delta and Kalahari Desert. Genuine hospitality, beautiful scenery, not to mention an exciting time on safari all welcomed me to this amazing country. Botswana quickly became a favorite travel destination of mine, and all within just four days.
For my safari in Botswana I chose to go to the Okavango Delta, and I was not disappointed. I booked my safari through Africa Travel Resource (ATR), and my travel insurance through World Nomads, the same companies I used for my Tanzania safari and Kilimanjaro trek last year. I didn't really know what to expect from Botswana, but I got a lot more than I bargained for. My safari here, and Little Kwara Camp, were just amazing. I am totally spoiled and addicted to safaris after this adventure.
Little Kwara Camp
My trip started in Cape Town, and from there I flew to Maun in Botswana. I was met by a representative for Moremi Air who took my friend and me out on to the tarmac for our flight in a six-seater Cessna to Kwara. I sensed a bout of motion sickness in my future, and I was right, but it wasn't too bad. The flight was only 30 minutes. We flew below the clouds and I watched an isolated storm move right towards us, but we flew right past it. After that, I had to close my eyes until just before we landed.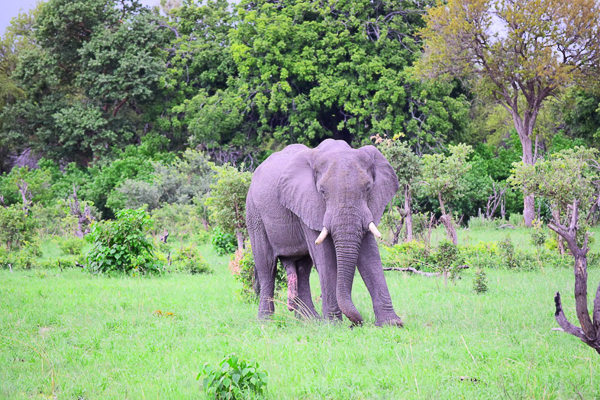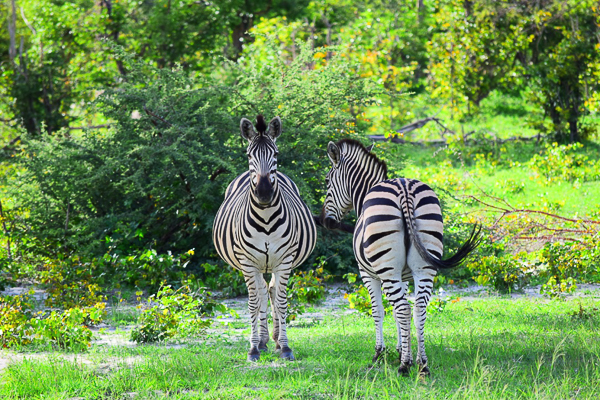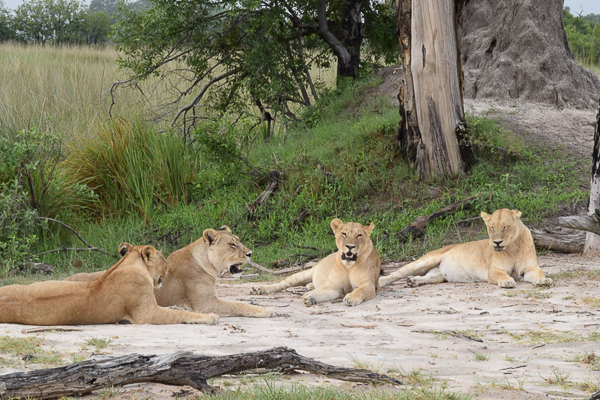 At Kwara Airport, which is basically a landing strip made from termite spit and sand, and a three-sided shelter with a metal roof, we were met by our guide, Wago, and Super Spotter, Mike. They tossed our bags into an indestructible Landcruiser and drove about 15 minutes to Little Kwara Camp where we would be totally spoiled and gain several pounds over the next four days during our safari in Botswana.
Little Kwara Camp is a sister camp to Kwara Camp located in the middle of the Okavango Delta Kwara Concession. There are five luxurious tents, a beautiful dining area, two lounge areas and a fire pit. The real reason I booked Little Kwara is simple. Little Kwara has clawfoot tubs in the middle of the tent, and I fully intended to use it. I don't even take baths, but I did in Botswana! Kwara Camp is also stunning and also has bathtubs. There is also a super cool outdoor shower and hot water on tap. Let's not forget the visiting hippos and impala that we saw in camp every day.
Time to Eat Again? 
Our day started at 5:00am, which might make you think, "No way!" but each day we returned to camp at 10:30am and had brunch at 11:00. "That's it?" I hear you asking. Nope! After brunch, we had a siesta until 4:00pm when we were served high tea! Then another safari from 4:30pm to about 7:30pm. "Oh, you must have been hungry again by then!" you say? Why yes, and that's why we were served a three-course dinner at 8:00pm. We were fed four times a day! Each time it was an event, not just a meal. Breakfast was muffins, porridge with wonderful condiments, and coffee or tea, so not such a big deal, but yummy. But the other meals were extraordinary. Dinner was like eating Sunday dinner at grandma's. By lamplight. It was beautiful.
On Safari in Botswana
I knew that the sheer number of animals would not be as extensive as what I saw in Tanzania, but the variety of species is about the same. I won't bore you by naming all the animals I saw in the four days I was there. But I have to tell you how close we got to some of them. A maximum of three vehicles are allowed at any one animal sighting. Landcruisers are a common sight for the animals. We parked within 20 feet (7-8 meters) of two male lions, a cheetah, and not much further away from a female leopard asleep on a low branch of a tree.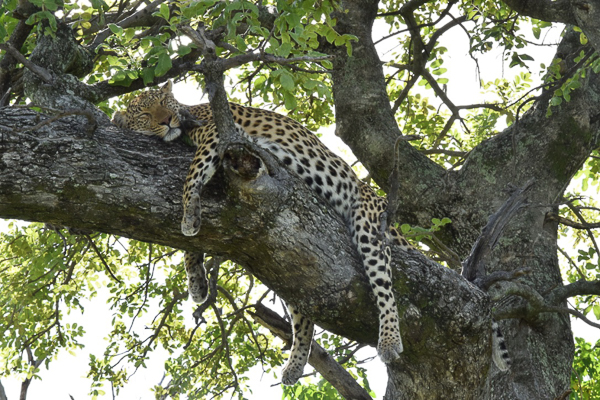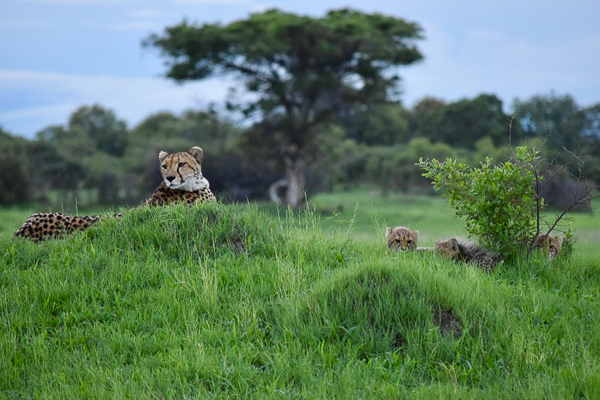 On our last day, a hippo was right by the road, out of the water, and we were within 30 feet (10-11 meters) of him. When he started to come closer, Wago started the engine and he went the other way, but not far. I must confess, I've seen a hippo run and I wanted to see it again, but he wasn't bothered enough to run.
Altogether, we saw numerous giraffes, elephants, zebras, impala, kudu, tsessebe, and so many birds. Three male lions, known as the Zulu Brothers, three leopards, and two cheetahs were definitely highlights of this safari in Botswana. We interrupted the hunting of one of the leopards and I felt so bad for him.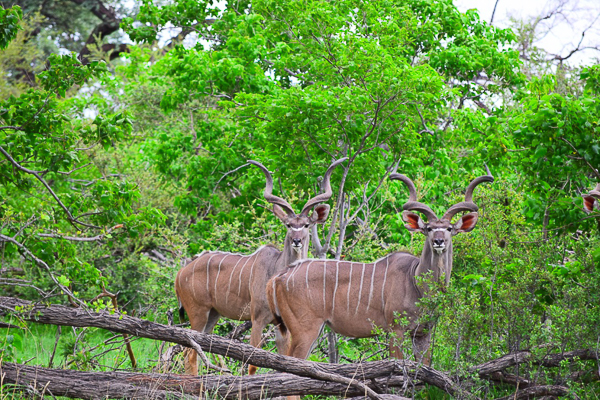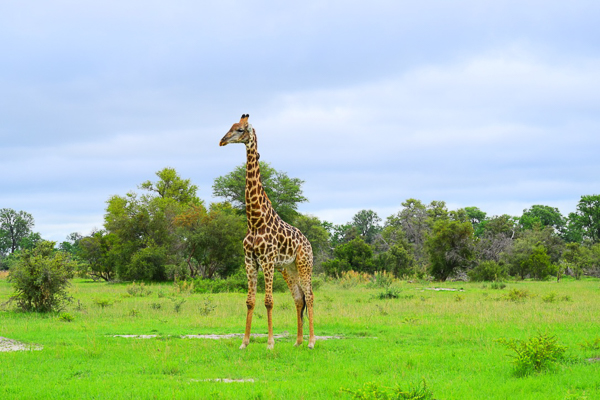 I will never forget the sight of a pack of wild dogs (painted wolves) killing an impala. We saw a kill. It's heartbreaking to think of the fear that impala must have felt, but thrilling to watch. The wild dogs devoured the impala in less than ten minutes.  They then go back to the den and regurgitate part of it for the remaining dogs in the pack. Ew. I didn't know that.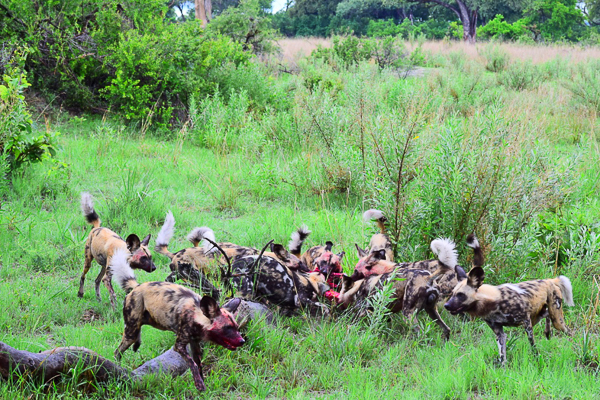 I wish I'd had more time to go on safari in the Kalahari Desert or other parts of Botswana. We were so incredibly close to these animals. The camp was luxurious. They even did our laundry, every day, at no extra charge. The staff, the food, the conversation at night. This amazing experience both spoiled and blessed me.  A safari in Botswana should be at the top of everyone's list, and not just because of the animals. The people you meet will no doubt make this one of the best experiences of your life.
I really didn't feel ready to leave Botswana, but John and I were headed to Victoria Falls next. I was so excited to finally see Victoria Falls in Zimbabwa, the largest waterfall in the world.