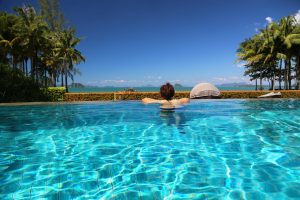 One enters this refined state of opulence through a grand entrance – reserved for quiet of which there is plenty of on this property – and a place to decompress once you arrive. Stone tiles line a reflecting pond culminating in a pavilion and some welcome shade.
Everyone can use a refreshing chilled towel infused with some pleasing exotic aroma on hot humid days; this along with an invigorating drink are served upon your arrival.
If you are tethered to state of doing everything yourself, it may be initially hard to cut this 'twine'. But over time you will naturally do so here; and it will feel good to let someone else do all the work. And that would be your personal butler assigned to each villa – available at your call 24/7.
Private butlers are the pinnacle of the service here – but service certainly doesn't end with them. During our stay we found the staff to be highly trained to be acute to their guests' needs. You become spoiled with impeccable service such as this – and when you leave the property other service almost seems mundane.
The 'reserve' is a rare property indeed. Currently Ritz-Carlton manages only three worldwide with several more slated to open. This particular reserve property features 50 villas spread out over 54 acres. Basic math equates to over an acre of space per villa. Even when all the villas are nearly full, it never feels busy here (as was the case during our stay).
The villas are luxurious inside containing what might possibly be the widest beds you will ever sleep in. Depending on which villa you opt for, some have infinity pools, outdoor showers, and pool or sea views. The pavilions are nearly as impressive – boasting decent square footage and plenty of space for relaxing, both inside and outside – each with a private veranda and a sizable out-door bath.
The property can be enjoyed on foot – but the staff commands a number of golf carts and are always available to transport you to anywhere on site you desire to visit.
Aside from the villas, arguably the physical highlight of a visit here is the pool. It makes a splash visually – spread out in a semi-circular fashion, with one end dropping over the side – below that in the background are the waters of Phulay Bay complete with the scenic limestone karsts (rock islands) that prominently jut out of the bay (of which there are many).
A swim up bar with stools under water awaits your presence. Or simply wander over to one of the perfectly positioned tables poolside and order from a menu that features both International and Thai cuisine.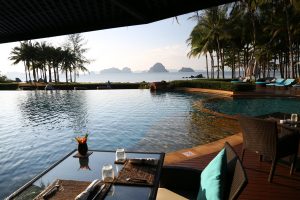 In addition to the six restaurants/bars/lounge on the property – private dinners held in select locations on the property can also be requested. Breakfast is included with every stay and features mostly an International cuisine with an Asian influence. Fresh fruits, juices, pastries, salads and a cook to order station are available here.
The spa features highly personalized treatments and a variety of treatment options.
Best place to watch the sunset from the property? The answer to this is obvious – from the sunset bar with a drink in hand – the limestone islands add an additional visual twist to any sunset photograph taken from here!
And if you see an elephant walking near the beach area, do not be alarmed. This is Koko, a small elephant that lives in a nearby elephant camp and sometimes comes to the resort to enjoy the company of guests.
Should you require some sightseeing stimulation, a number of tours and sightseeing options are offered. The most obvious choice would be their complimentary long tail boat ride (about 15 minutes) to the nearby Hong Island. A several hour stop allows you to explore some of the white sandy beaches, snorkel or hike. These islands are very popular with tourists and during the high season (December through February many visitors come here each day).
Other trips are private and include visiting some of the islands around Ao Nong (for a jungle walk), Phangna Bay and the famous James Bond Island along with the intriguing Panyi Island/village, including the floating part of this community) and Phi Phi Island for sightseeing and snorkeling.
Getting Here:
The property is located about a 50 minute drive from the Krabi International Airport and two hours by car from Phuket International Airport. Both airports offer flights from select International destinations with non-stop service to several European cities as well as to both Suvarnabhumi Airport and Don Muang Airports in Bangkok.
Staff usually arranges transportation – sending a driver to pick you up from either airport. Should you require quicker transportation, a private helicopter can pick you up from the Phuket Airport or arrange a transfer to a pier for a 30 minute speed boat ride across the bay to the property.
For more information and to reserve your piece of this paradise, visit: www.ritzcarlton.com/en/hotels/phulay-bay