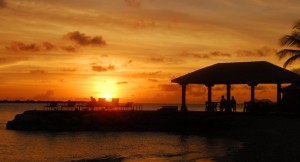 I mean you can't beat hanging around a great Caribbean resort like Harbour Village Beach Club on the island of Bonaire. It's got a great restaurant, stunning sunsets, a long puffy sliver of silky white sand for a beach, and tons of stuff to do, from diving to snorkeling to kayaking and more.
There are also the super comfy ocean-facing rooms set amid tropical gardens, and an ever-gracious staff, never leaving you wanting for anything, quick with a "hello" as you pass and an "anything we can do for you?" if you stop to chat.
But getting off property is a must, as Bonaire has ample places to see. There's Lac Bay, the windsurfing capital of the island, where local legend Elvis Martinus has been teaching island youth the sport for decades. Or the towering mounds of salt on the island's south end, testimony of a thriving industry there and nearby, a grim reminder of the island's past with rows of tiny huts that housed slaves for two long centuries.
There is also the tiny hamlet of Rincon, the island's oldest village, established by the Spanish in 1657, a colorful collection of low-slung residences and businesses, one of which is the tasty Cadushy Distillery home of amazing cactus liqueurs. Or the bustling capitol of Kralendijk, with its many restaurants, shops and places to listen to local music.
Stay or go, what a dilemma.
Staying Put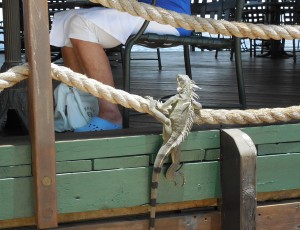 You'll have company when you eat at LaBalandra at Harbour Village, winged and scaled. The restaurant, a replica of a boat, open sided and breezy, juts into the ocean, and more often than not, squalling birds on the railing will serenade you and smaller ones will dart at your feet looking for handouts. And don't be alarmed by the occasional iguana poking up a curious reptilian head through the railing, or just sunning on the rocks around the restaurant.
At dinner one night, we were encouraged to toss our refuse over the railing to the wave-lapped rocks below, where crabs, iguana and fish welcome the feast, something nearly as much fun as dinner itself. The food at La Balandra is superb; the grilled Caribbean lobster tail is a must, and breakfast, while rather routine with a menu catering to American tastes, offering pancakes, baked goods, eggs, bacon, sausage, and the like, is excellent..
My room was a one-bedroom suite with huge living room, French doors opening to stone patios and that beckoning beach beyond. The spaces were huge, the bedroom boasting a handsome four-poster wooden bed with rattan headboard, small work table, and a giant bathroom with separate water closet, and a huge glass-and-stone shower big enough for a massive soaking tub as well.
All rooms are more than comfortable and roomy, sitting amid tropical gardens housed in golden-hued Dutch Caribbean-styled stucco villas adjacent to that silky beach, with a large area next to it shaded by palms.
A nice diversion here is anything you book at the Great Adventures Bonaire Dive and Water Shop on the property, which has long been designated as a top dive destination, with the area home to 86 well-defined dive sites and more than 30 years of environmental protection laws that make Bonaire a place with the most-preserved marine life in the world.
I went snorkeling one day, boarding the vessel with a handful of divers and regretting not being dive certified as I watched them plunge beneath the surface and not come back up for 30 blissful minutes.
But the snorkel dive was most pleasant, a beautiful, peaceful experience swimming with colorful fish amid around coral, sea fans and amazingly elegant underwater vegetation, with tiny fish feeding off bigger ones that scrape the coral for food, which you can hear if you stop breathing for a second to enjoy the endless cycle of aquatic life.
Out and About
For stunningly clear water, great beach food and drink and to take a crack at windsurfing, visit The Beach Hut Bonaire and Bonaire Windsurf Place, side by side on the southeast coast, a windsurf bay known as Sorobon, with crystal-sharp shallow waters, a Mecca for windsurfing aficionados.
The Beach Hut was a small snack and fast-food outlet for years until 2008, when it was replaced by an immense boat-shaped bar, open to the bay and with a sand floor. Here you get terrific beach food like the half-pound Beach Hut burger and local goat cheese salad, where there is regular live music on the beach as well.
Next to it is the Bonaire Windsurf Place with has top-flight instructors, including the legendary Elvis Martinus, all Antillean champion and Olympic representative, and featured in an award-winning documentary, "Children of the Wind. The bay is one of the most sparklingly clear bodies of water I've ever seen in the Caribbean, a broad and shallow place of steady trade winds and a beautiful beach to watch the colorful windsurf boards jet across the surface. It's a great place to chat up Elvis, too, an affable sort always eager to promote the sport he's done so much to promote on the island.
Ramble Around Rincon
Also not to be missed is a visit to the village of Rincon, where you can pick up a walking-tour booklet and meander about the easily strolled community and see things like Cinelandia Theatre, long closed but with plans underway to make it the Bonaire Heritage Center; a house built of "blokkies," one of the few on the island built of these gray blocks; and the Oficina di Number, a betting office.
After you've worked up a hunger, satisfy it at Rose Inn, an open-air affair where you sit at rickety tables in the sun-dappled shade below intertwined brambles, drink Polar beer from Venezuela and try some iguana soup, a thick concoction with very bony pieces of lizard, some with skin attached, and if you're lucky, a leathery iguana egg or two. Trust me, close your eyes, it tastes like chicken soup.
You must try the goat stew as well, with abundant chunks of meat served with veggies, plantains and a mix of corn meal and beans, all of it with a kick. For more add some table-top hot sauce, a wonderfully hot, vinegary addition that will have you ordering another Polar.
Rose Inn is a typical Caribbean eatery, frequented by colorful, Papiamento-speaking locals, a squatty collection of bright green and yellow buildings, steaming-hot bathrooms and Tamba music coming through speakers.
Taste of Cadushy
If you're of a mind for a stronger libation nearby, take a tasting over at Cadushy Distillery that was started five years ago by Eric and Jolande Gietman, the husband a big, blue-eyed Dutchman who boasts he runs the biggest distillery on the island – and the only one, which by default, makes it the biggest.
They started out making a green Cadushy cactus liqueur, easy enough since cactus is to Bonaire what pine trees are to Maine. The cactus is hand peeled, no easy task, and dried in car windshields, Eric said. He also makes his own sorghum alcohol which he says runs from 18-percent to nearly 100, which "you can't drink but can run a car on," the big Dutchman laughed. I'm not sure he was kidding.
They don't export, so buy some to take home, the bottles making "good suitcase liquor," he said. They also make cactus vodka, which he claimed is the only one in the world, Rom Rincon, a rum spiced with yerba, and Captain Don's Whiskey, spiced with aged Cuba tobacco leaves, named after a local diving legend.
The distillery is at the site of the old Cinelandia, which the Gietmans bought, and had no roof when I visited, an old rusty Phillips projector leaning on a far cement wall. Cadushy is a place with a social conscience as well: The Gietman's founded the Bonaire Heritage Foundation, and part of their distillery proceeds goes toward its work.
In the small distillery's complex is an open space known as Plaza Diego, an old party center, and still a hub for the annual Rincon day when thousands flock to this usually sleepy village to celebrate the island's heritage.
Rincon is, Eric said, "the Bonaire of 30 years ago," a collection of pastel buildings, a few businesses, dogs ambling on never-busy streets, children playing freely on them, and old timers drinking beer and laughing on brightly painted patios.
Coming back, stop and shop in Bonaire's tiny capital, Kralindijk, a marvelously cramped city of kitschy shops, upscale boutiques, restaurants and bars. One night we took in a show at City Café (which shut down for good in November after a long run) where Andreina Marcano, Harbour Village's front-office manager and very capable part-time musician, was singing. Andreina, a perfect face for Harbour Village with her bubbly personality, is a little bit of a thing but pumped out songs with immense power and clarity, accompanied by a band that included her husband. That made my last night on the island a very fitting way to end the adventure.
Should I stay or should I go? Yes to both.
More Information
For information on Bonaire, visit www.tourismbonaire.com. For information and reservations at Harbour Village, visit www.harbourvillage.com