The word Uzbekistan itself carries an air of mystery about it. When I told people I was traveling to Uzbekistan, they exclaimed "Uzbekiwhere?!" and then followed that up by "Is it safe?!"  Uzbekistan IS bordered by Kazakhstan, Kyrgyzstan, Tajikistan, Afghanistan and Turkmenistan, countries that are not very well known in the West. So I suppose the "safe" question was fair enough!
I'm here to give you the 411 on this destination and hopefully convince you to come with me as I lead a tour group back to Uzbekistan this September, because that's how beautiful this country is! If you've never heard of the Silk Road, it is the ancient trade route that connected China to the West. I've always wanted to travel along some part of the route today and I discovered that three of the Silk Road's most important cities lie in Uzbekistan: Khiva, Bukhara and Samarkand. These cities were the key stops for traders passing by with their caravans and camels loaded with silk, spices and other items. Today, Uzbekistan is opening up to tourists and it has become easier to experience the splendor of the Silk Route here, but not for long as this country is poised on the edge of mass tourism!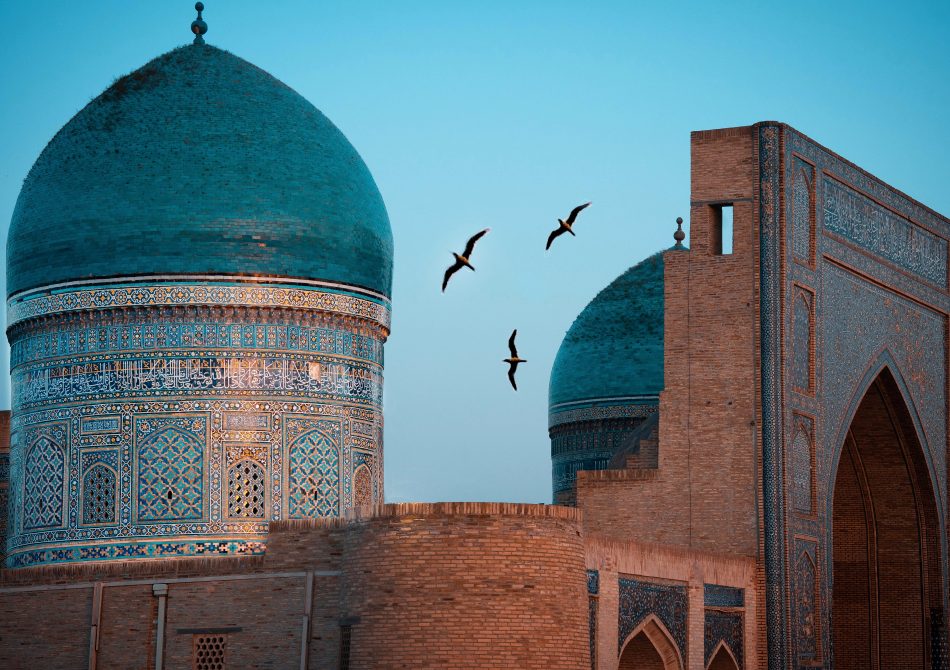 Getting In:
I flew Turkish Airways from San Francisco to Tashkent, the capital of Uzbekistan, with a stop-over in Istanbul airport.  You can either arrange a pickup at Tashkent airport with your local hotel/hostel or grab a taxi to the city centre, which should not be more than $5.
Visas:
There are many countries that do not need a visa but for those that do, an e-visa (single, double, or multiple entry) is available through the e-visa portal.  The system is fairly simple but at first it wouldn't accept my passport size photo. After various attempts to resize it, I was then able to successfully submit it. I was unable to process the visa fees in the next step, as the website link to "pay" was broken. I reached out to the contact info on the website and after several days of troubleshooting, I was able to make the payment successfully. Ironically, I received my e-visa in less than 24 hours from the time the payment went through!
Uzbekistan Sample Itinerary:
I recommend approximately two days in Tashkent, two days in Khiva, three days in Bukhara and another three in Samarkand, depending on how much time you have for this trip. You can arrive in Tashkent and take connecting trains to Bukhara and Samarkand. The trains are on time, clean, equipped with AC and tickets cost between $7 – $25 depending on when you reserve. Buy tickets in advance with a local Uzbek travel agency or buy tickets at the train station.  To get to Khiva, fly from Tashkent to Urgench and 30 minutes later you'll find yourself in Khiva.
Weather & Clothing: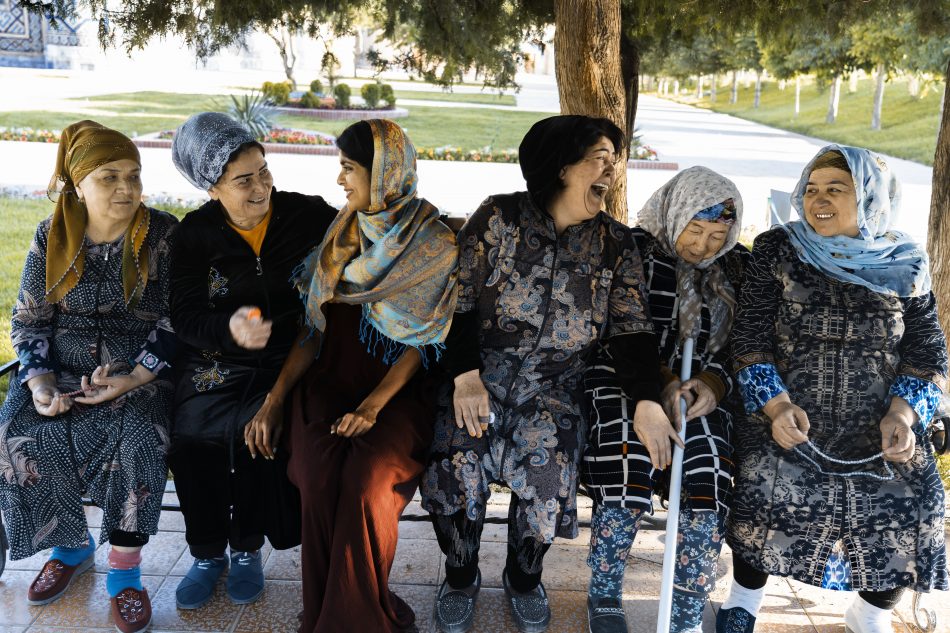 The weather in May is a dream for me – hot during the day and perfect for evening strolls. September is also fantastic as it doesn't rain much during this period.
Although Uzbekistan is predominantly a Muslim country it is not officially an Islamic nation. In the Soviet era, Uzbekistan was considered secular and religion was not a priority, therefore you won't really hear too many calls to prayer, or feel like you're in an Islamic country per say. As far as clothing, I tended to wear long skirts and dresses as I noticed people were dressed pretty modestly. You will see the older generation women wearing head scarves and long, flowy, full sleeved dresses, while the younger women wear jeans, skirts and tops. I didn't see anyone wearing shorts and tank tops etc. Headscarves are not required, nor did I see the younger generation wearing them.
TASHKENT
Tashkent is the largest city in Uzbekistan where 2000 years ago, spice merchants and silk traders passed through its famous bazaars on their way to the West. Tashkent is a cosmopolitan city and home to Uzbeks, Kazakhs, descendents of Mongols, Tajiks and other ethnicities. The people are predominantly Muslim and due to the Soviet rule, the city still retains a Soviet flavor. Most people speak Uzbek and Russian. English is not spoken widely amongst the older generation but I got by just fine with a lot of smiles and some creative sign language. I addressed the locals with "asalam alaykum" in Uzbek and said thank you "spaseeba" in Russian and this seemed to delight everyone into engaging with me!
Must-See Places in Tashkent:
TIP: Most hotels tend to collect your passports in the beginning and you will likely need a passport and hotel registration slip to buy a SIM card. The internet has opened up quite a bit here after the new president in power, so WIFI at the hotels is not a problem.
KHIVA
The walled town of Khiva is a delightful labyrinth of narrow mud-walled alleyways and stunning blue mosaics. Strolling around old town early morning before the tourists get here is worth it because you will be able to truly experience the place in a very different way. I caught an old woman baking bread in a traditional oven when I walked down one of the alleyways, who invited me to share some with her. I caught images of brightly dressed cleaning ladies sweeping the ground in front of their homes or in front of monuments. A single ticket, sold at the west gate can be used to gain access to most of the city's sights and you can use this ticket for up to two days. The ticket costs approximately $6 per person, including a $1.90 camera fee. You will see many souvenir stalls in front of the monuments, giving you a chance to do some shopping for local items. I preferred early mornings which gave me the opportunity to walk through these sights without the clutter of these shops.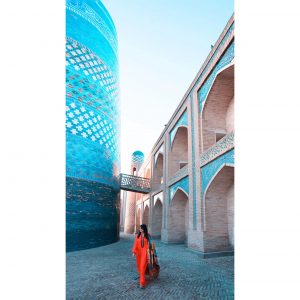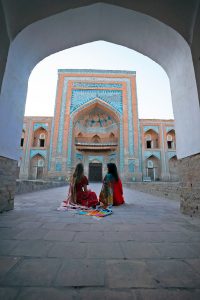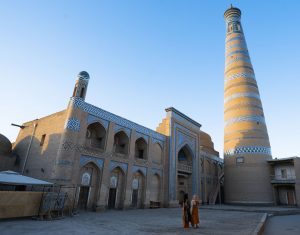 Must-See Places in Khiva:
Itchan Kala: This is the inner town surrounded by brick walls some 10m high. Imagine, this used to be the last resting place of the merchants and caravans before crossing the dessert to Iran. There are several outstanding structures here you should visit like the Kalta-Minor Minaret, the Djuma mosque, the mausoleums, the madrasas and the two magnificent palaces built in the 19th
Tash Hauli: I loved visiting this palace that had some incredible tile work including blue ceramic tiles, more than 150 rooms and 9 courtyards.
Juma Mosque: Built in the 10th century around a small garden, the main chamber here is divided by 218 columns.
The Kalta-Minor Minaret: It's a large, stubby turquoise tiled minaret, and legend has it that Mohammed Amin Khan who constructed it wanted to build a minaret so high that it could be seen all the way to Bukhara. But unfortunately the Khan dropped dead, leaving the beautifully tiled structure unfinished.
Isfandiyar Palace: I did not have time to visit this, but this palace is a quick 10 minute walk outside the west gate and it's home to gold-embroidered ceilings and opulent chandeliers.
TIP: I had lunch at a local family's home here inside the walled town and it gave me such an incredible opportunity to connect deeper with the local Uzbeki people. I also got to learn how to make Dill pasta, which was surprisingly tasty.
BUKHARA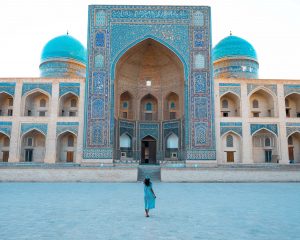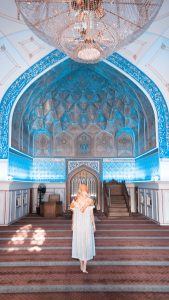 Must-See Places in Bukhara:
Po I Kalyan Complex: My favorite structure to visit in Bukhara is the Po I Kalyan complex situated around the Kalon minaret. The Kalon mosque dates back to the 15th At sunrise I caught some incredible sunburst shots inside the courtyard and had the chance to interact with local women who were coming to the mosque's courtyard to meet with their friends.
The Ark of Bukhara: A massive fortress that was built and occupied around the 5th century AD, today it's an archealogical museum. TIP: Go up to the very top for the view of the city and its minarets.
Bolo Haouz Mosque: This is a stunning mosque with 40 pillars (actually 20 are reflections in the pond in front). Don't forget to look up at the entrance's ceiling. The interior of the mosque is typical 18th century Central Asian style and just gorgeous.
Lyabi Hauz Complex: This is where you go in the evenings for a stroll or for dinner. It's a 17th century square with music playing in the evenings and a lovely pond surrounded by restaurants.
TIP: Go beyond the tourist sites and visit Abdullah, a 6th generation ceramist who lives in Gijduvon, a small town 50 km east of Bukhara. Visit his house, learn some pottery even, check out his studio and learn how he's reviving the ceramic art form, passed down from generations in his family.
TIP: Food is a great way to understand a local culture and form connections so I enjoyed having lunch or dinner with locals. I visited a workshop in Bukhara by Rahman, an embroidery artisan, who specializes in Suzani (needle work) embroidery. He also showed us how to make the national dish Palov with 15 spices in his beautiful kitchen courtyard. He makes beautiful embroidered bags, table runners, cushion covers, and a few carpets made by his grandmother that he'll never sell.
SAMARKAND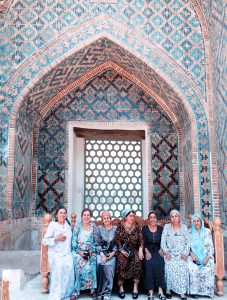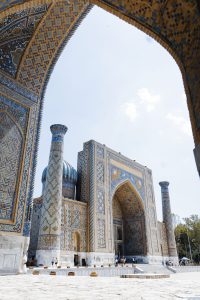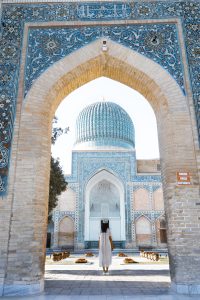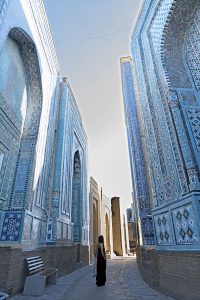 Must-See Places in Samarkand:
Registan: The most impressive sight in Samarkand is the Registan Square. The vast square is flanked by three large portals with inner courtyards. Each of the three portals have their own unique décor and inner courtyards. In the past, the square was the meeting point for all artisans and farmers selling their goods.
The three madrasas in the square are: Ulughbek, Sherdor and Tilla-Kori. The Ulughbek portal's inner courtyard has entrances to the student learning rooms which are now converted into shops. The Sher-Dor Madrasa's inner courtyard also contains student rooms that now play host to a bazaar. The Tilla Kori Madrasa has a blue domed tower which belongs to the mosque to the left of the portal. Stepping into the inner courtyard you will find the mosque to the left and after you're done admiring the incredibly stunning ceilings and interior, walk around through the souvenir stalls inside. You will find local ceramics, antique jewelry and other beautiful items. Today different concerts, celebrations and events are held in the Registan square, don't miss attending one if you get a chance.
Gur e Amir: Mausoleum of the Asian conqueror Timur (also known as Tamerlane). Believe it or not this place actually served as the precursor and model for the later great Mughal architecture tombs including the Taj Mahal in India, built by Timur's descendants.
Shah I Zinda: The most stunning avenue of mausoleums and the richest display of tile works I've ever seen.
The Siob Bazaar: Walking through here is delightful because I saw so many dried fruits and nuts I haven't seen anywhere else. Don't miss the dried apricot with stuffed raisins and walnuts!
TIP: Visit the Samarkand Silk Carpet Factory with co-founder and managing director Abdullah Badghisi and get ready for a treat. He will show you the silk worm cocoons, the dye process and take you into his carpet weaving workshop where you can meet the women who are the skilled weavers behind the beautiful carpets. He has teamed up with the UN for a program that helps provide work for disadvantaged women in his factory. You just may end up with a stunning silk shawl from the nearby Fergana Valley or a beautiful rug for your home!
Accommodations

Booking.com is my preferred website to check for accommodations which can be found in Uzbekistan for between $20-$30 a night.
Tashkent: Aster Hotel Group is a 4 star hotel in Tashkent with good amenities and WIFI.
Khiva: Asia Hotel Khiva is where I stayed and it was perfect as it was walking distance to old town. My room was pretty basic, the bathroom didn't have hot water that particular night, but the lobby and restaurant were beautiful.
Bukhara: Hotel Sasha & Son is a three star hotel that reminded me of a Riadh in Morocco. It was cozy and decorated traditionally with an inner courtyard. The breakfast room was charming and cute. The rooms are spacious and lovely.
Samarkand: Emir Han is a 4 star hotel and is farther away from the sights but boasts spacious rooms and a buffet breakfast that will get you through the day. 
What to eat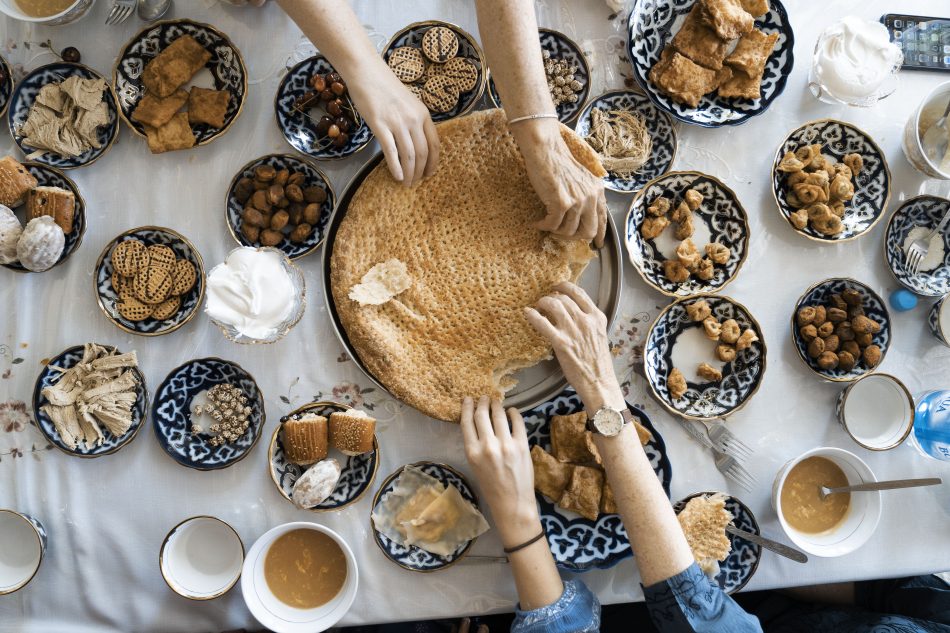 I enjoyed the Uzbek cuisine very much and found it flavorful but very oily. My favorite dish was the Plov that I tried in Tashkent as well as in Bukhara in Rahman's workshop.  I also hogged on the local bread (naan or khorezm bread), shashlik, shivit oshi, and the delicious lagman noodles. The country's zest for salads is surprising given their preference for meat, but I had some of the most delicious salads here.
Tashkent:
The Plov Center: This is a fascinating place not to be missed. Walk through the courtyard and first gaze at the large vats of plov being prepared right in front of you. Once they plate the meal, it gets sent inside. Then walk into the restaurant and find yourself a table and get ready to enjoy your plov. This place is popular with locals.
Khiva:
Terrassa Café: My favorite spot here is the Terrassa Café which has a stunning view over part of the city and is great for people watching and letting your imagination run wild about caravans and camels and silk!
Esaulboshi: An old caravanserai from the Silk Road, dinner here is lovely and traditional in a casual setting.
Bukhara:
Chasmai-Mirob Restaurant: This is bang opposite the Po I Kalyan complex and is a fantastic spot to observe sunset over the complex while enjoying a meal or a cold drink to wash away the heat.
In conclusion, before this trip I wasn't really aware about Uzbekistan. But I discovered a corner of the world not crawling yet with tourists, where the locals are eager to engage and will gladly try to have a conversation with you through hand gestures. I discovered a country that's a treasure trove of stunning monuments, and immersive experiences that make a trip so memorable long after it's over. If you're interested in visiting Uzbekistan with me this September, email theeagertraveler@gmail.com. For more of my Uzbekistan gallery follow me here.