Q. Introduce yourself and tell us about your passions and also some of your personal accomplishments that you are most proud of.
Hi, we're the Zackhams – Justin, Katherine, Finn and Cole. We're currently traveling the world, home/worldschooling, and living our Bucket List Life as a family. Justin went to film school at NYU and has since written the screenplays for the hit film "The Bucket List" starring Jack Nicholson and Morgan Freeman; "Second Act" starring Jennifer Lopez; "One Chance" starring James Cordon; "The Big Wedding" starring Robert DeNiro, Diane Keaton, Robin Williams and others; as well as the FX series "Lights Out". Katherine has a degree in architecture from Columbia University and a Masters in city planning from the University of Pennsylvania and worked as a real estate consultant and developer before becoming a mom and building a business renovating and selling historic homes in California, South Carolina and Vermont.
Most of all, we're proud of our two boys Finn (10) and Cole (5), our little explorers who love to travel and experience new places and cultures. The boys are the main reason for undertaking this adventure as we try to show them the inherent goodness shared by people all over the world, regardless of color, language, religion or politics.
Q. You first coined the term "bucket list" and you wrote the screenplay which became the film The Bucket List starring Morgan Freeman and Jack Nicholson. Why should people take the time to create their own bucket lists?
Writing a bucket list changed my life. When I wrote my first list the #2 item was, "Get a movie made at a major studio." Just seeing that on the wall every day kept the goal in the front of my mind, which directly led to the idea of turning my bucket list into a movie. I think keeping our goals and dreams in mind, or on a list that we see every day, is an important step towards having the courage and convincing ourselves that we deserve to realize them.
Q. Tell us the inspiration you had to write the screenplay for Second Act in theatres now with Jennifer Lopez, Milo Ventimiglia, and Vanessa Hudgens. Was writing a script like this one also on your bucket list?
"Second Act" was very reflective of where we were in our lives at that time. We had become successful in our given careers, we didn't appear to be screwing up our kids to any alarming extent, but there were still so many things we wanted to do. At a certain point, we realized that we were in a bit of a cyclical pattern and wanted to break out of it. We love travel and still had so many places on our own Bucket Lists that we want to see, so we started thinking in terms of a second act to our adult lives… I loved the notion of a woman who hadn't attained the level of success she knew she was capable of, and was finally fed up with the world telling her that she would never exceed its expectations of her, taking control of her destiny and wrenching her life into a new direction… It's so easy for people to organize our lives into tight patterns that shrink our horizons and (too often) our self-esteem. Sometimes it takes an earthquake to shake us out of it and get us back on the path towards our best possible life.
Q. What an adventure your family has lined up for the next 3 years! You plan on visiting every country in the world, all 190+ of them from Afghanistan to Zimbabwe. If my math is correct and you stay on schedule, this journey will be something like 5.5 days per country. The logistics of planning a trip like this have to be challenging along with securing visas ahead of time from numerous countries that require these.
The logistics are hugely challenging, yes, but the first thing Katherine did was sit down and create a chart of all 195 sovereign nations on earth and the visa (and vaccine) requirements for each to give us a sense of how far ahead we had to plan for some countries. Since we're still in the first half of the journey, we've been able to play things a bit loose, but that will change soon once we head to Asia/Africa and Europe.
Q.All that aside, this has to be very exciting for you. Tell us more about this epic trip and how readers can follow along on your journey.
Well, we're on Instagram @thisbucketlistlife. We plan to create one video for each country wherein we meet with an extraordinary person, someone who has changed their life with intention, and see how the transition has affected them and the people around them. The hope is that it begins to present a blueprint (for our kids and our followers) that proves we are each the sole architect of our own destiny.
Q.I also heard there will be a charity component in each country you visit – what does this involve?
Definitely. We have plans to volunteer in most of the places we visit and teach our boys that it's as important that your life bring joy to others, as it is to find joy of your own. We're currently working with a couple of charities that we love and will be unrolling those partnerships soon on our site. The goal is that by inspiring others to actively participate in changing the lives of those less fortunate, the act of spreading joy becomes another item crossed off their own bucket list, and leads to greater positive change in their own lives.
Q. Your current trip has the hallmarks of being a great one – but describe further about what defines a great trip for you?
For us, a great trip is one where we've managed to spend time in a new place, doing extraordinary things that are not only fun, but help us learn about the lives and culture of the people there. Don't get us wrong, we're as appreciative of the occasional afternoon floating in a beach-side swimming pool as the next person, especially after a hard morning of homeschooling, but the memories that stick are the ones where we pushed ourselves to find something new and exciting and off the beaten path.
Q. When I travel I always look for a place that has character or class – a property that is truly memorable for a variety of reasons. Can you tell our readers about one or two of your most memorable stays anywhere on the planet in which a property combines inspirational natural beauty with an equally inspirational human element?
Wow, great question… The first property that leaps to mind is Manoas in Uvita at the southern tip of Costa Rica. Built in the rain forest about ten minutes into the mountains from the coast, the owners (an American couple and their young children) sold all of their belongings and renovated the property into one of the most tranquil and beautiful places we've seen. One afternoon, Steve (the dad) took us on a hike up the river, through waterfalls and rock slides to a swimming hole where we found a cayman skull hidden in a cave. Finn still carries the cayman tooth Steve gave him to this day. We have incredible memories of both the place and the family that live there.
Q. What destination do you keep returning to and never seem to tire of?
So far it's the Caribbean. Justin lived in The Grenadines, working on a tall ship when he was nineteen, visiting countries like Grenada, St. Vincent, Trinidad and Bequia, and grew to love the different cultures and friends he made in each. Because we've been based on the east coast of the United States for the past five years, we visit as often as we can. Another big bucket list item is to buy a catamaran and sail the islands for several years before passing through the Panama Canal and crossing the Pacific.
Q. Can you give us a description of a specific humorous moment (story, happening or other) from one of your travels?
While there are many, there is one "funny" story than looms larger by a long shot; be warned this is not for the faint of heart. We were staying in Cascais (pronounced koosh-kiysh) outside of Lisbon in Portugal, one of our favorite cities on earth. The grownups split a local seafood paella for lunch then took the kids to Guincho Beach, a remote surfing haven. Suddenly Katherine had to use the bathroom, but realized, given our location, she would never make it. Without going into detail, she dug a hole in the sand and did what she had to do. Justin teased her relentlessly (he's usually the one sprinting to the facilities) only to find himself in the same predicament minutes later. While our boys find anything relating to bodily functions beyond hilarious; the particular joy they take in acting out this one event is sure to haunt us for years to come.
Q. Our readers are interested in memorable stays but also memorable experiences around the world. Since you have spent lots of time in Los Angeles, what are some of the more unique experiences that you can recommend to our readers who live in that city or have a trip planned there soon.
Wow, Los Angeles is an amazing place. In the city itself, the first places that come to mind are food-related. Bay Cities Deli in Santa Monica is a Mecca for anyone who loves deli sandwiches. They have their own bakery in the basement and they are literally our first stop on the way in from the airport anytime we return. Osteria Mozzarella by Nancy Silverton is our favorite restaurant on earth. The pizza is sublime and the cheese — it has it's own mozzarella bar!!
Outside of the city, we really love the tiny valley of Ojai, about an hour and a half north of LA. From the farmer's market to the Turtle Conservancy (where they rescue giant tortoises) to relaxing spas to the incomparable view hiking the Shelf Road, we lived there for three years and loved every minute of its magic.
Biography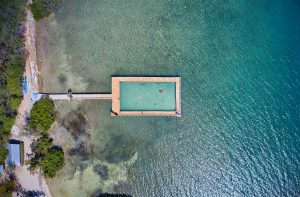 Justin Zackham wrote the international hit film The Bucket List starring Jack Nicholson and Morgan Freeman and is responsible for first coining the term "Bucket List,". Zackham also wrote and produced the new film Second Act in theaters now, starring Jennifer Lopez, Milo Ventimiglia, and Vanessa Hudgens.
In addition, Zackham is also known for producing and directing his screenplay, The Big Wedding, with an all-star cast featuring Robert De Niro, Diane Keaton, Susan Sarandon, Katherine Heigl, Amanda Seyfried, Topher Grace, and Robin Williams. He also wrote the original screenplay One Chance about Britain's Got Talent winner Paul Potts starring Tony Award-winner James Corden, and is the creator/executive producer of the FX drama series "Lights Out."
His latest adventures involves travel; setting out with his wife Katherine and their two children to complete their own top bucket list goal of making the Guinness Book of World Records for being the first family to visit every country in the world.