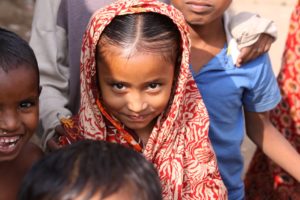 If you are looking for a country that often many westerner's cannot even identify its location on a map, a place where foreigners are generally treated with care and respect, a country that has not been polluted with tourism, the "land of smiles" and a country where you will rarely see foreign tourists, then consider a trip to Bangladesh.
However note that tourism can be difficult for independent travelers. Airfare is generally fairly expensive to Bangladesh and you typically need a visa to enter the country and travelers from more developed western countries will find the cost of the visa to actually be quite high. The traffic, air and noise pollution, lack of tourist infrastructure, language barriers and difficulties getting around are all things to consider before a trip to Bangladesh.
Bangladeshi's are often curious about Western tourists as they do not see a lot of them in their country. At tourist attractions you will probably be the center of attention at times, especially if you stop walking. We had several experiences when we stopped walking and crowds of Bangladeshi's would silently appear surrounding us while staring. A quick smile would break the ice. In our experience Bangladeshi's love having their photo taken especially with travelers.
Travelers to Dhaka find few tourists and those "westerners" seen on the streets in certain districts are typically working in Dhaka. In general Dhaka is very safe.
Bangladesh is the world's most densely populated country, about 150 million people live here of which about 14 million live in the capital city, Dhaka. Bangli is the world's 4th most popular spoken language and is also spoken in Calcutta India.
1971 was the year the 'Desh claimed Independence from Pakistan and became its own country after an almost 10 month bloody war. We saw the skulls in the National Museum and photos showing a number of atrocities at that time. The early 70's made an impact on Bangladesh. Along with gaining their independence, George Harrison performed at The Concert for Bangladesh in New York City less than a year after the huge Bhola cyclone hit. The 1970 Bhola cyclone still remains one of top 5 worst natural disasters in terms of loss of human life – over 500,000 people died.
Note that the "weekend" in Bangladesh falls on Friday and Saturday.
Traffic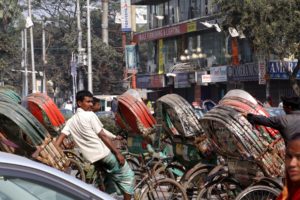 Traffic can be a nightmare in Dhaka and what normally might take 15-20 minutes can easily take over 2 hours during the busy times of the day. Cycle rickshaws, CNGs, taxis, buses, normal cars and other eclectic vehicles all fight their way through the crowded streets often coming to a standstill in busy round-abouts.
There are some stoplights at busy intersections and in theory red means stop and green means go. However in Dhaka these lights are completely ignored at times and if you are a pedestrian you have to be acutely aware of this fact as well as your surroundings at all time when crossing streets.
Traffic policemen patrol busy round-abouts and when the light changes from green to red they sneak out into traffic holding their long sticks and most often are successful in stopping the traffic. If there are no policemen present, the other sides traffic flow starts creeping out until traffic stops. It is total chaos at times!
Sometimes quick to anger mob like groups will form around traffic accidents. During a week in Dhaka we saw several of these quickly form when a traffic accident occurred. During one occasion an impatient taxi driver bumped into several bicycle rickshaws whose drivers quickly jumped off their cycles and ran over and started beating the taxi driver through the window with their fists. Because the traffic was so tightly packed, and this happened so quickly, the taxi driver had no where to go. Often there will be a lot of yelling in these traffic mob like situations.
Note that compressed natural gas is used in abundance by many of the motorized vehicles in Dhaka.
Some of the "nicer" neighborhoods like the embassy district of Gulshan (where many of the foreigners live) see less traffic, at least in the neighborhood areas.
Transportation
*Auto Rickshaws* (CNG) like cycle rickshaws are very abundant in Dhaka. They run on Compressed Natural Gas and are all green and yellow. Settle the amount of money with the driver before you leave on your trip. These usually can seat about 3 people.
*Cycle Rickshaws* are almost everywhere in Dhaka! We were told by local guides that there are over 500,000 licensed cycle rickshaws and who knows how many unlicensed ones there are! By in large each rickshaw driver pays the "boss" a daily rental fee. Most rickshaw drivers do not own their own rickshaw. Some of the extremely few fortunate drivers have been given rickshaws by some of the ex pats working in the city. A typical cost for a short distance for a local as of press time is about 5 Taca. Rickshaw drivers will not tell you how much the proposed trips costs; they will leave it up to you to pay at the end of the trip. Chances are as a tourist, you will pay more than a local and that is probably what the drivers are counting on.
Cycle rickshaws can comfortably seat 2 people but you can squeeze in three people if you need to (no extra charge).
Traffic police on some of the very busiest of streets and or round-abouts will try to stop rickshaws from driving as they are the slowest form of transportation. There are select streets in Dhaka where the majority of the vehicles are cycle rickshaws. If you are a pedestrian be very careful, there are more wheels than feet on some of the crowded streets sometimes and it's easy to have your foot run over.
*Taxis* – there are two types of taxis in Dhaka; yellow and black. The yellow ones by law must have air conditioning and the black ones do not. The black taxis are generally in poorer condition and we've heard they are not as friendly to travelers. By law the taxis are supposed to use their meters but many do not.
The local *Buses* can be extremely crowded and at some of the busier round-abouts we have seen huge lines leading to already packed dirty buses. The buses are all beaten and battered on all sides with large scratch marks and dents. From looking at these you can only imagine the types and amount of traffic accidents they have been in! For tourists, the buses are about useless.
Pollution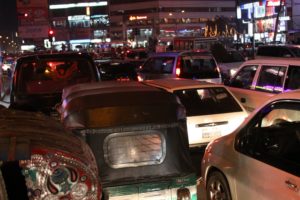 The air pollution is horrific at times in Dhaka. You may see people wearing masks and you might find yourself with a big lump in your throat depending on the air quality at the time. Our visit was in January during winter (dry season) and the streets and vegetation were literally covered in dust at times.
Money
We had no luck using local banks for ATM purposes. The only bank that worked with several of our ATM cards was HSBC. There are several HSBC banks in and around Gulshan 1 and 2 circles. Some of the top hotels in town have their own HSBC ATM's.
Health
During the winter season between December and February there will be less mosquitos then during the rain fueled monsoon months of April to September. Always take as much precaution as possible when it comes to Mosquitos – mosquito nets at night, DEET repellent and longer clothing. Malaria is found in parts of Bangladesh but is no risk in Dhaka. Consult your doctor before going and consult with the CDC for the latest health updates.
Attractions
These are some of the attractions we personally visited during our time in Dhaka.
*Ahsan Manzil* (Pink Palace) – this significant architectural building is located along the banks of the Buriganga River in old town Dhaka. The most interesting part of visiting here is seeing the outside of the building although you can enter the inside which contains a number of rooms showcasing historical photos and other palace furnishings. If you visit during a weekend, this palace will most likely be quite crowded with local Bangladeshis. If you are a western tourist you may draw a crowd of curious onlookers!
*The Armenian Church* is located in old town Dhaka and is one of the few remaining vestiges of Catholicism in Bangladesh. It was built in 1781 and served a small Armenian community. Today there are only a handful of Armenian families still living in Dhaka and this church is no longer actively used. Tombs of early Armenian pioneers in Dhaka are found outside. This church is extremely small; interesting highlights include the baths where Baptisms took place.
*Lalbagh Fort* was built in 1678 by a prince. There are several interesting buildings here, including a museum, a Mosque, a tomb and a Hammam.
*The National Museum* is a massive building that contains many rooms. If you like reading and taking your time in museums, allow at least 3-4 hours. Do not be discouraged by the fairly bland initial exhibits of the countries rocks, vegetables and other agrarian displays. The heart of the museum starts after you have walked through several exhibits. In our opinion, one of the top highlights of the museum are the galleries containing Buddhist art and elaborate stone carvings.
The museum is separated into 40 galleries on several floors. The four departments are organized by Natural History, History & Classical Art, Ethnography & Decorative Art and World Civilization. No photos are allowed inside the building. There are guarded shelves near the entrance where you can leave your camera.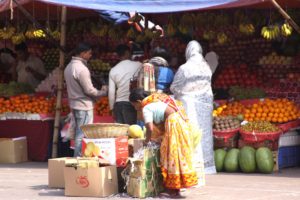 *Old Dhaka* can be a chaotic experience with its very narrow streets, unbelievable traffic (mostly rickshaws as most cars dare not enter these narrow crowded streets) and a variety of day to day shops serving the local community. People who live in old Dhaka even speak a slightly different dialect then the rest of the city. This area is almost like some of the old medinas we have seen in Africa. A number of tourist attractions are located within or near this old town including the Pink Palace, Armenian Church, Lalbagh Fort, Hindu Temple, etc. Because there are so many small streets here, it can be very easy to become lost rather quickly. Most travelers to Dhaka come here with a guide or someone who knows the area.
*The Parliament Building* or National Assembly is one of the largest assembly buildings in the world and certainly the largest building in Bangladesh. It is massive and creatively designed. It is a building that you will remember seeing!
*Sadarghat* is the huge bustling river port situated along the banks of the Buriganga river near Old Dhaka. This area is always crazily crowded with merchandise arriving by boat, tons of people standing around and boats coming and going. It's a great place to experience what feels like a trip back in time. The closest feel to Sadarghat that we have experienced is Varanasi in India. Be sure to rent one of the small wooden boats which will take you out into the river for additional views.
*Shankharee Bazar* (Hindi Street) is one crazy crowded street! During business hours it is jam packed with bicycle rickshaws trying to fight each other for space to drive both directions. A number of art type shops are located here including several shell shops. If you can find one of the shell workshops be sure to duck inside. In dimly lit small areas in the back of the shops you will find men hunched over machines cutting their artwork into the conch shells.
*Shiv Mandir* (Hindu Temple) is worth a quick visit and is covered by many of the day trip tours offered by the area agencies. You may see several people worshiping. Also check out the altar where animals are sacrificed.
*Sonargaon* is about 30 km from Dhaka and is the "old capital city" dating back to the 13th century. A small museum is located on site with a number of rather new folks and craft items on display. Look for the very squeaky colorful hand operated Ferris Wheel. For a small price kids will push down on the wheel which produces a thrilling ride!
*The Taj Mahal* (replica)) was completed after 5 years of construction in early 2009. This is a Bangladeshi filmmaker's tribute to his love of the real Taj Mahal in India. This version is located just outside of Sonargaon, the old capital city, about 30 km from Dhaka. There are even waterways and turrets. It's constructed to look as close as possible to the real Taj, but after visiting this, we can say the real Taj Mahal is the real thing, its way more impressive. The owner imported a number of materials including marble and granite from Italy and diamonds from Belgium. Already vendors have setup shop outside the Taj's gates and offer a variety of items.
Restaurants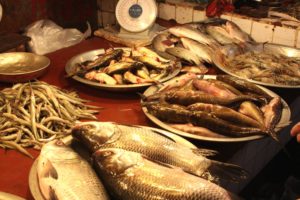 Note that Bangladesh is a Muslim (dry) country and alcohol can be fairly hard to find. It is generally served in fancy restaurants and Embassy Clubs and or is available from well hidden government shops.
Bangladeshi food is somewhat similar to Indian food in a general sense. The dishes consist of curries but the curries tend not to be as strong as some of the dishes found in Northern India.
The following are a few of the restaurants we ate at during our time in Dhaka.
*El Toro* is definitely the best (one of few?) Mexican restaurant in Bangladesh and is on par with any other Mexican restaurant in the Indian Sub Continent. In other words, this restaurant is authentic! The service is fast and the food very tasty. Even the inside of the restaurant is authentically decorated with a variety of Mexican flair. No alcohol is served in the restaurant; the closest you can get to alcoholic drinks are the virgin drinks including Margarita and Daquiri's. They are located at: House 1A, Road 138, in Gulshan I.
*Sura* is a Korean restaurant located in the embassy section of the Gulshan 2 neighborhood. This is probably one of the most expensive restaurants in the country with imported sashimi running up to $50 US dollars per plate. We enjoyed their fantastic Kimchi (served complementary with several other appetizers). Because this is a fairly well known restaurant in the Gulshan 2 area you will probably see well dressed embassy officials or Foreign Service people eating here. Unlike some of the fancier restaurants Sura does serve alcohol. Nice rice wine!
*Topkapi Restaurant* as the name indicates serves Turkish food. The dinners are served buffet style with not only Turkish food but also an infusion of Bangli and Thai food. This restaurant is located between Gulshan Circle 1 and Gulshan Circle 2.
Lodging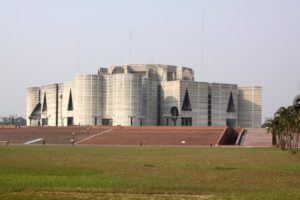 Lodging can be a lot easier if you know someone in Dhaka or can stay with someone who already lives in Dhaka. Try couch surfing for more information.
A mid range guesthouse highly recommended to us is called Hotel Sea-Land located at 64/A North Kamlapur, Station Road in front of the central train station. This hotel is owned by the very hospitable Sarkar family. Telephone: +8802-9337818
There are a number of high end hotels in Dhaka that almost look out of place. Among these are the Pan Pacific, Radisson, Sheraton and Westin. Despite being located in a fairly poor country, these hotels are not cheap. The high end hotels tend to have tight security at the entrance including metal detectors and guards that may search bags.
Markets
There are many markets in Dhaka; a few of the ones we visited are listed below. Typically hawker markets or small vendors will not accept credit cards. Only the larger more well known stores accept credit cards.
Looking to shop for shoes? You will have no problem finding a Bata Shoe store as they are scattered throughout the city.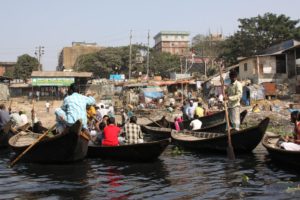 *Gulshan 1 and Gulshan 2* circles are located within about 20 minutes of each other depending on traffic. These areas are in the nicer parts of town. Each circle contains a variety of shops. If you are after the latest fake mobile phones Gulshan 2 is a good choice. There is also a supermarket at Gulshan 2 circle which contains a surprising number of food items from around the world, items that you would find in your home supermarket. A number of money exchangers are also located here and these give some of the better exchange rates in Dhaka. NOTE: if you have US dollars, the best rates are given for $100 bills. Larger bills from major western currencies are given a better exchange rate. Also note the rate listed on their screen or written on their advertisement may not necessarily be the rate they give you! Shop around.
*Eastern Bazar* is about an hour from the Gulshan area and is known for mobile phones among other items.
*Banani Market* is a large hawker style complex with many various small service shops. This is located about 15-20 minutes from Gulshan 2 Circle
*Aarong Market* has several locations in Dhaka including the one we visited located in Gulshan 1. They sell a variety of handicrafts as well as an excellent selection of hand made saris and other clothing. Chances are you will see a foreigner shopping here!
Airport
Bangladesh is served by the Zia International Airport in Dhaka. The national airline of Bangladesh is Biman Air and if you are a western traveler using Biman Air, chances are you will be the only westerner on the plane! The gate counters for Biman Air at Zia Airport can be extremely chaotic during check in periods while other airline counters (Thai), are typically more organized.
If you take a taxi from the airport expect to pay about double the normal cost; the reason for this is taxi's have to pay an airport entrance fee. If you don't have many bags you can walk outside the airport and grab a taxi.
If you fly into Dhaka at night you might be surprised at the lack of lights over this city of almost 15 million people. The city is almost dark at night with most of the lights seen from the air shining fairly faintly. Even the main sign at the airport has letters that are not even lit up!
There are a number of airlines that fly to Dhaka – several fly direct from Europe, India, select countries in South East Asia and also the Middle East.
Recommended Tour Companies
Note that a number of the tour companies offer packaged tour trips on select dates, ie they do not leave every day. If you do not have a tour arranged ahead of time via the Internet, we recommend you stop by or call one of these tour companies during your first few days in Dhaka.
*Guide Tours* has been in operation for what seems like an eternity in Bangladesh, since 1989. Their guides are very professional, courteous and speak English. They offer a variety of single day tours in and around Dhaka as well as tours that explore the highlights of the Sundarbans and the Hill tribes. We were very pleased with one of their tours around Dhaka. They are located on the second floor of house 142, Road 12, Block E in the Banani District of Dhaka. Phone: +88 02 9886983 as well as in the Sheraton Hotel, Lobby 1.
*Petro Aviation* offers a variety of customized personalized small or large group tours. You might ask what a first generation aviation company is doing by offering tourism related services when their primary business is petrochemicals. The owners have long believed in offering additional options to tourists and they love showing people around their home country. Ask for Hassan, the CEO of the company. Hassan is extremely knowledgeable about many areas in Bangladesh and offers only the most personalized attention. Their office is located at: Building No. 69/2, Level-4, Road No. 7/A, Dhanmondi. Phone: +880 2 9122621
*Bengal Tours* specializes in a variety of trips throughout Bangladesh. They have been in business since 1999. Their Sundarbans trips tend to be on larger boats. Visit: www.bengaltours.com
More Photos!