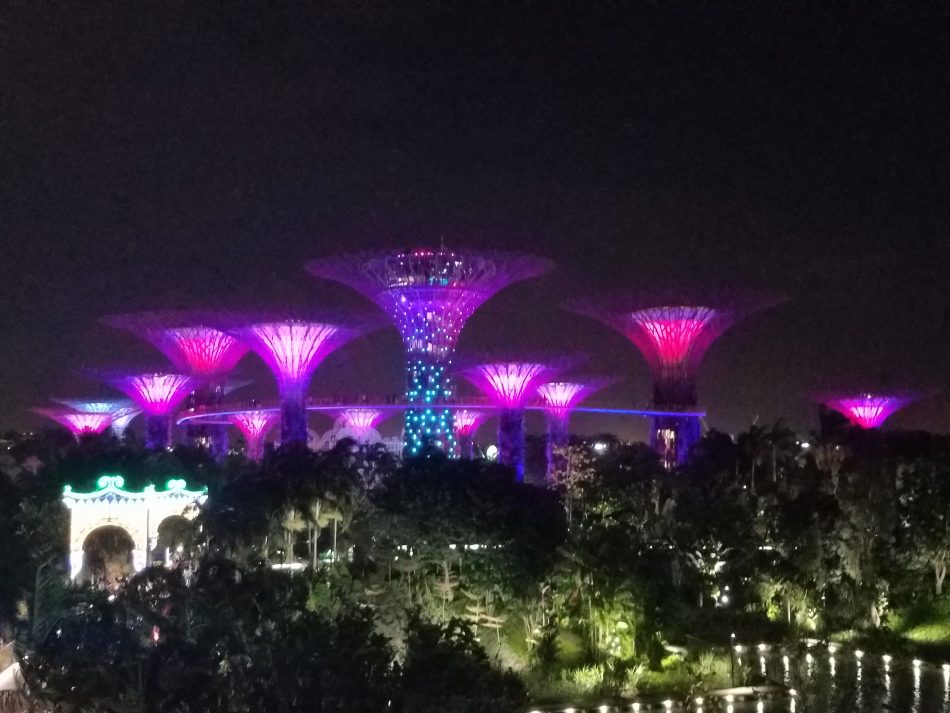 What comes to mind when you hear the name Singapore? For me, it's high rises, global finance, the famed marina and, of course, that huge infinity pool overlooking the city. But, to my surprise, these were not the things I noticed when I first arrived. Instead, what caught my attention was how green and alive with plants the city was.
It started directly at Changi airport, where I immediately spotted the living green wall in the arrivals hall as well on the outside of the car park. Pretty, I thought to myself. I am always impressed when locals put an extra emphasis on greenery in unusual public spaces. I had no idea what awaited me…
Singapore rose out of the swamps of Southeast Asia into one aggressively developed city full of massive skyscrapers. The rainforest has been replaced with huge building developments that stretch in all directions for many kilometers. Yet, despite all of that infrastructure of glass, concrete and metal, the city still retains a lush, green cover. For instance, the highway from the airport into the city is lined on both sides with a beautiful tree canopy while flowers adorn the roadside all the way into downtown. It is said that almost half of Singapore is covered by greenery. That includes vertical green landscaping as well. Many buildings here are considered living buildings, replete with vertical gardens and rooftop forests.
The government seeks to actively transform Singapore from a "Garden City" to a "City in a Garden." Considering the huge investment and resources that are expended on landscaping, it's clear that this is not just empty talk. There are plenty of parks, gardens and nature preserves here but for the purposes of this journal, I will focus on only three:
Singapore Botanic Garden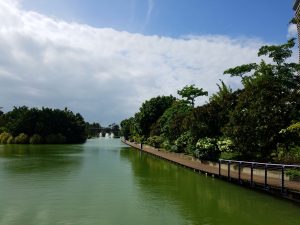 Singapore's botanic garden is over 150 years old and has been designated a UNESCO World Heritage Site. It boasts over 60,000 plants and also houses the National Orchid Garden, home to the world's largest collection of orchids species.
You're also likely to come across a variety of wildlife here, including birds and butterflies. Of course, that includes my favorite, the Asian monitor lizard. It can grow up to 3 meters and is sometimes confused for the far more dangerous komodo dragon. But don't worry, the monitor is not deemed dangerous and generally avoids people. If you're lucky though, you'll cross paths with one here at the garden.
Gardens by the Bay
The enchanting Gardens by the Bay is a public park that sits on 250 acres of reclaimed land at the edge of the sea. The centerpiece here is the grove of supertrees, a set of massive, 16-storey artificial trees covered with tropical ferns, flowers and other plants. At night, the trees come to life with lights and music, while for a small entry fee, visitors can stroll through the treetop canopy walk. As if the supertree lights aren't fantastic enough on their own, the entire experience is supercharged in December when Christmas lights adorn the walkways throughout the park.
It's hard to imagine how to top this experience. Yet somehow Singapore has managed to do it with not one, but two, giant glass domes that house indoor botanical gardens. In the Cloud Forest, visitors are greeted by a spectacular 6-storey waterfall that thunders down through a tropical landscape. Starting at the top of an artificial "mountain," the treetop path mimics the lush cloud forests of southeast Asia, from underbrush plants all the way to canopy vegetation. Next door, the Flower Dome is a second massive glass and steel dome that houses flora from various global geographies. Tickets can be purchased for each dome separately or as a package. I highly recommend visiting both.
Fort Canning Hill
A third park worth visiting in the city is Fort Canning Hill, Singapore's oldest botanic garden. It's not particularly large, but because it is right in the heart of the business district, it's where locals like to go for exercise in the mornings or after work. Due to its central location and height relative to the surrounding areas, it has traditionally held an important spiritual and military purpose, from pre-European times all the way through World War II. Dating to at least the 1300s, the ancient Malays laid their kings to rest here, while the British built their colonial government on top of it. As Singapore grew in trade and military importance, it was fortified and became the British military's regional headquarters, known as Fort Canning.
Today, Fort Canning Hill has been converted into an open botanical and horticultural area. A few remnants of Fort Canning itself are still present, such as the main gate or a few cannons dispersed throughout. A stroll up the 60-meter high hill takes you on several paved trails with historical markers and botanical descriptions. The center of the hill is a water reservoir, strictly off limits, unmistakably indicated by menacing warning signs. The park is also commonly used as a venue for outdoor art and music performances.
If you want to get away from the hustle and bustle of Singapore's financial district, or the massive crowds of tourists (and they are massive), then the park at Fort Canning Hill is an ideal place to refresh your spirits.
Sources for this article:
Some facts and statistics in this article were provided by Wikipedia or the Singapore Tourism Board webpage.