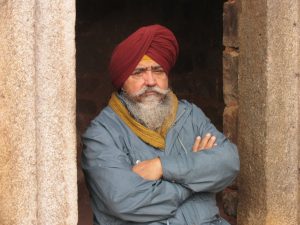 Heritage Fort Hotel – Fort Khejarla, located 80 Kms East of Jodhpur, the Sun City of India but a million miles away from the traffic congestion, horns, and heavy population! Spread across 14 acres, this splendid site is easily accessible by most tourist attractions and cities of Rajasthan.
The historic structure amalgamates with the golden tint of the desert ambience and the scenic setting suns in its most vibrant shades giving it a fairy tale appearance. Situated in a quiet and serene setting, Khejarla Fort carries a deep history and offers guests all the charisma and grandeur of an exclusive royal experience. Khejarla Fort by night is a sight to behold in itself. It has all the romance and suspense of a fairy tale mystery.
Mount atop granite boulders, the fort rises like a sunbeam from the desert. The stunning red sandstone of Khejarla Fort, over 400 years old, is a mesmerizing example of the architecture of the Rajputs. The rugged exterior contradicts an inner paradise with a striking blend of art and architecture leaving you with a magnificent aura! The spellbound grandeur of the Fort offers picturesque settings, lattice work friezes and intricate Jharokas which at once transports you back in time to experience the majesty of a long-gone era of valour and chivalry.
Deep in the heart of the Desert State of Rajasthan, this Heritage property is now completely renovated with modern, contemporary and luxurious facilities. Blending past elegance with modern day amenities, Khejarla Fort serves as one of the finest heritage hotels in Rajasthan.
History
Constructed in 1611 A.D for Thakur Gopal Das Ji, who was granted "Jagir" (fiefdoms) of Khejarla for his great feat in war. He bravely defended the frontiers of Marwar against the Mughals. Khejarla then was one of the most important Jagirs and Nobles enjoyed the highest status amongst the most trusted in the Court of Marwar.
Khejarla was a wealthy State with 9 Estate Managers, 400 servants, 125 horses, 15 camels and huge area of land for cultivation. Thakur Bhairon Singh Khejarla opened a Research organization to promote the culture and literature of Rajasthan after India gained its independence. The Noble family of Khejarla presented 550 books of history and literature to this organization.
Architecture
Khejarla Fort is divided into four sections:
Entrance
The Main Pol or archway gate to the grandiose Fort was used as a public place with the court, jail, courtyards and parking lots for bullock carts and horse carriages. The Suraj Pol then leads into the Fort. To respect the Rajput heritage, separate residential suites were built for Male and Female Royal Family Members, both with separate entrances.
Zenana Mahal (South Block)
Following the arched gate, we enter the Zenana Mahal – the lounge for the Royal Ladies of the house. It has two floors with 19 rooms, suites, courtyard and terrace with a breathtaking view of all sights.
Mardana Mahal (West Block)
Meant for the Royal Male Members of the house, this building consisted of 21 rooms, suites of various sizes and aesthetically done decor.
The Block has been completely renovated with best of period furniture and most modern amenities. A dining hall, bar, an open garden with fountains are located in this block.
Main Courtyard (East Block)
This block has the main Reception, Swimming Pool, Gym, Spa and Shopping Area.
Hotel Accommodation
Converted to a hotel, the Khejarla Fort is associated with one of India's premier Heritage Hotel sites. Our guests can experience aspects of royal living, traditional culture, beautiful furniture and priceless antiques during their stay.
The 38 mosaic laid spacious rooms with high ceilings, antiques, historical photographs, elegant tapestry, beautifully carved furniture and panoramic views are basic interiors to verbalize the elegance and grandeur reminiscence of the Rajputs. Each room has either a balcony or patio which offers breathtaking views, especially at sunset, of the beautiful village.
Different categories of rooms:
The Royal Chambers – each diverse in decor are equipped with all the modern amenities and comforts which suit discerning travellers offering a distinct experience. In the past, Royal Guests & Junior Members of the family used these rooms.
The Regal Rooms – redesigned for comfort are larger in size and have intricately designed furniture to set them apart from the ordinary. These rooms are redesigned for comfort. In the earlier days, Senior Members of the family and Visiting Royal Dignitaries used these rooms. These rooms are equipped with mini bars, tea /coffee makers, el safe.
The Suites – redesigned for Royal comforts offer a distinct experience of Royal living.
Guests can experience the grandeur and luxurious comforts which include comfortable sitting area, dining space, graceful furniture and spacious bathrooms. These rooms are equipped with modern amenities. In addition to this these Suites have a majestic view of the village and fields. These rooms were used by Senior Royal Family Members.
Sprawling lawns and manicured gardens at the Fort create an ambience which is at once serene, restful and yet spectacularly royal. These rooms are expressly designed for quiet, intimate moments, languorous daydreaming and restful solitude enjoyed by the Thakur's.
Spa
A beautifully restored old part of the Fort is converted into the Spa for the renewal of our guests energies in an environment of total harmony and inner peace. 'Harmony is health', is what "Ayurveda", the age old science of medicine advocates.
At Khejarla, the concept of a Spa is a place for pampering, wellness, anti stress, preventive and curative treatments with the help of Ayurvedic practices. At the Spa, guests can look forward to discovering natural therapy through a tested recipe of established Ayurveda and innovations. The Spa offers relaxation and rejuvenation sessions to create a balance between the body, mind and soul
The therapists are trained in Kerala and cater to a variety of professionally administered treatments and programs. Holistic and non clinical treatments include different massages, facials, beauty treatments as well as more specialized slimming and body firming treatments to rejuvenate, relax and pamper the mind and body.
For those with an energetic temperament, there is a Swimming Pool which is a cool blue retreat, especially in the summers after the hectic sightseeing. Relax in the crystal clear waters of the pool and experience the enchanting traditional royal bath. There is also a Gymnasium, Jacuzzi, Sauna and Steam Parlour to boost your batteries and feel re-energized.
Dining
In the splendid kitchens of Marwar, cooking and serving meals was more of an art than a chore. Hundreds of cooks were employed in the pompous palaces and forts with emphasis on keeping their recipes close guarded secrets – with some being passed on to their children and some being lost forever. Our restaurant offers mouth watering delicacies and brew with a fine dining experience.
The multi-cuisine gourmet includes lip smacking Mughlai, South Indian, Rajasthani, Chinese and Continental cuisine which are served with the emphasis on fresh ingredients. Guests can relish traditional Rajasthani delicacies which are specially prepared by cooks who have served the royal family through the generations.
You can savour your breakfast and dinner on the Fort ramparts that overlook the pool or opt for a meal at the spacious dining hall with grand interiors making it all the more appetizing. Those who are in game for some experimentation can go for bonfire dinners at the roof top and those on a romantic holiday could do a candle-lit dinner either indoors or at the terrace restaurant.
Other options include a combined experience of barbeque with a swim in the clear shimmering waters at the pool veranda. For our famous brew, we have an elegant, beautifully redesigned lounge bar which could be the perfect venue for sipping your favourite cocktails and to revive the memories of the Rajput era.
Recreation at Khejarla
Besides sightseeing, for entertainment – we have folk musicians and dancers, puppet shows, snake charmers and magic shows. There is Nitisha – a designer boutique which does fusion styled clothing for men and women, jewellery, home accessories and other ethnic handicrafts.
Business at Khejarla
Providing state of art business facilities, Khejarla Fort Hotel has in the past few years become an increasingly popular conference venue for major business groups like Mercedes who launched a model of their exclusive car at our hotel. Superb conference and banquet facilities are available with necessary facilities like audio visual equipments, internet, podium, etc. One can stay in touch with the world even as they lose themselves in the fantasy of Marwar!
Location
Surrounded by the Khejarla Village, the fort is located 80 Km East of Jodhpur and is a convenient and scenic one hour drive from Jodhpur. Various forms of public transport are available. The hotel also offers a pick up transportation service from Jodhpur airport, rail station and the bus station.
Air – Jodhpur is well connected to all the major cities including Delhi, Mumbai, Calcutta, Jaipur and Udaipur.
Bus/Taxi – Rajasthan Roadways run very comfortable deluxe & air conditioned buses from Delhi (Bikaner House, Nr. India Gate) to Jodhpur which is about an 8 hour journey. You can also hire a taxi or us the public buses from most places in Rajasthan.
Train – Jodhpur is on the Broad Gauge and hence connected to most metro cities of India. There are daily trains from Jaipur, Delhi, Mumbai and Kolkata. Jodhpur has two railway stations, City and Raikabagh – both outside the walled city.
Distance from major cities in Rajasthan
Jodhpur 80 KMS Nimaj 50 KMS Ranakpur 200 KMS
Ajmer 170 KMS Oasian 145 KMS Luni 110 KMS
Jaipur 290 KMS Khimsar 100 KMS Pushkar 120 KMS
Udaipur 250 KMS Jojawer 110 KMS Rohetgarh 110 KMS
Jaisalmer 375 KMS Deogarh 125 KMS
Near By Attractions
Heritage Temple Walk
Walk through the village to the 600 year old Temple of Goddess Durga (Goddess of War). History states that Aurangzeb, a Mughal from Delhi had tried to destroy it then. The best time to visit this temple is during sunset when you could climb up to the top and get a very good view of the landscape around.
Heritage Village Tour
Enjoy the village walk on camel cart which passes through the village lanes, to cenotaphs of the nobles of the ruling family of Khejarla. Later visit the Temple of Goddess Durga where you could experience a breathtaking sunset view.
Safaris
Rajasthan is very popular for its vibrant and colourful customs, traditions, culture and heritage. It is also famous for its exotic desert and village landscapes. Safari is the best way to explore such a beautiful and versatile land. There are lots of safaris like camel, jeep, horse and elephant safaris to help us explore the natural, cultural and historical charm of this beautiful Rajasthan.
Jeep safari is the fastest way to explore the wonders of Khejarla and close by villages. A complete unique cultural experience to bring you closer to the life of the villagers. Various customs and ceremonies are performed and can be experiences by the warm and hospitable people of Marwar.
Enroute to villages, once can see the desert wild life in abundance like Deers, Black Bucks, Blue Bulls, Chinkaras, Desert Foxes, Hares, Partridges, etc. The tour also includes a visit to a steep open well, a horse breeding farm, the textile block printing mill and the old markets of Pipar town. On the way to safari visitors can see the craftsman on work, shepherds and farmers.