PART ONE
Nature's show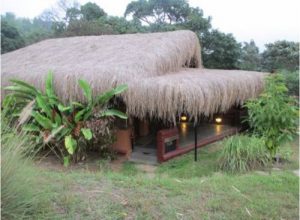 On long circuitous winding roads, close your eyes to keep away the tumultuous feeling that erupts as bile climbs the ravines of your own inner system. Suffer motion sickness on a mountain road or keep Avamin and lime ready. Or just stick your eyes out, arrest your breath and stare in awe. This is for what you've escaped the humdrum of your congested city life. Wide vistas of undulating green and inhabitation of small houses, stand alone bungalows and low-storeyed buildings that sprinkles like salad toppings over the flatbed of earth-bread bowl.
Coorg. Plantation country. Coffee. Rubber. Spice.
The trees are so varied here that only now you know that the force that holds this Universe together is a wind flautist, who blows through trees, a violinist whose bow is invisible.
No two trees look the same even from the same family. And no two trees stand their face to the sun in the exact same position making the wind flautist's flaunting art even more mesmerising in leaf-dance choreography that foreshadows the birded sky. The wind violinist never plays the same tune or blows the same wind twice: soft, small, loud, gusty, whispering, shallow, and rain-ruinous are some of his many tracks. Where in the presence of this wind, the quiver on one frond – leaves typing their fingers in air here – won't make a difference to a leaf-spectator faraway on standstill.
He works the sunlight too, tilting it with every passing moment, on each and every little thing.
This is an orchestra. Something that hasn't been looked at very closely, very clearly yet in our rushed, fast-pact, attention-deficit lives. Something that has been unseen for long through greedy tourist eyes that are not searching for a choir of clouds herding in blue, black, pregnant rain-heavy grey, and sheep-white but bliss compartmentalized in easy making-quick-sense-of-a-new place packages and prices of places to visit, things to do, sightseeing, shopping, other activities, nightlife in brochures, leaflets and concierge plans.
The intercourse of human and nature is in the way seed is sown and food is drawn from earthy, grainy soil.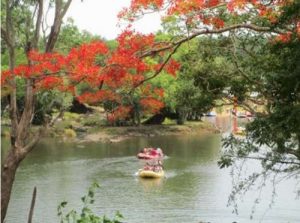 On the first day as I lay on the grass in front of our thatched hut, thinking at this under the Coorgi sky, I felt hungry, and descended from my elevated sense to ground reality, mounting the slope to our hotel's food restaurant.
There I met Tonmoy Chaterjee, the food captain hanging out at the corner of my eye. He kept doing so at every meal thereafter, until I allowed him into the spaces of my conversations.
He chatted in par-boiled, mashed and poached English about Kolkatta and Mumbai, food and jobs and different cities.
"So you have left your hometown in Calcutta to work here?" I asked him.
"Yes, Ma'am. This work is my passion. This much I had to do."
Poor boy, food captain, I thought, he seems lost and homesick, but purposeful. Maybe in me he sees an older sister or a known-faced neighbour.
I enlisted some Bengali movies to warm him with whatever little I knew of his hometown and mother tongue. And what better than films to do that with? Poetry doesn't suit an imbalanced partnership. One seated, the other standing in attendance.
"You understand Bengali, Madam!?" Tonmoy asked.
"No..' I said , 'But I read the subtitles of movies."
The next day at the breakfast table as the sun played catch-and-cook with the hills, I met the food and beverage manager Sanjeev, Tonmoy's boss and a Coorgi himself. We got talking about his work and life.
"I worked in Mainland China before this." he said.
"Oh, I love that place. The dimsums!" I exclaimed.
"Yes, …good food, good place, but I was not so happy there."
"How is that possible?' I said, 'If a customer is happy every time she goes there, how can an employee not be? Or are these two separate things?"
"No..No…that way, the place is good. But we only had to work work work. No time for talking with the guests." He pointed towards me, "Here we get to talk to guests. We learn a lot from them."
"Ah!"
"See sometimes guests can be lonely, bored or depressed. So I always tell my boys to go talk and cheer them up…" he adds.
"Errrr…so is Tonmoy chatting up with me because I am bored, depressed or lonely, not because he's homesick!?"That same night at 3 a.m. when other people usually have epiphanies, I was attacked by this joke: of how we sometimes read each other so comically; I laughed long and hard.

Leaflet Agenda, Things we did:
Dubare Elephant park: We could bathe baby elephants, chained at their feet – in case, like children, they run away during baths, feed them neat lumps of hay, and take a ride atop their backs under forever-streaming Gulmohar trees. Tourists fed elephants for the thrill of feeding and the elephant got a bit of extra banana snack.
We went to this park by a bloated raft rowing lamely but threw our return boat tickets into placid water as we came back, instead, hopping over steaming slippery black stone, dipping our scorched feet in liquid cool every time. Dodgy hot black boulder and stone cold grey water, that's Nature's swimming pool.
A bottle of homemade non-alcoholic green apple wine that I had bought, cracked over one such wet rock and I had to be finished sip by sip, as it dripped, as went along. By the time I reached the other side, I was merrily drunk.
Golden temple and Namdroling Monastery, Bylekuppe
Shopping for filter coffee, whole and ground spices, nilagiri balms, chocolate tea and cardamom tea-leaves with incipient breaths up our olfactory, we reached Rain Tree, a restaurant in Madikeri, embodied in a house with each room filled with two or three dining tables. It served some of the most delicious mutton biryani. Madikeri has been dubbed India's Scotland. And Rain Tree owned plantations and sold its own brand of coffee beans and forest honey.
The intercourse of human and nature is also in the way honey is pulped out of its combs.
The new word being: regurgitation. When a bee converts nectar to honey by half-digestion and vomiting it out. Forest honey, with each hive possessing its own flavour. Translucent, intoxicating only because the nectar is collected from the denseness of rare tropical forest flowers through the unique algorithm of each collector bee. Honey in a bottle.
Honey. Bespoke. Honey hi-fashioned. Honey, original. And the only time regurgitation is a good word.
After Rain Tree, on that hot, crisp, sated afternoon, I shopped for chamundi silk saris from a government silk and art factory outlet.
In Nisargadham we fed caged rabbits, wooled like cotton bundles and peered at deers and without knowing veered on an unpredictable path into a hut offering Ayurvedic massage. In the midst of nature we stripped into the dark womb of a thatched cottage within the human grippings of practiced palms in neat long orbits of warm oil on skin. Our tired legs and limbs were eased under a twittering canopy of birds and time stretched unmindful and unaccounted like a rich boy's money.
Across from our massage high tables and the massage hut, a lake swayed in its glugging number providing boating experiences to people.
We crossed the gurgling Abbey waterfalls, on our way back and gulped pitch cold sweet water from the largest coconuts I have ever come across in my life in India.
Back in the hotel, by 3 p.m., we dipped into its mountain-tabled swimming pool from where the whole world ran downhill in green. But soon we were shivering. Even at high noon in summer, the water was chilling.
On the day of our return from Coorg, as dawn cracked outside our taxi windows speeding to the airport, we wished goodbye to the faint Manglorean sun and disappeared via its hill-framed airport back to flat, dusty, un-green, un-hilly, informal city of Mumbai.
There are always things that remain, and hence make the re-return to a place, just like to a friend, all the more necessary. We will have to go back to the Coorg hills again for the sunset view at Raja's seat, to step into the Bhagmandala temple and to see the origins of the great river: Cauvery at Talacauvery.
How else will the Maker's poetry continue in its transparent invisible ink?