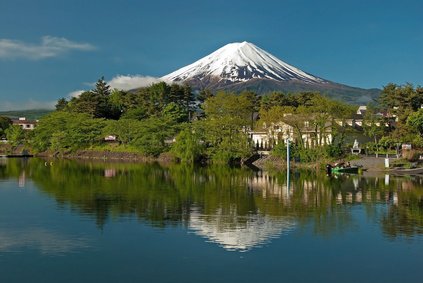 Our trip to Mount Fuji began at 7 AM last Friday when Kathy and I left our apartment to catch our early morning bullet train to Japan's most famous mountain. After nine hours of traveling via taxi, bullet train, and bus, we arrived at Fuji-san's 5th station (7562 feet) at 4:30 PM. With our high tech graphite walking sticks and backpacks filled with rice balls, water, and winter clothes, we began our ascent up the mountain at 5:30 PM.
The reason for our late ascent was to catch the sunrise at the top of the mountain after hiking for most of the night and early morning. Although the weather forecast called for clouds in the evening, we began our hike in nearly pristine weather conditions. We were met with an immediate incline, one that persisted until the very top of the mountain. The terrain we hiked through was ever changing, and included gravel, volcanic rocks, volcanic ash, sand, and jagged rocks. Once we reached the 6th station (8202 feet), we encountered a group of high school students who had climbed to the summit earlier in the day and were finishing up their descent. Although we only exchanged greetings, their faces told the story of their day's experience. Some had looks of contentment, while others seemed defeated. All of the students however, shared the same exhaustion that creeps over the body when we push ourselves to our physical limit.
By the time we reached the 7th station (9022 feet) at 8 PM, it was dark and cold. The wind was picking up and the terrain was getting worse. We decided however, to climb for another two hours until we got to the 8th station. I've been on a few night hikes, but nothing could compare to this experience. Most of our two-hour hike involved pulling ourselves up a wall of jagged rocks, only to be met with another wall of jagged rocks.
We arrived at the 8th station (10,990 feet) a little after 10 PM. We were faced with the decision of either forging on towards the summit to see the sunrise, or rest for a few hours and miss the sunrise. Realizing that our exhausted bodies could not take much more punishment without sleep, we elected to check into the Toyokan hut. Its one of the many rustic huts spread across the mountain trails where weary hikers can get a few hours of shut-eye. For $50 each, we had our own 6 by 2 feet area to curl up inside of rented mummy bags. Before our nap, we each had a bowl of delicious noodle soup, with soy broth, carrots, corn, and baby prawns. It was absolutely delicious, and by far the best Cup-O-Noodle soup that I have ever had for $6.
Our alarm woke us up at 2AM after a surprisingly restful sleep. Having shared the sleeping area with about 20 other people crammed together like sardines, it was impossible to have a solid three hours of sleep. However, from the time I closed my eyes to the time my alarm went off, my body went to that warm dreamland you never want to leave. Its that place between dreams and wakefulness you go to after switching off your alarm, where all you wish for is a few more minutes. After dragging myself out of bed, I went to the outhouse down the hill. I was met with the most chilling wind imaginable, and literally nearly froze my ass off!
We continued our ascent at 2:45 PM, moving much slowly this time due to the gusting wind and our soon exhausted bodies. At about 4:35 PM, we saw the sunrise from station 8.5 (11,318 feet). We weren't at the top and there was a partial cloud covering, but all I could think of was how grateful I was for having the opportunity to see such a beautiful expression of nature from the top of Japan.
We reached the 9th station (11,646 feet) at 8 AM. Kathy was visibly exhausted and continually out of breath. She was showing the first signs of altitude sickness, and we were both concerned of what might happen if she pushed further. Although her spirit and will wanted more than nothing to get to the top, her little body wouldn't let her go any more. Sadly, we both agreed that she should rest at a hut and not make the final climb.
I climbed the remaining 741 feet alone, and the view from the top was bittersweet. While I had accomplished my lifelong goal of climbing Mount Fuji, it did not feel complete without the person I share my dreams with. These sentiments were abruptly dashed as a handful of gravel smacked my face. With nothing to block the wind at the top of the mountain, volcanic ash and rocks were being thrown in every direction. Looking over the edge, I noticed that the view from the top was pretty much the same at the view from station 9, station 8, and station 7. I figured that I should capture the moment, and focused my camera for a snapshot. At that same moment, a huge gust of wind whacked me from behind and shoved me about 12 inches forward. Two more inches and I would have been the first casualty at Mount Fuji this year. I thanked my lucky stars and kissed the top of Fuji-san goodbye. I met up with Kathy at a 9th station hut and assured her that it was the right decision for her to stay at the 9th station. We had some food (our last rice balls and another expensive Cup-o-Noodle) and rested up before beginning our descent at 12 AM.
Exhausted and sleep deprived, we reached Station 5 at 4 PM. Kathy and I will be heading home on July 23, and climbing Fuji-san was the icing on the cake to a wonderful Japanese experience!