9/1/2000 – Friday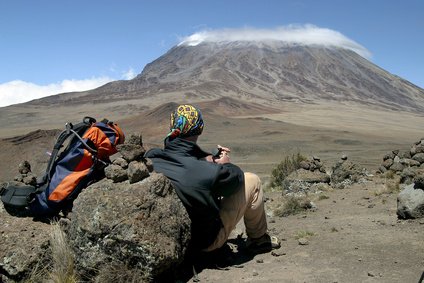 After traveling for three days and undergoing quite an ordeal getting from San Luis Obispo to Nairobi, Kenya, I finally arrive in the Nairobi airport at 7:50 pm. After going through Customs and gratefully retrieving my backpack and suitcase from the baggage claim area, I was overjoyed to see John Bragg there to greet me. We had some very long big hugs of relief to have made it to Nairobi safely and in time before the rest of my group would have left without me the next morning.
I arrived in Nairobi on the same KLM flight as Dee Norton and Gene Rasmussen, with whom I had connected in Amsterdam; and John had all of us driven to the Fairview Hotel near downtown Nairobi to drop off our luggage. Dee and I would be sharing a room. The first reality check that I'm really here in Africa is the consciousness that I can't use the tap water to brush my teeth anymore.
We were told that the rest of the group of 13 climbers had gone ahead to dinner at a restaurant called Buffalo Bill's; so we were driven there to hopefully meet up with them. Unfortunately, they had just finished a few minutes earlier and were en route back to the Fairview Hotel. We just looked around to see what it was like. The most interesting thing I noticed was that, surrounding the bar area of the restaurant, were small, open cubicles with one table each. In each cubicle was a prostitute working her customer(s); it was amazing to me how open and accepted prostitution was here.
We went back to the hotel and met Carole Franks and Bill Metcalf. who had been very worried about me because we had planned to meet each other in London, and that connection didn't occur due to delayed planes. We also joined Mike Larrabee and Mary Bragg and all discussed what had occurred the last few days attempting to get to Nairobi. All is well now; all 13 people that were supposed to arrive in Nairobi have made it safely, and we will leave for Tanzania tomorrow after breakfast. It's back to the room where Dee and I spend some time sorting our gear and get a much-needed short rest.
9/2 – Saturday
We're up at 5 am to prepare to leave, have an early breakfast in the hotel, meet all the remaining members of our climbing group, and leave in two vans by 8 am. We were told that we would be traveling via Namanga to Marangu and stopping in Arusha, Tanzania for lunch at noon. We got through the border crossings, out of Kenya, and into Tanzania, and then regrouped into one large bus. We know that we are really in Africa as we drive along and see giraffes, zebras and camels out our windows. We also see many Maasai, nomadic villagers, with their donkeys, cattle and goats. The drivers of the first two vans were very gracious, but the driver of the bus has a horrid attitude and wouldn't stop in Arusha for lunch. What's worse, he wouldn't stop to let us have a pee break. Many of us were getting very desperate. I can be patient to a point; but I reached that point, and the bladder couldn't hold out any longer, especially over all the speed bumps, which they call speed humps. We revolted, became politely assertive, and insisted on the driver stopping the bus anywhere. He stopped, and we were directed to an old shed out in the boonies with one hole in the floor that we could use to relieve ourselves. Much happier, we got back on the bus and now were very interested in getting lunch as we had passed up Arusha. We kept being told "only 45 minutes more". The driver wouldn't stop until 3 pm when he took us to a restaurant of his choice in Moshi. We figured that it belonged to a friend or relative of his, and that he was getting a commission for bringing us there. Most of us drank our first Kilimanjaro beer to toast our arrival. I had a simple meal of pan-fried fish and rice. Carole and I walked around town a little and changed a traveler's check into Tanzanian shillings. Then we all got on the bus, that is everyone except the bus driver with an attitude. He didn't come for about another half-hour and only after we went looking for him; he's not winning any points with us, and we discuss not tipping.
We drive another hour closer to the mountain and arrive at the Kibo Hotel in Marangu on the eastern slope of Kilimanjaro where we secure very modest rooms with dim lights and a trickle of lukewarm water from the bathroom sinks. The location is beautiful though with thick vegetation around, lovely flowers, up on a hill. It's in stark contrast to the drive we've had all day in the dry, dusty plains. John Bragg gathers us all together for instructions about our plans for tonight and tomorrow. He says that he will be periodically taking our vital signs, starting tonight, and continuing as we climb to be sure that no one is getting pulmonary edema or cerebral edema or any other serious ailment. He checks our blood pressure, blood-oxygen level, and respiration rate for our baseline; we give him our height and weight. Our first dinner together as a group in the hotel was stew over rice with green beans and carrots on the side and a banana pancake for dessert. We secure our porters for the upcoming climb.
Then we were off to our respective rooms, with Dee and I rooming again, to sort our gear. We can take with us only what we will need on the climb, and the rest of our belongings will be locked away here at the hotel. We are limited to 35 pounds each per porter. Mike Larrabee has brought us a scale so that all our gear can be weighed. The rest we carry ourselves in smaller backpacks. I settle down listening to loud bird noises in the trees. I wish I had brought a tape recorder in addition to my camera. I'm wishing that I could call home and let the family know that I'm fine, but there are no phones here. To bed at 10:30 pm after a full day.
9/3 – Sunday
Because we were told last night that the lights and water would not be turned on in the hotel until 6:30 am, I set my alarm for that time. However, extremely loud church bells start ringing incessantly at 6 am and ring for 10 minutes solid! The entire town is awake now; that's the whole point. We get up and going. No one had turned on the hotel generator; so there was no hot water. I had a cold sponge bath and got dressed. After breakfast I saw a local boy with a chameleon on a stick. It was fascinating to see it up close until the boy realized that I wasn't very fond of lizards, and then he enjoyed scaring me with it. Another young man said that he would walk me to where I could get my first glimpse of Mount Kilimanjaro. We walked up a road together about ten minutes, and there it was in all its grandeur, glaciers sparkling on the summit, on this beautiful clear sunny morning.
We were told that the guide would pick us all up at 9:45 am to bus us to the Kili trailhead. We are all anxiously ready on time, but the guide didn't show up until 11:15 am. We are getting a bit upset with this guide and driver. When the guide was asked why he was an hour and a half late in picking us up, he replied that he had to go to the market to buy our food, and that the market opened later on Sunday. We know that he is aware of market times; so we figure that he had gone to the disco Saturday night instead of to the Saturday night market. We definitely are in Africa where there is a different notion about time and punctuality.
We arrive at the Kili trailhead at the Marangu gate at 5,880 feet elevation, take our "before climb" photos, and start our hike at 1:30 pm. Our group consists of John and Mary Bragg and Edith and Carmen Jimenez from Mexico; Mark Cornwall, D'Arcy Arthurs and Duane Jones from Santa Barbara; Dee Norton, Carole Franks and Bill Metcalf from San Diego; Gene Rasmussen from South Lake Tahoe; Mike Larrabee from Santa Maria; and myself from San Luis Obispo. It's an absolutely beautiful, slow, and easy walk through the mud of a tropical rain forest with lush vegetation, hanging vines and Spanish moss, creeks and waterfalls, birds and monkeys. It's misty and sporadically raining as we stop for lunch; Duane is a big hit sharing his dark Belgian chocolate with everyone. We arrive at Mandara Hut, which skirts the base of the Maudi crater, by 4:15 pm at 9,000 ft. elevation. Our A-frame cabin consists of two adjoining rooms of only bunk beds, four of us in one room, and nine in the other. Those who have started to take diamox, a medication to minimize high altitude sickness (HAS), are up all night long peeing, this being one of the drug's side effects.
I've had a conversation with John Bragg about whether or not I will take diamox as I was undecided. My primary care physician at home wouldn't prescribe it for me, but John had extra for anyone who wanted it. I've heard of people getting sicker because of the diamox, and I've heard people swear that they couldn't summit without it. I've been above 18,000 twice before, once in the Bolivian Andes, and once in the Nepalese Himalayas without any high altitude problems. I'm also sensitive to some antibiotics and to codeine. John tells me that I will not be able to summit without it. In one way this sounds like a challenge. However, I'm more concerned about taking a drug I've never had before and don't want to risk an adverse reaction to it. I guess I also want to know the limits of my body and mind climbing at altitude. So I decide to take the calculated risk to attempt a summit without any diamox while the majority are using it. The benefit at least so far is that I get more rest during the night than most people who are up and down repeatedly.
9/4 – Monday
Up at 6:30 am to a breakfast of avocado sandwich, peanut butter and honey sandwich, eggs, tomato, cucumber and tea…not quite what I would have had at home! Starting out at 9 am, it's a drizzly rainy day but a very nice 10 mile climb through vegetation that gets sparser as we climb in altitude. Today is a 10 mile hike through forests and then across savanna terrain. Midway through our hike we see four porters carrying a stretcher down from above with someone on it. We think someone is injured or suffering from HAS and needs to come down to lower altitude. When they get beside us we realize that the person being carried is zipped up in a body bag, and a woman is walking beside them with teary eyes. We learned that this was a 70-year old Japanese man who had died of a heart attack at the Horombo Hut where we were headed to that evening. This was very sobering for our entire group. We were eagerly looking forward to our climb of the enchanted mountain, and now we realized that this was serious business and that it would definitely not be a walk in the park. I had never seen a dead person on a mountain as I was climbing it before, and this was a definite reality check.
Continuing along we stop at a lovely place with permanent picnic tables where the porters have gone ahead of us and prepared lunch. Huge African crows or ravens join us to scrounge for any leftovers. At around 11,000 feet we begin to see the giant lobelia trees. We proceed on and reach Horombo at 12,334 ft. elevation at about 3:30 pm. Much to our delight, there is one bathroom here with a sink with cold water and one faucet about 18″ off the ground so that we may wash our feet. I improvise, have a cold sponge shower, and feel like a new woman with the dust of the day off me. We walk around camp and find a female medical student who is attending to a man who looks to be about 30, very buff and fit looking, who is shaking from hypothermia and HAS and is being roped to a stretcher for porters to carry him down the mountain. We learn that there is an extensive rescue team here and many stretchers as HAS is a common occurrence. Reality check #2. The sun's almost gone, and he will be taken down during the night. We ask the medical student about the man that died here today, and she says that he just keeled over here. She tried immediately and unsuccessfully to resuscitate him.
Dinner in Horombo was interesting as we met a group of 10 gorgeous fit men who all dressed in identical gear, even the boots, which aroused our curiosity. We found out that they were hand-selected by the king and queen of Spain to be Spain's national climbing team and that most of them had summited today. One of their group had gotten sick with HAS on the ascent, and a fellow climber who was a doctor took him down the mountain. All 12 of them were, what they called, Spanish marines. In this camp we got 3 cabins: 5 ladies in one, couples in another, and the rest of the men in another. Below us the city of Moshi is lit up sparkling in the night; the sky is clear, and the Milky Way is distinct.
9/5 – Tuesday
We awake to a magnificent sunrise, cold and windy; we are above the cloud bank as if flying in a plane. This will be our rest day, and we are cautioned to save our energy. The purpose of staying here today is to allow our bodies time to build more red blood cells to carry oxygen. Breakfast consists of corn porridge, peanut butter and jelly sandwiches, cucumbers, tomatoes, papayas, oranges and tea. My new camera is inoperable, and Mike tries unsuccessfully to fix it for me. I'll have to rely on others for copies of prints for this climb. Lunch consists of french fries, tortillas and fried cabbage. I read in my new book, "Rules of the Wild", about the life of whites in Africa. One of the big treats of the day was being serenaded with classical Spanish music by a British climber named David Green playing his guitar. He plans to take his guitar all the way to the top of Kili to play. All of us ladies were captivated as he pulled up a chair and played song after song in front of our cabin, many of which he had composed. He teaches guitar in the UK and has his own ensembles.
Later we saw one young Japanese male climber who was very sick from mosquito bites. He'd been scratching them and had gotten several infected; the female medical student was giving him antibiotics and was concerned about malaria. She is here for three weeks performing a high altitude study. She asked if we would like to participate, and several of us agreed. She took our vital signs and asked us to complete a medical history. Then we were to complete a questionnaire about our symptoms every morning and evening for three days, starting with how we felt last night. Every day I completed the forms saying that I felt fantastic, no HAS symptoms at all. I'm convinced that I'm genetically engineered for mountaineering! Dinner consists of macaroni with a vegetable sauce, tortillas, green beans, and tea. We get to bed early for a good rest.
It may seem strange that I mention all the food we eat. In the mountains we always get down to the basics of survival. Here we are acutely tuned in to bodily functions and vocalize it freely as we would never do at home. We perceive food as fuel necessary to perform hard work. We force ourselves to consume 5 liters of water per day, pee constantly, replenish electrolytes, discuss who's constipated, nauseous or with diarrhea. We're all supportive of each others' needs and freely give of our pharmaceuticals to whomever needs anything. No one has any medication for constipation, but we learn about a Chinese holistic method which involves massaging the outer edges of one's ears.
9/6 – Wednesday – malaria pill day
Lovely peach-colored sunrise at 6 am, no wind. After the usual breakfast of peanut butter and jelly sandwich, papaya, tomato, cucumber, egg and tea, we left Horombo at 9 am. Before we left I saw David Green again who said that he'd mail me one of his guitar CDs when he got home. After 2,000 ft. in elevation gain, we stopped at noon for lunch of bread, hard-boiled egg, cookies, carrots, cucumbers, and tomato. Leaving at 1 PM and continuing on through brown, dry, barren terrain, we passed the saddle of Kilimanjaro at 15,000 ft. in between two peaks, Kibo on our left and Mawenzi on our right. We continued on and arrive at Kibo Hut at 16,250 ft. at 2:30 pm. All 13 of us are piled into one room of bunk beds. At 2:45 pm it started to hail; it was quite cold, but the hail didn't last long. We wonder what the weather will be like for our climb tonight. There is an air of nervousness that I didn't sense before. I personally feel nervous and scared but don't talk about it. We're all pretty subdued. We know that we will start our summit climb soon now and don't know what to expect. So far I still feel fine. Mary, Edith and Carmen, the three women from Mexico, all decide that they will go no further. They'll rest at Kibo Hut and wait for our return from the summit. The other 10 of us are determined to continue. We all get our backpacks ready with whatever we'll need for the summit attempt. Everything else will stay in camp. The only person that appears to be very sick is John Bragg, but he won't admit it to anyone. He just coughs all the time; I believe he has bronchitis. The porters prepare our dinner at a table inside our one room at 5 pm. By 6 pm we're all in bed trying to sleep what little we can before we're awakened at 11 pm to get ready to ascend. I awake at 9 pm, feeling a bit scared, go outside to pee. I look up at the clear sky of stars to try to find Orion so that I can talk to Daddy. (Prior to his death on 10/1/95 he said that he'd be going to the head of Orion and that's where he would meet us someday.) I immediately see a shooting star and take it as a sign that Daddy is saying "hi" and that he'll take care of me. Back to bed until 11 pm when we're rousted awake. I have a headache, which is common at high altitude, and take an alleve pill, thinking I'll be fine. We drink a little tea and eat some cookies.
9/7 – Thursday
Dressed in expedition weight long johns, polar fleece, down and gortex layers, I start the climb with my 9 friends at midnight. Desario, our head guide, decides on the order that we will walk in single file. He puts the four ladies first followed by the six men; I'm second after D'Arcy. We proceed quietly up the mountain aided by our headlamps; above and below us is a steady stream of headlamps snaking up the mountain. It is really quite lovely on this clear night full of half moon and stars above. I shortly become aware of the nausea feeling one has right before vomiting and think that there is no way that I can vomit here. I need all my fuel and liquids or I'll become weak and dehydrated. I try to suppress the nausea feeling by burping. It works for awhile. I feel weak and tired and disoriented. I try to concentrate on my cadence of "inhale, step, exhale, rest, inhale, step, exhale, rest". I look up at the stars to talk to Daddy to help me, but I become dizzy looking up. I pray. I say "Our Fathers" over and over. Porters sing African chants that are delightful to focus on. I wondered how they could sing when I felt so sick. Then I start throwing up, and it continues for hours. I threw up in Hans Meyer's cave, half way up the scree field, named after von Professor Dr. Hans Meyer, the first person to ever summit Kilimanjaro in 1889. Sorry, Hans. The toughest part of the climb is from Kibo Hut to Gillman's Point, which is on the rim of the crater of this volcano. It's made of volcanic sand scree and is like climbing a sand dune or a vertical beach. You step up and slide down, step up and slide down. For six and a half hours I continued up this volcanic sand dune nauseated, dizzy, weak, short of breath, disoriented but always saying to myself that I can always take just one more step. But it seemed like we would never reach the rim of the crater. Every time I looked up it seemed like it wasn't any closer than the time before. About 5 hours into the climb an angel came to my rescue. Sartu, one of the porters, saw how I was struggling, came over to me, and motioned that he wanted to carry my backpack for me. I gladly gave it to him; it was just the psychological edge I needed to keep going. Sartu stayed beside me keeping a watchful eye. About 15 minutes from Gillman's Point, Sartu took my hand to pull me up the mountain. I held it for about 10 seconds and then withdrew my hand. It was a gracious gesture on his part, but I didn't want to be pulled up this mountain. I had to do this on my own. I arrived at Gillman's Point at 18,655 ft. elevation on the edge of the crater rim at 6:25 am to a magnificent red streak of sunrise. I started welling up with tears and hugging friends; I was not alone in my tears of relief, as there were many that shared the same emotions. The climb had taken its toll on all of us. We gathered until all had arrived; Mike Larrabee wasn't there. We learned later after we got down that he had gotten vertigo sometime after Kibo Hut, and a porter had to carry him down to the hut.
At this point all I wanted to do was rest and get warm in the sun which is rising. I remember Don Smilovitz telling me back at home that I would feel terrible at this point, but that I should rest an hour here, warm up, and then continue on to the summit. So when Desario asks who's going on to the summit, I say that I'm staying here an hour to rest and warm up. His response is that we all go together now or go down. Mark and D'Arcy decide to go down. I say that I want to go on. Desario looks at me as if to say "Are you sure?" but doesn't ask it. After six and a half hours of trudging up the sand and only a five minute rest, we start out again for the summit two hours away. It's slow going; we're short of breath. It's a gradual incline on firm rock and much easier than the sandy steep slope up to Gillman's Point. I summit Uhuru Peak at 8:30 am at 19,341 ft. elevation and release my emotions with more tears and hugs for everyone. Desario gives me a giant hug. I hug Sartu who was by my side for the worst of the climb and tell him that he is the very best; he looks like he feels awkward about the compliment and all my emotion. I find the summit register book and write in it dedicating the climb to Mom and Dad and Kevin and Brian. I give a special salutation to Kevin as today is his birthday. Sorry I can't be home for your birthday, Kev, but you're with me in spirit as are all my loved ones. My friends take lots of photos of our summit. I get more tears in my eyes as I watch one lady being photographed beside the summit sign with a photo of her deceased father.
Of the 13 that started this climb, four men completed it: John Bragg, Duane Jones, Bill Metcalf and Gene Rasmussen, all of whom were age 65 or 66. John has a toast of tequila. The women were Carole Franks, Dee Norton and myself, who are all ageless! The summit is a spectacular place to be. One can actually see the curvature of the earth from here. We are 3 degrees and 206 miles south of the equator on the highest peak in the continent of Africa, one of the seven summits of the world. At its broadest it measures 25 miles across and rises 15,840 feet above the plains below. While we started a few days ago in a lush rain forest, here we're beside turquoise glaciers. We have half the oxygen here that we breathe at sea level. Climbers here do not carry oxygen with them. I'm very happy to have succeeded in the goal of summiting this mountain, but I'm surprised at how sick I have felt. I wonder how I would have done had I taken diamox like the other climbers; I'll never know. After summiting, Duane admits to having lost a lot of his vision. He said that his vision has turned milky gray, and he needs assistance down. John is coughing badly and is having difficulty breathing.
We departed the summit at 9 am, and I arrived back in camp at 11:45 am. What had taken us eight and a half hours to climb up took less than three hours to come down. Most of the way I ran down, digging my heels into the sand and sliding down about ten feet at a time, whipping up quite a cloud of dust. Arriving back at the hut we found Mike Larrabee in bed still sick from vertigo. He said that he started weaving as if he were drunk and couldn't negotiate at all. The porter named Masabe saw him and carried him down, for which Mike gave him a $50 tip. Now that we are down, John Bragg finally admits to how sick he is; he says that he has been blacking out every time he has coughed. He's got some serious bronchitis. I gave Sartu an extra $20 tip for carrying my pack part of the way and for encouraging me up. We got to rest for only a half-hour on our beds. Then we had to pack up all our gear, vacate the room for other climbers to move into it, and start descending to Horombo 3,000 feet down. Three hours later we arrived at Horombo exhausted after walking 15 hours today but happier to be breathing more oxygen. Half of our group was too tired to eat dinner. Since I had lost all my liquids and nourishment during the climb, and because I felt better at lower altitude, I had a healthy appetite again and ate a good dinner. I was so tired after dinner that I didn't have the energy to walk to the one bathroom to pee before going to bed. I thought about that being a big mistake, as I wouldn't get to sleep long but didn't care. I slept heavily all night without stirring once. I still had no urge to pee in the morning. This was an indication of how dehydrated I was.
9/8 – Friday
I feel very refreshed from the wonderful rest. We pack up and have an 8 am breakfast. We hear that a woman died yesterday on another route up the mountain. That makes two people dead since we arrived; it's all a bit disconcerting. We leave Horombo at 9:45 am for a pleasant walk down viewing monkeys and birds, walking through lush forests again, loving the thicker air. We get to Mandara Hut at 1:45 pm for a short rest stop and to the trailhead at 4:30 pm for "after climb" photos. It will be interesting to compare our before and after climb photos! We don't look or feel as fresh as when we started. I sign another summit book down with the ranger at the trailhead, buy a Kili shirt, book and postcards. We head back by bus to Marangu for the Kibo Hotel, so very much looking forward to the first shower in a week. We hope there will be hot water this time.
Dee and I get the key to our room, and I let her shower first. I hear her screams and cursing at the cold water as she attempts to bathe in a few inches of cold tub water. It's my turn, but it doesn't feel as bad as her screams made it sound. I'm happy to have any water at all to clean up. How wonderful to shampoo and condition my long hair again! I finally feel like a woman again and dress in a long wraparound skirt and halter top for dinner, wet hair dripping down my bare back because my hair dryer won't work in this hotel. Dinner is a major victory celebration among now life-long bonded friends. Dinner consisted of chicken with an outstanding spicey sauce, soup, potatoes, rice, crepes and wine. D'Arcy is nauseous and skips dinner. Mike is still sick and skips dinner. John says that we each need to come up with $120 to give tips to our 26 guides and porters. We do, and they are delighted with our generosity, as that is a lot of money in their economy. After the long walk, wine and dinner, we drop like rocks again into bed hoping to sleep in late, not setting any alarm.
9/9 – Saturday
6 am those horrid church bells start up again! I thought they only rang them on Sundays. It turns out that they are rung for 10 minutes at 6 am every day to wake up the town. We pack up, eat breakfast, and give away gifts to hotel staff. We were told that they especially like to receive pens and toothbrushes; so I gave them all the extras I had brought with me along with some other items. We hugged our porters and guides goodbye amid more tears. One porter took me aside, giving me a letter addressed to someone in the U.S., asking me if I'd mail it when I get home. Carole Franks, Bill Metcalf and I piled into a green land rover and departed to begin the next leg of our adventure, a photo safari out in the bush. Gene, who was going home after the climb, loaned me his camera for our safari. Thank you, Gene. Safari to be continued……
WHY DO IT?
I've thought a lot about why I climb and thought it might be well to memorialize my thoughts on the subject. Following are some of the reasons why I love to climb, not in any particular priority order:
My love for mountains began at an early age due to my childhood spent in the Rocky Mountains of Montana and Colorado. Surrounded by mountain vistas and spending 15 years in Girl Scouting, I loved spending time hiking and camping. Coming from a large family of eight children, our vacations were primarily spent camping together. So my love for the outdoors and mountains seems to run deep in my core, and returning to the mountains always puts me in touch with being the happy little girl that I grew up as.
Life becomes so very simple in the mountains as compared to the complexity of life in civilization. I enjoy the beauty of nature around me, the fresh air, the thoughts of all the projects I juggle at home out of my head. Technical climbing, whether it be rock or ice climbing, adds another dimension which necessitates increased focus on the present moment, which further distances me from matters at home. It is very important in the more technical climbing to focus on the present, not allowing one's mind to think too much about the distance below or above, but to focus on where's the next handhold and next foothold. I attempt to take the mountain lesson of focusing on the present moment home with me. I think about the saying: "Yesterday is history. Tomorrow is a mystery. Today is the gift. That's why it's called the present.".
I love setting and accomplishing goals. When I decide to do a particular climb, it gives me increased incentive to train harder and to maintain or increase my fitness level. Fitness actually becomes a byproduct of doing what I have a passion to do anyway, which makes it all the more fun and never a chore. Achieving the particular goal, as in summiting Kilimanjaro, Mont Blanc, Rainier, Shasta, Fairview Dome, Cathedral Peak or wherever becomes a very deep joy, satisfaction and lasting memory. While I love to summit, and hate giving up along the way, I do recognize that the journey up and down the mountain requires the most effort. I'm reminded of the saying: "We are not at our best when we are perched at the summit; we are at our best climbing, even when the way is steep.".
I recall summits that have eluded me, and these too have lessons to teach. While climbing in the Nepalese Himalayas, in full view of Mt. Everest and the Khumbu ice fall, I was attempting a summit of Kalapathar, elevation 18,192 ft., when my guide told me that I had to turn around and go down 100 feet from the summit. I was filled with emotions of tears and disappointment, but the last 100 feet would have taken me an hour and a half to complete; and we were running out of time. I knew that he was right because of safety reasons, and we had a long way to go down that day on depleted energy; but it was frustrating nonetheless. In contrast, another time I was climbing a pyramid-shaped glacier in the Bolivian Andes, called Conderiri, when we got caught in a white-out storm at 18,000 ft., 500 feet from the summit. I felt no disappointment at all about not summiting because there was clearly no choice but to descend while we could still maneuver down vertical ice walls, over snow bridges, and around crevasses before we lost sight of them; the glacier would still be there if I ever wanted to go back. Some climbs get aborted before ever starting as did the Matterhorn. Climbing some peaks in the Alps, including Mont Blanc, was to be a warm-up for rock climbing the Matterhorn. I was to have the second turn climbing the mountain in our group of five one-on-one with the guide, after Mark Cornwall. However, when Mark came down to Zermott a day late with ten frostbitten fingers and told us how horrid the conditions were, I declined my turn because I rather like all my fingers, as did the remaining three climbers. No mountain is worth this price.
The process of training with good friends is a joy unto itself before we ever get to the ultimate climb, and the friends that I train with and climb with are so very dear to me that I will love them forever. During the climbs we support each other, know that we can count on each other, and build lasting bonds and memories together. Just hiking up San Luis Mountain or Bishop's Peak regularly affords us a way to decompress after the work day, to talk over any issues going on in our lives, to maintain fitness, and to build deep friendships. All of these friends have left their footprints in my heart. A very special joy has been to rock and ice climb and mountaineer with one of my sons, Kevin. We share this same passion, which is probably unusual for mother and son together. I have been aware of an increased level of anxiety though sometimes when Kevin was leading a rock climb, with me following, when we have gotten into difficult spots. I wish that my son Brian and I shared this passion together, but he's unique and very special in his own interests and equally as dear to me.
The mountains have a certain mystic and majesty that attract me. They have a beauty that the average person will never experience up close. I am aware of how my relationship with the mountains changes dramatically from just viewing them before a climb to looking back up at them after the climb; they will forever be significant to me after climbing. My memory banks are full of graphic scenes of turquoise glaciers, crevasses, rock formations that most people will never see. It feels very spiritual to witness all this natural beauty too, and I can't conceive how one could be an atheist if they saw all this beauty. God is clearly there, and prayers are simple. It's the same feeling I get when I scuba dive because I am so awestruck with the beauty of the world below the surface of the water, especially in warm clear waters.
These are some of the reasons I climb. The standard answer, "because it's there" just doesn't seem adequate. With more thought, I could probably add to this list; but that's it for now.
Kathleen O'Neill 9/24/00