(From the August-September 2009 issue of "Bayang Magiliw" Magazine, Kingdom of Bahrain. Copyright 2009. Used by Permission)
The alluring beauty of the Far East is seen not only through its contrasts of culture, lifestyle, and climate. But also through the way nature has brought it into being. It is where the sun rises. It is where oriental charm lives where many travelers have found the most interesting journey experience.
Despite the hundreds of attractive islands the Philippines has, there are probably a few of them which seem to stand above the rest. Off the southern most part of Mindanao is the enchanting Island of Samal. Its unspoiled tropical beauty, serene surroundings, and wildlife treasures, have enticed countless international visitors each year.
Since its rowdy beginnings in the early Spanish regime, the island within the Gulf of Davao was named "Samal" in recognition to the settlers who migrated from Jolo and Basilan, the Islamic Tribal Group or "Isamal". Historical records from its tourism department show that, in the early years, indigenous people from the northern and eastern coasts of undivided Davao province settled Samal Island.
"A large mixed population of Mansakas, Mandayas, and Muslims composed the identification of the now so-called Sama Tribe," a tourism spokesperson tells me, "and a Datu dynastically ruled them for decades. Form of government only changed when Christianity came into the island in the early 18th Century."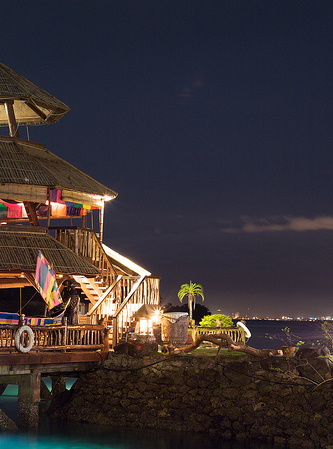 Samal Island is an archipelago lying in the Davao Gulf that stretches out over a land area of 28 hectares. It owns a coastline bedecked with white-sand beaches, mangroves, abundant marine life, rock formations and landscape elements of coconut palms, flourishing flora and fauna, and fruit-bearing trees. Also, the vast unexplored depths of Davao Gulf offer ample opportunities for scuba diving and underwater photography, with colorful marine species of the whole Indo-Pacific region.
A favorite spot for divers is the historic site of two Japanese shipwrecks the Americans had submerged during World War II. Nature has endowed Samal Island with several attractive spots that make up the existence of its vacation places. Among them the private paradise of Pearl Farm Beach Resort, situated in a secluded cove on palm-fringed Island Garden City of Samal (IGaCoS), one of the country's most up market beach resorts today.
"This place in Davao is what you call paradise on earth," says Joseph "Ace" Durano, Secretary for the Philippine Tourism. In 1958 the 14-hectare beach resort operated as a grange where thousands of white-lipped oysters transported from the Sulu Sea; the oysters were cultivated because of their white, pink, and gold pearls. Now the resort lures a relaxing private retreat and attracts guests because of its tranquil and exotic environment.
"Accommodations are built around the contour of the island," explains one of the resort's friendly and charming staff. She leads me off the path heading to the rooms constructed in tribal designs that preserve the ethnicity of its surroundings. I see that it all provides a spectacular view of the sea. "There are 73 accommodations all in all," she adds, "divided into guestrooms, suites, cottages on stilts, and executive villas."
Pearl Farm began its operations in 1992. Such beach resort, too, is popular for its tasty dishes and luscious fruits. The Maranao Pavillion prepares Filipino and international cuisines and serves fresh seafood. The other being the Parola Bar offers cocktails to guests while enjoying the view of the sea, the nearby islands, and the sunset.
"There's not such a place like this in Europe," says a Brit tourist as I rejuvenate myself in the spa, "climate here is so friendly."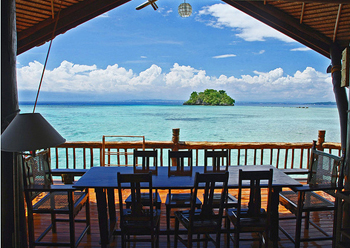 The in-house spa at Pearl Farm Resort offers a natural soothing treatment, known for its relaxing and healing benefits. There are two swimming pools gleaming in changing nuance of blue–from turquoise to aquamarine–as well as shopping booths where guests can buy souvenirs and essentials. All lodgings are cozy-built with complete modern facilities and excellent services.
The world-class five-star island resort, which is nestled on the quiet side of Samal and is located by a hillside covered with lush vegetation, is free from typhoons all year round. But it does have its share of rain showers and windy seasons: a hidden paradise in Southern Philippines.
Summer normally starts from December to May, with March being the warmest. Rainy season regularly comes in between June to December. "Tourists should come here during sunny season," explains Rizza, a long-time resident in the island, "for a pleasurable vacation."
A 40-minute motorboat ride from Santa Ana Warf in Davao City reaches Samal Island. There are also separate sea vessels that go directly to the resort, about 3 trips daily starting 8am. Many sojourners from Europe, Taiwan, Japan and local tourists from Manila, Visayas and Mindanao visit Samal to spend time in Pearl Farm's private paradise.
"We've been receiving a number of local and foreign guests each year," the resort's staff explains, "Pearl Farm's attractions go much deeper than surface delights. Just 60 meters away from this resort are two sunken World War II Japanese vessels await for scuba divers. The whole seafront has been cleaned, corals have been replanted, and marine life has been protected and nurtured over the past years. This resort has been declared a marine sanctuary."
There are several water sport activities at Pearl Farm: wind surfing, water polo, jet and water skiing, banana boat rides, scuba diving, sea kayaking, hobie cat sailing, and wave running. Tennis courts are available both day and night.
"Here," says one of the resort's guests with a twinkle in his eye, "one does not need to be a water sport expert. You can just enjoy a relaxing swim at the swimming pool, or simply swim beneath the man-made water falls that flow into a lagoon."
I leisurely meander through the exotic gardens of the resort and find myself talking with one of the caretakers. Island structures are made up of natural materials–bamboo, wood, rope, stone and coral, blending magnificently with the rest of the landscape. "We also arrange for either a traditional or tribal wedding ceremony," he notes, "and for parties, debuts, reunions, and the like."
Pearl Farm Beach Resort has 19 air-conditioned Samal houses and 6 Samal suites. There are 19 hotel-type rooms at the hilltop of Balay I and Balay II. Each room conspicuously emblazons the arts and crafts of the tribal people of Mindanao and Davao, giving distinct charm to the resort; the ethnic motifs reflect the affluent culture and heritage of the indigenous tribes: a monument to outback tenacity.
"Eminent government officials, or celebrities, can come here safe and direct," he continues, pointing out the resort's two service helipads. "Indeed, several of them have been here already."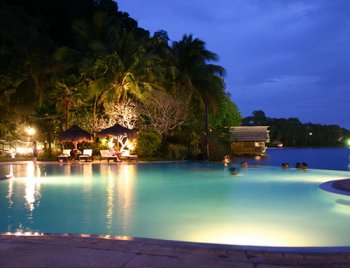 From there we go to the resort's Mandaya Weaving Center and watch fascinating Mandaya tribeswomen skillfully weave traditionally exotic and colorful handbags, mats, clothing, and other ornaments for souvenirs. Also, at its Ethnic Products Boutique displays a variety of local handicrafts, native outfits and even trendy bench wear.
Samal Island has burgs of T'boli, Yakan and Mandaya Tribes, considered to be among the oldest ethic groups in the Philippines. "This island, too, is a very ideal place for culture-oriented travelers," he exclaims.
At night Pearl Farm does exciting theme parties to guests. "The Night of the Sultan", "Pirate Night", and "Barrio Fiesta" are just a few of the resort's soirees that commemorate the island's rich cultural heritage. Others simply spend the night ballroom dancing–unwinding with the evening music–accompanied by social drinking and exhilarating conversation: a perfect scene of sheer conviviality.
The Island of Samal celebrates a number of colorful fetes. The Caracoles Festival–one of the famous festivals in the Philippines–calls attention to the richness of the island's marine life and cultural legacy. Held every 28th to 29th of April, the festival presents street dancing, parades, and sports competition.
"Samal is also dubbed as an 'Island of Festivals'," a spokesperson for the island's tourism emphasizes. Other celebrations include the 7-day event Kabasan Festival, the Pangapog and the Bat Festival, as well as the Hugyaw Madayaw Samal that takes place annually on the 29th and 30th of August.
The Philippine Islands is well known because of its rare scenic views and tourist attractions, making it the envy of the entire world. However, despite the hundreds of fascinating islands it has to offer, there are still a few which seem to stand above the rest. Samal Island is one of them; its natural charms and crystal clear waters are simply amazing where nature has made it as a treasure, such a treasure.
A week in Samal has come too quickly, and I find myself at the bus terminal–this time heading back north–preparing for my next trip.
About
Junfil Olarte, freelancejune@yahoo.com, is a Freelance Travel Writer, a former Aeronautical Engineering Technician. He writes for at least 5 International websites and works as a Staff Writer for www.thetruth.esmartguy.com, a political website based in Missouri, U.S.A.