Elephants are a significant animal in most Southeast Asian countries including India and Sri Lanka – the meaning of the word 'elephant' varies slightly but all comes down to some sort of Good Luck & Good Energy. Sri Lanka has held on to the love of elephants in Traditional & Religious Culture, dating back over 5000 years symbolizing Wisdom, Power & Wealth. It is estimated that Sri Lanka has the highest density of Elephants in Asia. They have been used in war centuries ago, as a means of transportation, for logging/construction and sporting games (i.e.: polo). The Singhalese kings used to punish those that killed elephants with the death penalty, until the British rule overthrew that law; and at that time unfortunately began to allow many elephants to be murdered as a 'sport', calling them an Agricultural Nuisance.
Today, more cheerfully, elephants are used in Cultural and Religious Ceremonies – especially in Buddhist and Hindu Temples. There is estimated to be around 3100-4500 elephants in Sri Lanka, (their numbers have decreasedby 65% since the turn of the 19th century due to human settlement). The coat of arms and the flag of Ceylon Government from 1875 to 1948 included an elephant and even today many institutions use the Sri Lankan elephant in their coat of arms and insignia. There seems to be a true bond between humans & elephants.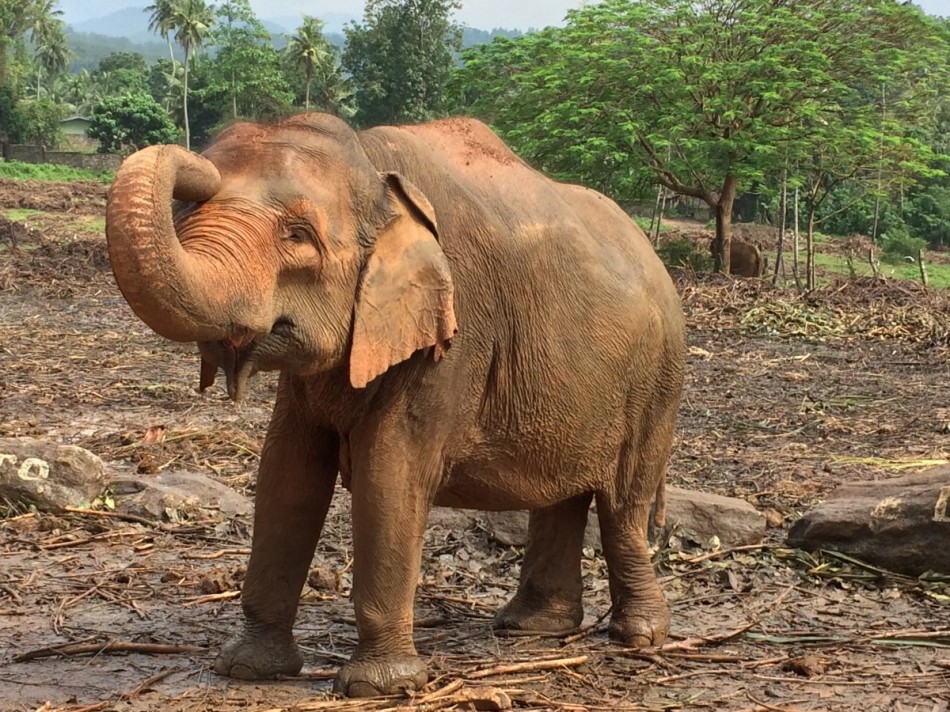 An elephant with its trunk raised in the air is meant to be a symbol of good fortune.
No visit to Sri Lanka is complete without visiting elephants, either through a Safari or at an Elephant Orphanage. There is a strong movement for elephant conservation, from the Department of Wildlife Conservation. In the Pinnawala Elephant Orphanage in Kegalle (77 kilometers from the capital of Colombo), injured elephants are treated and orphaned baby elephants cared for. Nearly 80 elephants live here and there is active captive breeding occurring.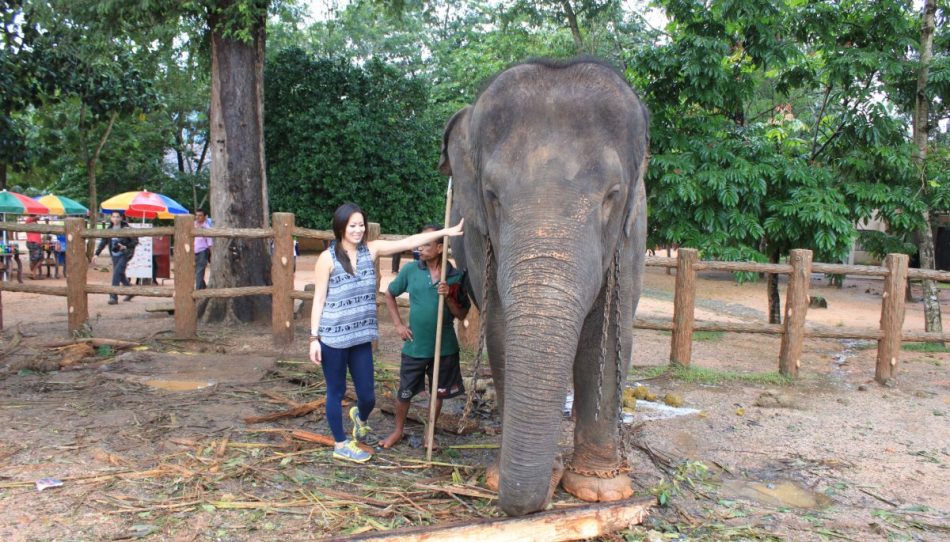 I wish he wasn't chained up, but I hope he's happy inside.
Adorable Young Gentleman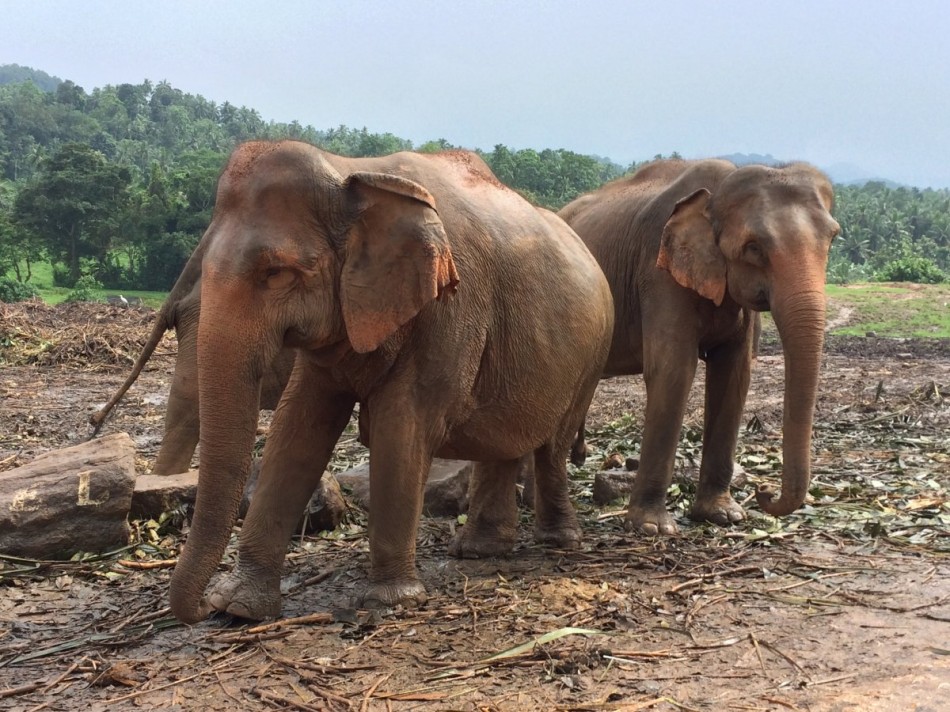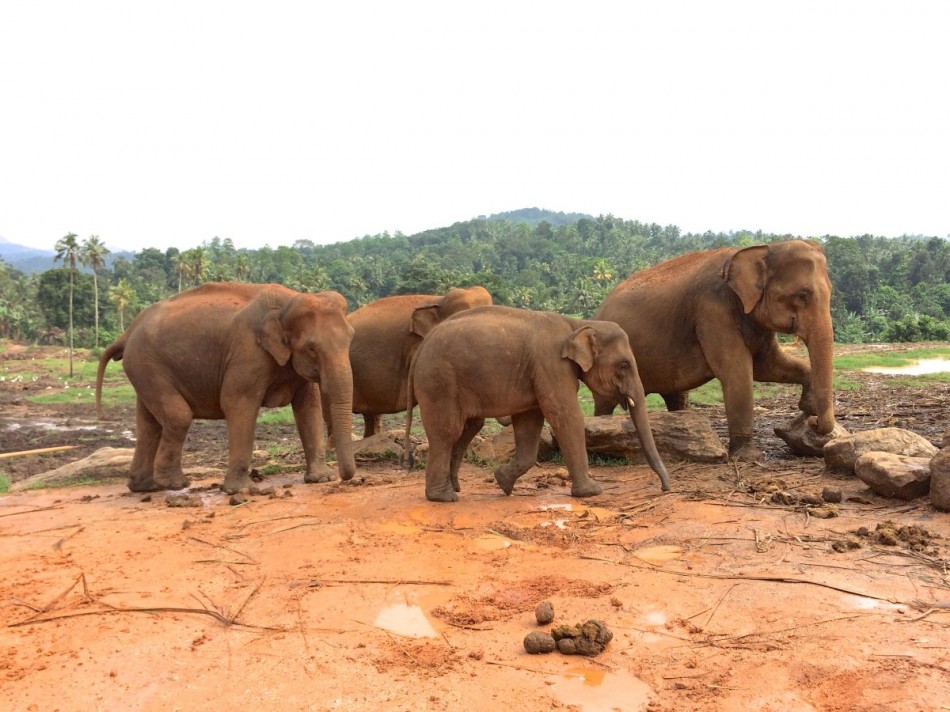 It is difficult to determine whether the elephants are in better hands at the orphanage than in a safari or national park, due to the nature of the tourism business. Many elephants are still chained up, although not in small spaces but rather a large plot of land. I couldn't tell if they were chained for safety purposes from human contact or more so, for our petting zoo purposes. At least we know they have rescued orphans and nursed many back to health.
Pinnawala also offers elephant rides, but I wouldn't recommend it as it is not good for the elephants (imagine how many they have to carry on their backs per day!). But if you just want a photo, I suppose it doesn't hurt to hop on one for a few minutes, as I have a decade ago in Thailand before knowing about the damage it can cause to the elephants' bodies.
Other things to do at Pinnawala Orphanage is to feed the adorable baby elephants milk or to watch herds of elephants bathe in the river. Unfortunately the day we went was a bit rainy, so we had missed the bathing show.
The elephants are all nonetheless such beautiful animals and I hope they live long happy, peaceful lives.
Lokah Samastah Sukhino Bhavantu
May all beings in the World be Happy & Free.
---
 Pinnawala Elephant Orphanage
Address: Kegalle-Rambukkana Rd, Rambukkana 71100, Sri Lanka