Dapitan became famous after the Filipino hero Jose Rizal arrived on its shores more than one hundred years ago. Jose Rizal's colorful exile in this place from 1892 to 1896 has had a very significant role in Dapitan's history making it the ultimate "Shrine City of the Philippines". Perhaps, Rizal is Dapitan and Dapitan itself is eternally tied to Rizal. Without him, this place would never be known the world over and never become one of the most focal destinations in the nation. With its 750-meter white-sand "Dakak Beach" that rests on 15 hectares of lush greenery in Taguilon and its 16-hectare outdoor-type "Rizal Shrine" in the village of Talisay, Dapitan does have a very tranquil and serene environment. Yet, quiet and without much activity, many excursionists see Dapitan as a "sleepy" urban route: but an ideal place to quiet enjoyment or retreat.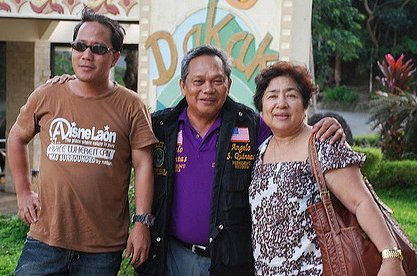 Author(left) with Angelo Quintas & his wife Carmen at the entrance to Dakak Resort
I also visited Dapitan a few years ago. What once was a pacific city, with Rizal Shrine and Dakak its crown jewels, is now fast becoming the chief amusement center of Mindanao. Dapitan, for the time being, is more than Jose Rizal and Dakak. The establishment of "Gloria de Dapitan" notably the "Gloria's Fantasyland", which has been operational since May of 2009, is changing the appearance of Dapitan into a pulsating city. The growth of tourists has increased dramatically. This is much evident while I pass through Sunset Boulevard craving to see the museum again.
My trip back to Dapitan is accompanied with upbeat experiences. Traveling with me are some members of "Los Angeles Golden Lions Club" from California-with Angelo Quintas and his wife Carmen-who've just completed their "free" medical mission for the nearby towns of Misamis Occidental: a neighboring province just south of Zamboanga del Norte. Such medical mission in that province, and more especially the giving away of toys and school supplies to kids, is the first project the Club from the U.S. has fruitfully achieved to helping needy people and children in the Philippines. Sunny mid afternoon greets us as we tarry at the promenade of Sunset Boulevard-taking lunch late after hours of land travel-preparing to see the attractions in the city.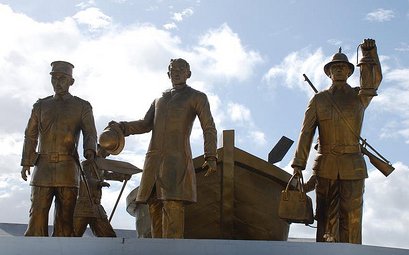 Embarkation Site Monument Sta Cruz Dapitan
Our first route goes to "Rizal's Disembarkation Site", spending time to get shots and footages of the historical landmark. The statues depict Rizal along with Spanish sentinels alighting from the shore after sailing in through the straits of Dapitan Bay. Historians recited that it was on this very site of Sta. Cruz waters that Rizal landed at 7pm on July 17, 1892 to begin his exile in Dapitan. The four personages being illustrated on the monuments were Captain Delgras and three Spanish guards, who accompanied the 31-year old Rizal going to "Casa Real" to present him to Don Ricardo Carnicero, at the time the Spanish Military Governor of Dapitan.
We then proceed to the Rizal Shrine that houses the Rizaliana Museum. The 16-hectare estate in the village of Talisay harbors numerous memorabilia of Jose Rizal and replica of houses that he built for himself, his relatives, and his students. The shrine resides itself at the coastal area of Dapitan. It can be recalled that the seawaters beside the shrine were also Rizal's actual port of departure when he sailed back to Manila on July 31, 1896. One can also find inside the shrine Rizal's relief map of Mindanao and Visayas, Rizal's self-designed water system, and numerous other memorabilia. His house, kitchen, and clinics are all replicas but memorabilia found inside the Rizaliana Museum are all originals. Getting to the Rizal Shrine is relatively cheap and easy, which is about 10 minutes away from the center point of Dapitan. Apart from bringing your own vehicle, motorcycle is the only means of public transport here.
Situated about fifteen minutes away from the Rizal Shrine is the Dakak Beach Resort in Taguilon owned by the Jalosjos family. Although not having a chance to reenter into the internal facade of the resort, my previous visit in Dakak has documented that the resort owns 750 meters of private beach access covered with white sand. It is bounded by green mountains on the east giving the spot a sheltered ambiance; accommodations are in the form of villas made from native materials. Dakak features amenities such as restaurants on site, two natural spring water swimming pools, a sports center, a golf resort, a Jacuzzi, a playground, a chapel, spa services on site, a sauna, medical facilities, and a disco.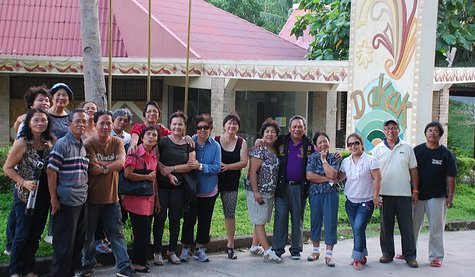 The travel team with some members of the Los Angeles Golden Lions Club
Another pricey venture of the Jalosjos family-sited at the vicinity of Sunset Boulevard-is the "Gloria de Dapitan" where you can find "Gloria's Fantasyland". Obviously this commercial attraction will see visitors first when going to the Rizal Shrine and Dakak which stand on the opposite side along the promenade of Sunset Boulevard. It takes about 10 minutes from the Rizal Shrine and around 20 minutes from Dakak. Gloria de Dapitan is a 3-hectare commercial and leisure park composed of bars, restaurants, shopping stores, sports and beauty centers, and amusement rides. The Gloria's Fantasyland is a funfair similar to the Enchanted Kingdom in Santa Rosa, Laguna in Northern Philippines, having thirty one rides including a carousel, a Ferris wheel, a roller coaster, bumper cars, galleon ship, majestic swan, and a horror house.
A fourth class city in the province of Zamboanga del Norte, Dapitan places its secluded location in the northern tip of Zamboanga peninsula (Northwestern Mindanao), Southern Philippines. It is around six-hundred fifty kilometers away from Manila and can be reached through one and a half hour flight to Dipolog City, the region's capital about 12 kilometers off Dapitan. International travelers' nearest way in to Dapitan is by flying down to the Dipolog Airport. In the Philippines, access to Dapitan is both by land, air, and sea. The sense of Dapitan's history forms part of the country's colorful past attracting thousands of visitors from around the world. It is estimated from personal reliable sources that Dapitan, since 2005, has already hosted 300,000 tourists both locals and foreigners.
Jose Rizal's main house – Casa Residencia -inside Rizal Shrine at the village Talisay, Dapitan City
While we drive our way home through the coastal sides of Sunset Boulevard, twilight already has become obvious; and the sunset nearly loses its sight upon the still waters of Dapitan Bay. Such a place is, and has always been, so quiet. It is akin to going back in time. Dapitan's tranquility and historical significance have been an ideal model of simplicity, and those who are looking for a blithesome life should find a respite in this part of the world, much like how Jose Rizal found his more than one hundred years ago. As Dapitan is now reliving its gloried past, ripe with national pride and heritage, my journey back to this once silent realm has left me longing for more. That now it is turning into a vibrant city: it, too, had put in itself one of the greatest martyrs in history, reminding me of how important and colorful Dapitan is.
"With thanks to Angelo S. Quintas, President of Los Angeles Golden Lions Club, District 4-L3, California, and his wife Carmen."
Click link below to read Junfil's past detailed report about Dapitan:
www.davestravelcorner.com/journals/destination-asia/dapitan-a-living-legacy-in-the-philippines
More about Junfil: Travel Writer's Journey Editor
www.travelwritersjourney.webs.com