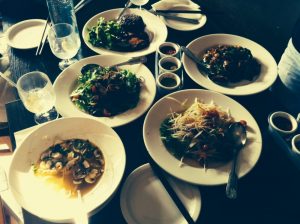 An American backpacker cannot decide whether budget restaurants or street food offer the best fetish of freshness until he visited one of Thailand's best outdoor night markets, serving "SPECIAL JUNGLE CURRY."
As someone used to eating Thai food in New York City, with restaurants with babytalk names like "Yum Yum" and "Tastee Thai," I was blown away when I tasted real Siamese fare for the first time in Bangkok's Banglamphu district, an area filled with cheap guesthouses and runaway restaurants.
"Un, HOT!"
I managed to spit out a lump of Masaman curry.
The oddball waitress with marvelous marbles for eyes—like a feline hotbod cougar feeding her young—plopped a bunch of different plates for me to recognize: Tom Yum Soup (with shrimp), Pad Thai (also with shrimp), Pra Ram (with chicken and peanut sauce), and "Jungle Curry" (with I dunno, beef?). I had erred on the eats. The so-called Masaman was actually an extra-spicy take on cannibalism on sticky rice, peradventure?
"But good!"
Although I dreaded coming down with anything more serious than a guardia bug, including hepatitis A and B, yellow fever, diptheria, cholera, or other ailments caused by contaminated food, I craved Thai food as delicious as I was used to in Manhattan. Unlike most countries, where authentic food is better in la patria, such as France, Italy, Spain, and Greece, Thailand's Thai food in Thailand seems to be heavily influenced by China immigrants, even though Thais use forks instead of chopsticks.
Indeed, our misconceptions of Thai culture resemble close encounters of the absurd kind.
But I wondered after passing through various outdoor markets, including the floating markets that ply on the muddy brown Chao Phrao River in anything resembling a boat, even canoes.
Hello, Night Market!
At what I believe is Bangkok's finest Night Market, I went "Wow!" Even though these sophisticated independent ops were frequented mostly by German and English backpackers wearing loose Thai pants, Tintin in Tibet T-shirts, and Flip Flops—finicky Americans complain about "bacteria"—now everybody is clued in, including the backpacking cognoscenti, to where the best Thai food exists.
Just follow the locals.
Who has been sitting out for the longest?
Were those friendly grimaces or were they just holding it in?
Jeez, where did they get those gigantic crayfish?!
Is that Ken Doll for sale?
Was the old drunk speaking irresponsibly?!
What is an iamb?!
Do durians really smell?
I passed a ginormous bubbling cauldron of spicy blank "SPECIAL JUNGLE CURRY," filled with a simmering shimmering sauce, and not much else—perhaps waiting for me to jump in.
Whoops? What's this? "SPECIAL" might mean made with psychedelic psilocybin "magic mushrooms." I guess I was on the lookout for something incredibly unique, feeling a little frustrated, just like a travel writer trying to figure out how to submit to literary magazines with glitch-ridden Submishmash and Submittable websites—plus, a twenty-dollar entry fee.