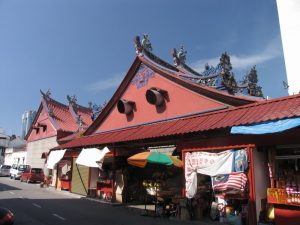 Penang, an island on the east coast of Malaysia, is home to beautiful beaches, a colonial splendor, and exotic imperial architecture. But, I return every year to eat from a little cart by the side of the road. And I am not alone.
When the British set up the port of Penang, they created a confluence point for Chinese, Thai, Malay and Indian traders who brought their own foods and their own spices to the island. Street food is a way of life in Penang. Hawkers set up a cart or small booth by the side of the road and prepare fresh delicious snacks. You can feast like a king for the cost of a stale Starbucks muffin.
When I arrive, I am drawn to my favorite stall where they make Roti Canal to order. The elastic dough is spread across a huge girdle like a giant incredibly thin pizza. The dough is folded and stretch until it makes a flat bread with thin flaky layers. You dip your Roti Canal in a spicy curry sauce and wash it all down with a Coke, served in a plastic bag with a straw poked into the middle. One dollar, fifty cents.
If there is a local favorite it seems to be the Hokkien Hae Mee, a pungent broth made from shrimp heads and shells. Into this, they toss some thick noodles, a couple of shrimp, a few veggies, maybe half a boiled egg, and top it off with some fried onions.
On a hot day, and there are a lot of them, finish up with an Ice Kachang, a desert of shaved ice and red beans, drizzled with coconut milk. As you work your way down you go from the lightly flavored ice to the thick sweet syrup at the bottom.
The variety is overwhelming, not only are there hundreds of dishes, each vendor has their own take on each dish. I am torn between being adventurous and trying three different dishes, or diving deep and exploring three interpretations of my favorites. There are never enough meals in the day to let me try them all.
And so, every year I need to come back to try a few more and relive my favorites. But, the hawker culture is slowly fading away as Malaysia ascends the economic ladder. On my last visit, my Coke always came in a bottle. Diet soda was an option. I suspect in another decade or two it will be like neighboring Singapore with its sprawling foodcourts; still wonderful food, but maybe missing a little something. So, I am not going to take my chances and I am going to keep coming back and try to taste everything while I still can.
Lyndsey writes for briefcases, a website that offers luxury briefcases direct from the manufacturer. She is an avid world traveler and linguist. Lyndsey currently resides in Kolkata, India.