Sri Lanka has never really been on my bucket list of countries to see. However, I was recently invited to a destination wedding in this country and decided to take the opportunity to discover the island and what it has to offer. Sri Lanka truly has something for everyone, from its laid-back beach towns, spectacular train journeys, to historical ruins, to tea estates to hiking up mountain peaks. This island nation has been voted top country for travel in 2019 by Lonely Planet so go before the tourism surge. Here is why I recommend Sri Lanka.
GETTING AROUND
Buses and trains are a great way to get around SriLanka, as both are cheap. However, note that trains can be crowded, with standing room only, although reservations on first class are also a possibility. I recommend renting a car and driver and road tripping through this island country in comfort! Depending on the season you travel to Sri Lanka the heat can be stifling and there's nothing like an AC car to provide relief. Train travel within Sri Lanka is a must from Ella to Kandy or Ella to Nuwara Eliya or vice versa. Even if it's standing room only, you'll mostly want to hang out by the compartment doorways (which are open in these trains) to get some of the best views of the countryside. First class reservations are possible, which ensures a seat but even otherwise if it's not crowded, seats are available in second and third class as well! I highly recommend working with Golden Isle Travels for a comprehensive itinerary, hotel suggestions/bookings, and car with driver. They are a small boutique agency in Colombo run by Paddy Paul, and I loved the attention to detail I received when working with Shamila, a tenacious young lady who helped shape my trip.  The hotels were carefully curated and honestly enhanced my enjoyment of the trip that much more. My driver was a wonderful man called Sampath, who regaled us with stories of Sri Lanka, his own life and kept us constantly smiling at his generosity, cheerfulness and kindness.
ACCOMMODATIONS
SriLanka has some of the most beautiful accommodations I have seen! This country truly has something for everyone's budget needs. For example, you can stay in a homestay for as less as $10 a night to a villa with a private pool for $500 per night. My favorite recommendations are listed below, take a look:

FOOD
SriLankan cuisine has become one of my favorite types of foods primarily because of the flavors and spice levels! Born in India to a traditional Indian family, I grew up eating spicy and flavorful food so the SriLankan dishes definitely cater to my palette.  Traditional dishes like the Kottu is Sri Lanka's hamburger – fast, greasy and fun! It's made with a type of roti known as godamba and served with a spicy sauce. Fish ambul thiyal (sour fish curry), is a dry curry fish and is best eaten with rice. The famous hoppers are delicious for breakfast and typically eaten with a coconut-based curry. Kiribath with lunu miris is not to be missed and it's a special type of rice, cooked with thick coconut milk and served in mostly auspicious occasions although you can find it at any hotel. Pol Sambol (coconut relish), is one of my favorites and a blend of grated coconut, chillies, lime juice, salt and red onions and it's a garnish for rice, roti or hoppers.
ONE WEEK ITINERARY
Colombo – Galle – Yala National Park – Ella – Nuwara Eliya – Kandy – Colombo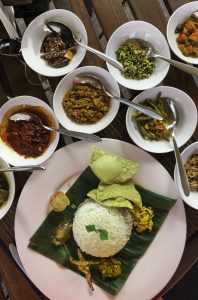 CITY LIFE – I landed in Colombo and felt quite adventurous so I decided to order an Uber.  Turned out to be a great decision. My Uber driver was a pleasant man who spoke English and we had a great conversation about Sri Lanka including religion, the economy, lifestyle and infrastructure. I enjoyed Colombo – my hotel was sea facing and evening walks along the beach were a welcome respite from the heat. There were plenty of food vendors that have stalls on the beach and I saw a few locals having evening snacks and perhaps even dinner at some of these spots. Just grab a chair at one of the tables on the beach near a stall and you're good to go. Depending on when you visit Sri Lanka, the heat is quite stifling during the day so we chose to have late lunches in the afternoon to take advantage of the AC and stepped out early evenings for sightseeing. I loved the Gangaramaya Temple and Beira Lake. Other attractions include the National Museum, the Independence Memorial Hall, Galle Face Green, Sri Kailawasanathan Swami and the Devasthanam temple.
Gangaramaya Temple – This is a Buddhist temple and one of the loveliest I have seen. The temple is a combination of indoor rooms featuring life size Buddhas and other deities as well as a large Bodhi tree that people walk around with small jugs of water, as they meditate and pray to the tree. There's also a library, what seems like a museum with statues, wood carvings, and cabinets filled with trinkets.  Monks in orange robes stroll around or stand watch. There's also a smaller temple structure outside which holds another life size white jade Buddha. This is a unique temple, not to be missed. The temple is not just a place of worship but also a place of learning. The temple is involved in welfare work including old peoples' homes, a vocational school and an orphanage. The Simamalaka Shrine is designed by Geoffrey Bawa, one of the most influential, Asian architects of his generation. At the far end of the courtyard, several Buddha statues (Thai style) have been placed sequentially to greet the skyline.
 Beira Lake – Adjacent to the temple is the vast Beira Lake that is green in color but the noteworthy aspect is the small island in the middle that has the Simamalaka Shrine. The lake also connects with other lakes through narrow canals and finally meets the Indian Sea. Historically, the lake was used for transporting goods within the city and interestingly enough the name Beira is actually Portuguese which means border in English. You can also rent swan shaped paddle boats onto the lake or just sit and people watch. Don't miss the beautiful Buddha statues past the shrine.
BEACHES – Sri Lanka's southern coast is filled with nothing but beaches and coconuts. This makes it the ideal location to spend a few days in one of the coastal towns such as Galle, Weligama or Mirissa. This beach has crystal clear warm waters and the north end of the beach is a surfer's paradise. There's also plenty of other beach towns such as Bentota, Unawatuna, Dickwella, Hikkaduwa and Arugam Bay. I stayed in Galle for a few days which is a coastal town known for its Galle fort and lighthouse. The city was founded by Portuguese colonists and many of the car-free streets reflect Portuguese, Dutch and British architecture.  Some hotels will have private access to the beach and this is perfect for early morning walks. Pick one of the smaller beach towns and spend a few days to really feel the vibe.
 WILDLIFE  
Sri Lanka is also a haven for wildlife lovers. If you're interested in whales, whale watching expeditions in the south and north are popular depending on the month you are visiting and the island is teeming with elephants waiting to be discovered at national parks such as Yala and Minneriya. As 13% of the island is conserved as national parks or sanctuaries, the biodiversity is stunning. Sri Lanka has 14 national parks and a wildlife safari through one of these parks is a must. I visited the popular Yala National Park to see the leopard but you can also spot elephants, sloth bears, spotted deer, hog, wild boars, giant squirrels, monkeys, jaguars, civet cats, loris etc. The island is an ornithologist's paradise as it has over 233 species. Most hotels will help you book a safari or offer it as part of an all-inclusive package where usually one safari game drive per day is included in the overall package.  The safari itself is typically contracted through an external company and will include a jeep, driver and a guide who is in constant communication with other guides through the park. This means if one spots a leopard or an elephant herd, most likely they will relay it to the other guides so your own guide will be able to direct the driver to that particular spot for the sighting. I didn't see too many jeeps at any one given time, but in peak time this park can get really busy. Tip: Check out Wilpattu National Park in the north, it is also known for leopards and is much less touristy than Yala.
TEA – Sri Lanka is known for its tea production. It is in fact the livelihood for thousands of families. The country is the fourth-largest producer of tea and thanks to the humidity, cool temperatures, and rainfall in the central highlands, the climate favors the production of high-quality of tea.  In lower elevations like Galle with rainfall and warm temperature, the tea produced has a high level of astringent properties. The foundation of tea plantations began with a tea plant brought to Sri Lanka from China, then Assam, and Calcutta in India.
Nuwara Eliya – To visit the tea plantations and really immerse yourself in this area, I highly recommend a stay in a traditional colonial home or on a tea estate, surrounded by plantations in Nuwara Eliya. You can visit tea factories such as Heritance Tea Factory and even take part in picking tea to understand the process and production of tea.  Nuwara Eliya is at an elevation and hence the temperature can be chilly so bundle up accordingly. The town itself is quite bustling and I went to a bakery to pick up a lovely marble cake one evening. I passed by a Buddhist temple and many stores on the sidewalk and noticed the similarity to India is startling. The Horton Plains National Park is a great place for an early morning hike and World's End is a sheer cliff with a 4,000 feet drop off, within this park.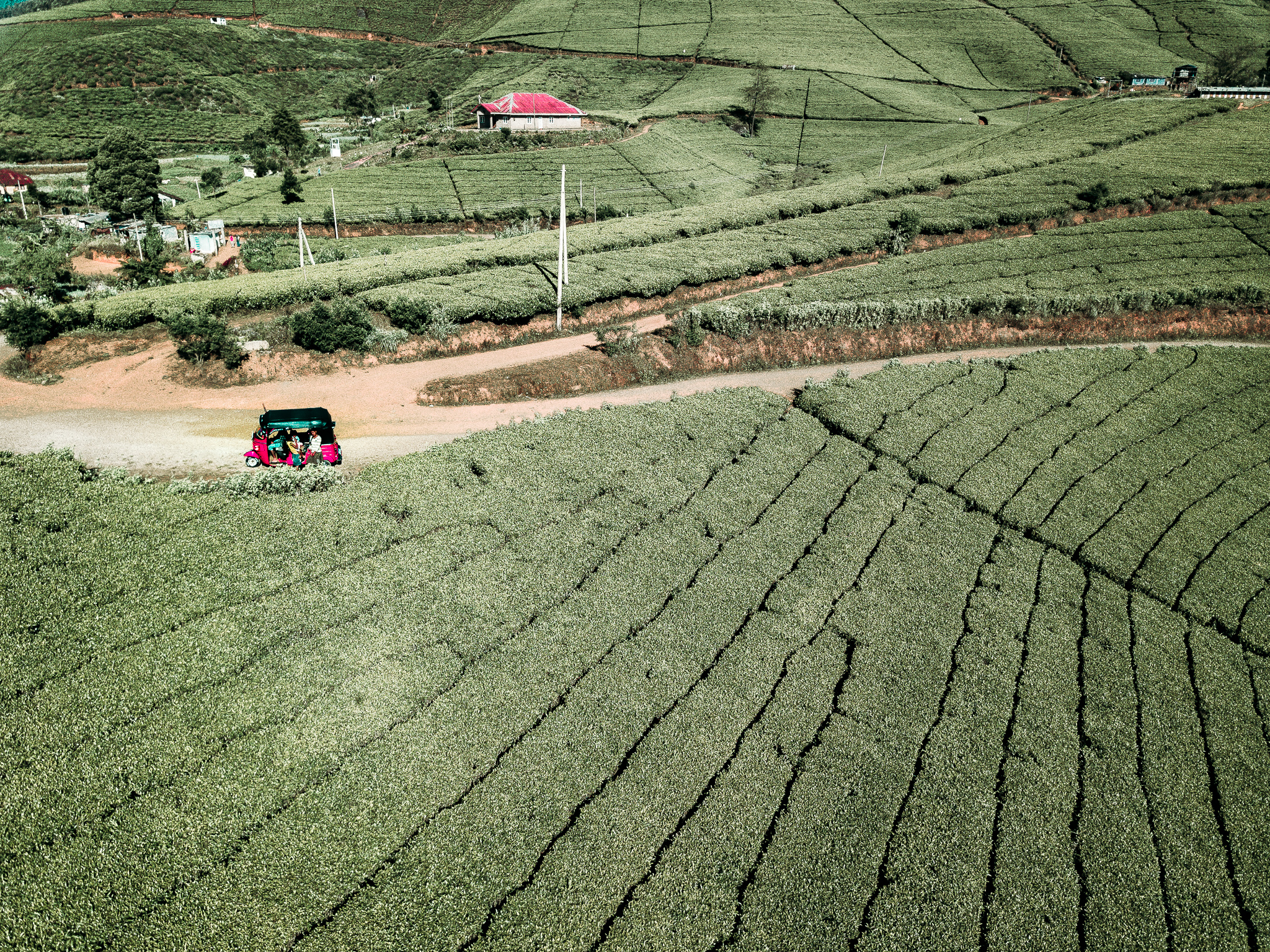 Ella – Hiking Adam's Peak and Little Adam's Peak is not to be missed, especially at sunrise. Little Adam's Peak is named after Adam's Peak which is closer to Nuwara Eliya, 2243m high and a challenging hike. The path up to Little Adam's Peak is right next to the 98 Acres Resort. Me and my friend took our guide/driver Sampath up with us around 4am in the morning and managed the hike with the light from our iphone. This peak is about 1141m and very easy to climb up. The views from the top are really spectacular at sunrise. On your way back down, stop at 98 Acres Resort's outdoor restaurant for a snack or some Sri Lankan tea.
CULTURE AND HISTORY –
Sri Lanka boasts a cultural heritage thousands of years old. This small island has eight UNESCO World Heritage sites including Galle with its famous fort from the Dutch colonial era, Kandy, Sigiriya and the ancient cities of Anuradhapura and Polonnaruwa, Dambulla cave temple, the Sinharaja Forest Reserve and the Central Highlands.
Sigiriya: I enjoyed climbing the UNESCO site of Sigiriya, an ancient rock fortress and one of Sri Lanka's best-preserved examples of ancient urban planning. The extensive water, boulder and terraced gardens are a glimpse into a lavish past and the fortress ruins at the very top of the rock is another glimpse into what could have been. The views from the top are stunning.
The Dambulla Cave Temple: The cave temple is the largest and best-preserved cave temple complex in Sri Lanka. 5 separate caves consist about 150 Buddha statues, paintings and religious art. The views around the countryside are lovely and you can even spot Sigiriya in the distance.
ADVENTURE – Sri Lanka boasts 1,600 km of coastline and is popular for wind-surfing, water-skiing, surfing, and scuba diving. There are also plenty of opportunities for kayaking and canoeing while the Kelani Ganga near Kitulgala has rapids that are great for white-water rafting. Hiking in the cloud-forests of Horton Plains, Adam's Peak, the Knuckles, and Hakgala Strict Natural Reserve offer wonderful opportunities to experience nature.
in my less than two weeks trip, I caught a glimpse of a country recovered from war, a country whose people are kind and generous, a country full of so much abundant beauty everywhere I looked, that it was impossible not to be charmed and vowed.  It is indeed time for a new beginning for this lovely island in the Indian Ocean.
For a visual look at my journey through SriLanka, visit my Instagram @eagertravele.