What comes to mind when you think of Bali? Vacation? Beach? Beauty? Something else? For me, this Indonesian island has always been a bittersweet kind of place.
"YOU DON'T ALWAYS NEED A PLAN. SOMETIMES YOU JUST NEED TO BREATHE. TRUST. LET GO. AND SEE WHAT HAPPENS." -MANDY HALE
It is a beautiful place – the people as much as the land itself. But, it's also where a number of Australians (my local breed) go on holidays due to its proximity and affordability. While that might not sound like such a bad thing, imagine a bunch of young, drunk Aussies running free on an island with no rules. That part I could definitely do without. Everywhere has this type of place – for Americans on Spring Break, it's Cancun, Mexico. Young Brits invade Spain. And while it doesn't ruin a place, it tends to taint it a bit.
In 2008, when Rob was working in Bali, we got married there (Sanur to be exact), so I obviously hold it in the highest regards in that respect. Saying my "I do's" with the love of my life on a tropical island was a definite dream come true!
Ironically, Bali is the same place that almost tore Rob and me apart. After 7-years of marriage, I got a 6-month assignment to work on the island, whilst he remained back in Australia. After spending nearly every day together for the previous 7-years, the distance was extremely difficult. The time difference made it a challenge to connect and having conflicting schedules was tough. Anyone who's ever been in a long-distance relationship knows exactly what I mean.
Trying to pass the time, I got wrapped up in the island life and was living the good life. Exploring new places, meeting new people and yes, working hard too. I was eating and drinking too much and I finally decided I needed a break from it all. It was draining. I was exhausted. And suddenly, this place wasn't as magical as I had once remembered.
Being a spiritual island, I decided it was time to tap into a deeper, more meaningful part of Bali. Not being able to take time off work, I was lucky enough to find a 3-day Raw Food Retreat, taking place the following weekend (whigh also happened to be a long weekend). Serendipity! I spoke to Rob and he was completely supportive of me making the investment in myself. A health detox in the mountainous Ubud region – here I come!

I was picked up early Friday morning, driven through the beautiful countryside and welcomed to my own cottage within the Zen Village upon arrival. Ahhh, exactly what I needed!
Each morning began with a brisk sunrise walk to explore the local area. Afterwards, we were served a fresh breakfast followed by a yoga and meditation class. It was the perfect way to start the day! After our morning routine, we took time for ourselves, to relax and enjoy some downtime, before commencing beauty treatments. During the retreat, I received a facial, reflexology treatment, several full-body massages, and multiple sauna sessions.
Knowing that beauty is not only skin-deep, colonic hydrotherapy was also included as part of the detox. Never previously having experienced anything quite so invasive, the 30-minute sessions weren't as uncomfortable as I initially anticipated. And afterwards, I was delighted to feel lighter and healthier.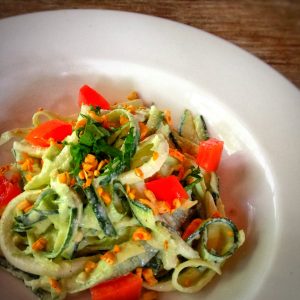 Learning how to prepare the raw food dishes we were eating was a great experience. Nourishing my body with the fresh and healthy ingredients it had been missing had an immediate impact on me. When I wasn't getting pampered, fed, or poked and prodded, I was relaxing by the pool or curled up under a tree, reading Elizabeth Gilbert's "Eat, Pray, Love" (stereotypical selection, right).
At the end of three days, I came out mentally, physically and emotionally refreshed! I regained perspective, and once had the balance and clarity that had previously been distorted. I was recharged, and ready to take on the world again! Sometimes life has a way of throwing us out of whack. Of making us lose sight of who we really are. And when that happens, it's important to take time for yourself. Step back, reflect and reset.
When Rob came to visit me in Bali the following  month, I was like a whole new woman! He was happy to have the "old me" back and I was wrapped to feel like myself again! The remaining months apart were still challenging, but we began to look at the distance in a new light. Approaching our 8th anniversary in November, this story always serves as a reminder of just how lucky I am to have Rob by my side – never giving up on me and always seeing me at my best!