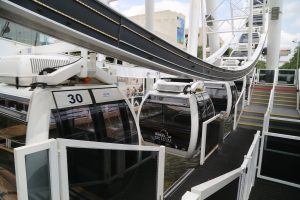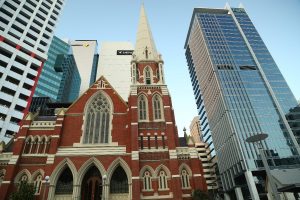 Brisbane kids are some of the luckiest kids in Australia. They happen to live in a very fun and lively city, where the weather is good, and where's there is lots to do and see. Best of all, it doesn't take too long to get to all these great places, because Brisbane packs a lot into a relatively compact area… with the theme parks of the Gold and Sunshine Coasts within easy reach too. If you're looking for a holiday destination that is tailor made for your young family, you can do much, much worse than Brisbane; so find out more and make your children Brisbane kids… even if it is only temporary!
Winter Wonderland
Autumn and winter bring beautiful, settled weather to Brisbane, and while most of the country shivers, Queensland's capital remains comfortably warm with very little rain and humidity. What a time of year to bring your kids to Brisbane! There's little chance they'll be cooped up indoors watching the rain fall down, and those sometimes scary Queensland storms are a rarity at this time of year. While everyone else thinks of Queensland as a perfect summer destination…and of course it is…you'll also be rewarded if you come to Brisbane a little later in the year.
You Must Check Out Southbank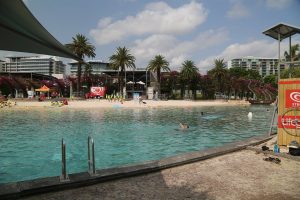 If there's one place you MUST visit on your family holiday, it's Southbank, the venue for the 1988 World Expo. Southbank retains a magic vibe, and even some remnants of Expo itself. These days, Southbank enchants in many different ways, as both a dining and entertainment precinct, and you can easily spend a whole day or two here. On a hot day, the patrolled man-made beach is very inviting, while the picnic areas and playgrounds provide plenty of green space for the kids to run off some pent-up energy. While you're at Southbank, and if you have a stomach for heights, get a birds eye view of the city on the Wheel Of Brisbane.
Adjacent to Southbank is Brisbane's cultural centre where you'll find the Performing Arts Centre, museum and art galleries, including the Gallery of Modern Art. The museum and galleries do not share the often haughty, hands-off attitude of similar institutions; they're very interactive and welcoming, which makes them a surprisingly entertaining diversion for children, especially on a rare day when the rain falls.
Cheap Eats That Kids Love
Brisbane, like all of Australia's major cities, has its fair share of fine restaurants. During a family holiday you may not have the opportunity, or the budget, to visit them! Thankfully, the family and casual dining scene is alive and well in Brisbane, with plenty of places to take your children. Use the lovely weather to your advantage and enjoy al fresco dining at places like Southbank…or, even more budget-friendly, use the barbecue facilities there and cook your own! Make the most of the sun with picnics in the beachside suburbs of Wynnum and Manly, or the Roma Street Parklands right in the heart of the city. Make sure you include plenty of tropical Queensland fruit!
What Kids Really Want
No visit to this part of the world is complete without a visit to the theme parks and other family attractions on Gold and Sunshine Coasts. A short and easy drive on a wide highway will take you to the Gold Coast and places like Dreamworld and Seaworld. But don't forget there are lovely quiet beaches and all-action attractions on the Sunshine Coast too, with Steve Irwin's Australia Zoo the prime example. Base yourself in Brisbane and you're halfway between the two Coasts, making easy day trips a reality.
Friendly City, Friendly People
There are plenty of reasons why you should do some research into Brisbane, and its potential as a family holiday destination. However, there's one thing you'll only discover once you get here; that the people of Brisbane are laid-back and friendly, and not afflicted with the big city stress of their city cousins. This relaxed attitude is contagious, and it will help you and your kids relax as well. And relaxation is what a family holiday is all about… with a bit of action thrown in for the enjoyment of your (temporary) Brisbane kids!