El Yunque National Forest is on every list of best places to visit in Puerto Rico, and for good reason! If you like waterfalls, swimming in lagoons, or hiking, you should plan to visit El Yunque. It is the only tropical rainforest within the US National Forest Service and provides a beautiful, natural escape only about an hour from San Juan.
If you've read my article, How to Enjoy Your Time Working Remotely in San Juan, you know that I only had time to spend one day in El Yunque. There's plenty to do over a few days, but you can explore a lot in one day, as I did.
Since the recent hurricanes and earthquakes (and now Covid-19), there are a few areas in the park that are closed while repairs are made. Make sure to check out their website alerts and maps for the most recent information on closures. At the time of writing, La Mina Falls and the visitor center are closed. Some areas of trails and roads are damaged as well, but passable. If you are driving in, make sure to take it slow and be on the lookout for potholes and areas where the road is washed away (especially on the road to Angelito trail). It's nothing too crazy though, and we had no trouble with our rental car.
Due to Covid-19 restrictions, reservations are required for entry into the forest right now. Make sure you reserve a ticket for your vehicle prior to entering the park. Tickets are free, but there is a $2 reservation fee.
What to Bring
During your day in the rainforest, you'll be hiking, exploring waterfalls, and swimming. Since it is a tropical rainforest, you can expect that it will rain at some point during the day. Make sure you pack raingear to keep yourself and any gear you bring dry during the storms! Each rainstorm is usually short-lived, so there will be plenty of sun too. I'd recommend wearing a t-shirt and shorts with a bathing suit underneath, and bringing these items:
Sneakers or hiking shoes
Raincoat and umbrella
Bathing suit
Sunscreen
Sunglasses
Hat
Sandals or water shoes
Towels
Insect repellent (optional, there aren't really many mosquitoes)
Waterproof plastic bags for electronics
Water
Snacks or food for a picnic
Extra set of dry clothes, shoes, and socks for the trip home
What to Do
Okay now that you have everything that you need, what should you do? I would recommend starting your day at Angelito trail, where you can hike to a lagoon with a rope swing for swimming. Then, Drive out to the end of the road and park at the lot for the trail to Mt. Britton tower, and work your way back out of the park, stopping at each parking lot along the way to see everything. Here's a map of the main area of El Yunque from the USDA Forest Service.>
Map of activities in El Yunque, including hiking trails, waterfalls, and scenic viewpoints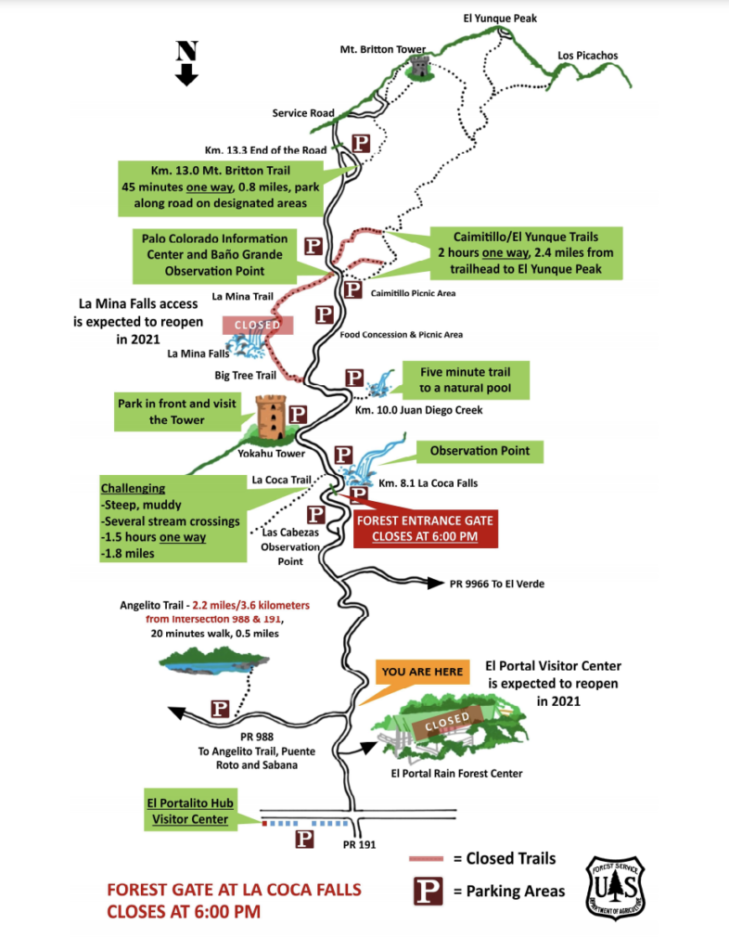 Source: USDA Forest Service
The drive time from the spot marked "You Are Here" and the parking area for Mt. Britton Tower is only about 16 minutes, so it's very doable to see everything in one day. In addition to the main recreation area, El Toro Peak Scenic Byway is part of El Yunque too. If you have more than one day, take a drive over to El Toro, but if not, stick to the main recreation area to maximize your time in the forest.
When you enter the forest, turn left at the first intersection to get to the parking area for Angelito Trail. This road is pretty narrow, and there's a spot right near the beginning where the road was washed away. If you take it really slowly to get into the dirt, and then back to the pavement, you'll be fine. But make sure you go very slowly! After that one washed-out area, the road was much better (though consistently narrow).
You'll find the trailhead just after the river bridge, on the right side of the road. The beginning of the trail is paved, but it becomes more of a "real" hiking trail quickly. Along the trail, make sure to stop and enjoy the forest around you! I really enjoyed the huge leaves that had fallen on the path, as you can see.
After about a half-mile, you'll reach the swimming hole. There's a rope swing in a shallow area that a few kids were really enjoying and a large area for swimming. There are lots of flat rocks to sit on too, and big boulders in the lagoon that you can sit on to enjoy the sun. The water was a little chilly when we went in January, but it didn't stop me from swimming. And, when it got a little chilly, there was a lot of space to explore in and around the river on dry land too.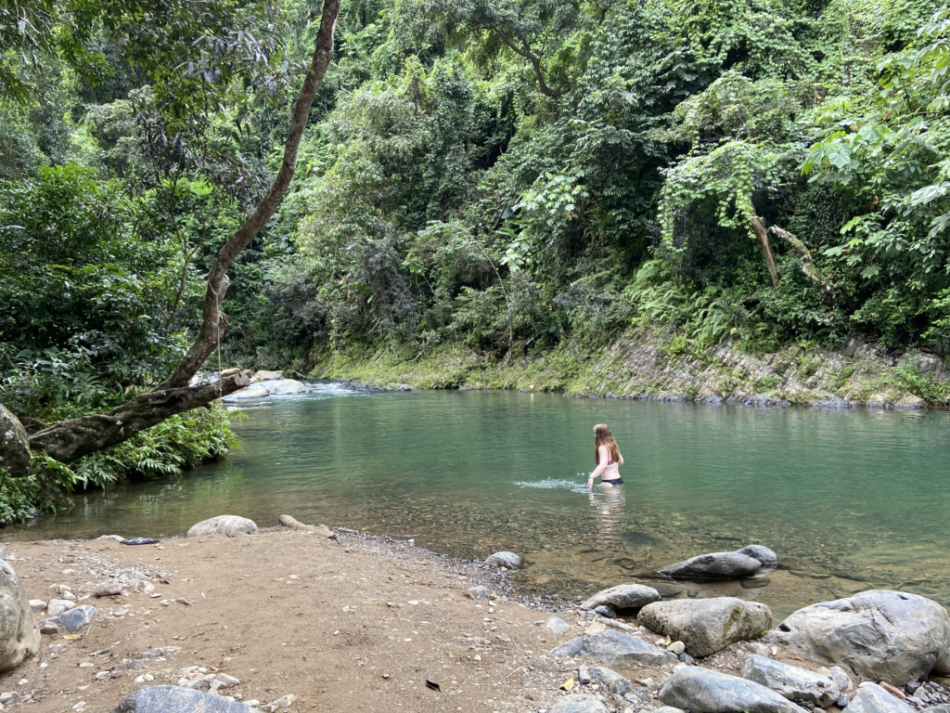 Mt. Britton Tower Hiking Trail
After swimming the morning away, head back to the car and put on your hiking gear. Drive back to PR191 and head to the parking for Mt Britton. The trail to Mt Britton tower is just under a mile and all uphill through a very different part of the rainforest than Angelito trail. You'll see different plant and animal life here, which is really interesting!
The trail itself is a paved with a narrow slab of concrete for about the first half. Then, it merges with the service road and then finishes with a steeper dirt path to the tower. The sign at the bottom of the trail said it would take 45 minutes one way but it took about half that for us to reach the top. It had started to rain so we were in a rush to get to shelter! The views from the top were of the forest and coastline for miles around, and are worth the steep hike.
If you want to do more hiking, on the way down, continue along the service road to the Mt Britton Spur trail. From there, continue on to the El Yunque trail to reach the El Yunque Peak. It's about 2.5 miles to the El Yunque Peak from the Mt Britton parking lot.
Afternoon Picnic at Sierra Palm Picnic Area
After returning from your hike, drive back along the road, stopping at Palo Colorado. Here you can take a quick walk around Baño Grande Pool. There's not much to see here other than the pool, but it is a cool spot to walk around. Then, head back to your car and stop at the next parking area on the right side for the Sierra Palm picnic area. There's a concession area here, a pretty nice bathroom, and some trails that lead to picnic shelters with tables. It's great for a picnic during the afternoon showers.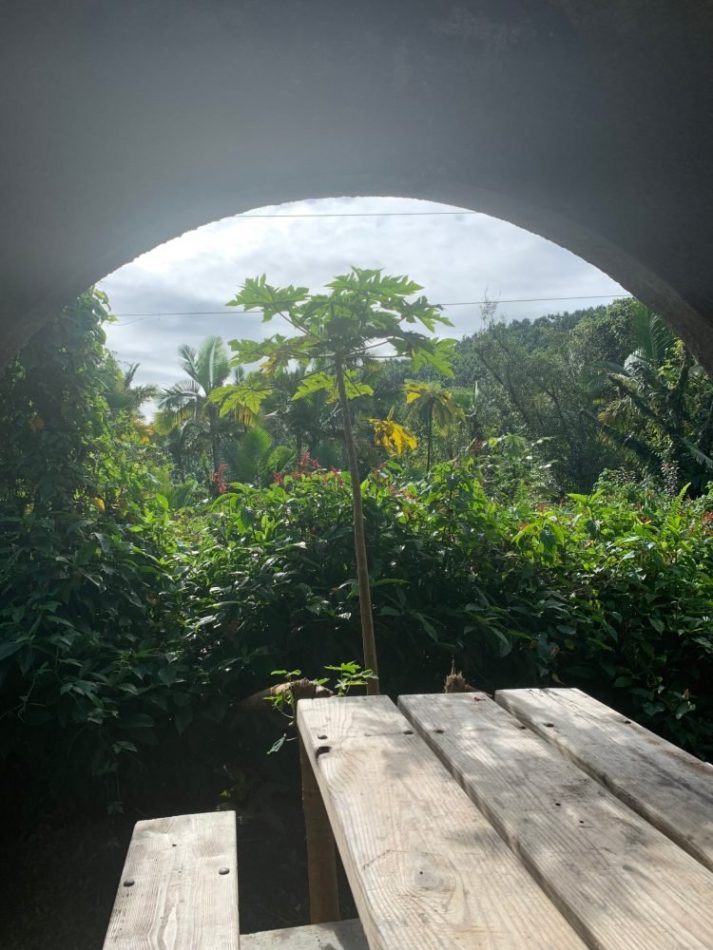 The picnic shelters were actually built by the CCC (just like Baño Grande Pool), and there are 9 different shelters in the area. They're spaced out enough that it feels like you have your own private rainforest oasis. After the showers stopped, we took a walk to explore the rest of the area and took some fun pictures on the paths. It's shocking how nice the day got immediately after the pouring rain!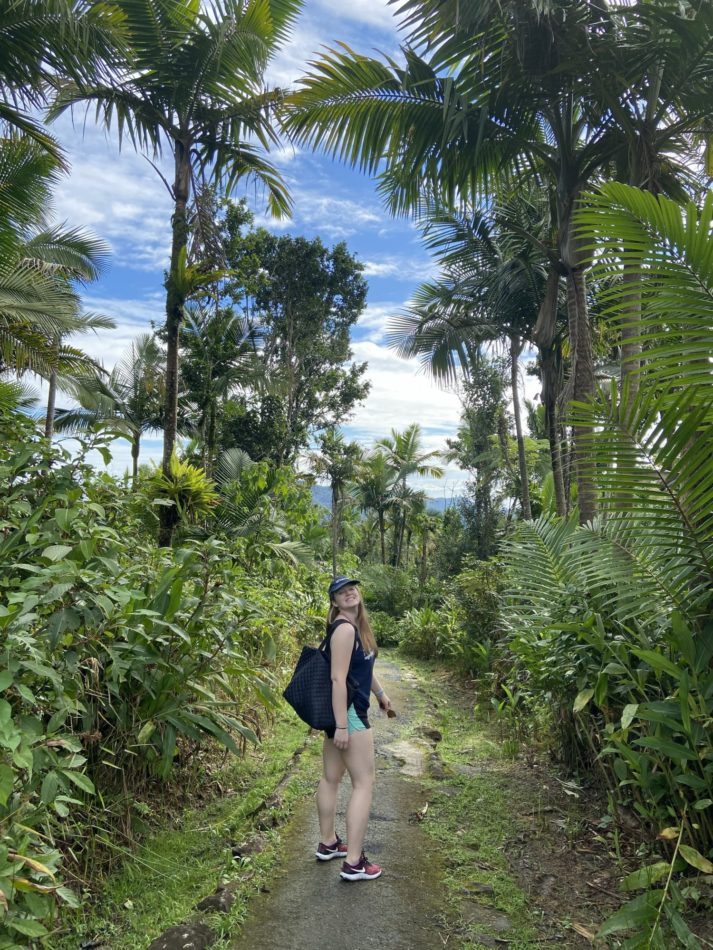 You can't visit El Yunque without seeing some waterfalls! There are three main waterfalls in El Yunque (all three have a place on Culture Trip's list of most beautiful waterfalls in Puerto Rico). Right now, La Mina Falls is closed, but you can still see Juan Diego Falls and La Coca Falls. Luckily, they're the most accessible ones too!
As you're heading back down the road from Sierra Palm, Juan Diego should be your next stop. If you're interested in swimming again, wear your bathing suit for the 5-minute walk to the falls. At the bottom of the falls, there's a small lagoon that's a popular swimming hole.
After the morning of swimming and our picnic, we weren't interested in swimming again, but we waded in and enjoyed the sun and scenery while sitting on rocks in the middle of the creek. There were a few other people there when we went, but apparently, there's another section that is more secluded if that's more your style. Jasmine Alley wrote a great guide to El Yunque where she describes the upper section of Juan Diego Falls. We didn't know about it when we were there, but if you're going, make sure to continue up the hill until you come to a second falls and pool. Don't miss it like we did!
La Coca Falls
A short way down the road, you'll find La Coca Falls. You can view the falls from the road, but to get closer, take the path right to the bottom of the falls. The entrance to the path is just to the left of the bridge. After scrambling up a few rocks, you'll be right next to this giant waterfall!
Take a moment to sit and enjoy the beauty of the falls before you move on. La Coca is the highest waterfall in El Yunque (falling 85 feet!), and while you can't swim here, you'll be so distracted by the falls that you won't mind. Once you've seen your fill of the falls, you can head back down to the road. If you want to do more hiking, La Coca trail leaves from across the street from La Coca Falls. It's a difficult trail that's almost 2 miles one way, and leads to the Mameyes River.
Since La Mina was closed when I went, I can't give you an overview of my experience, but if you're planning to visit, check out the La Mina Falls section of the Lovely Escapist's El Yunque Waterfalls guide.
La Coca is the last main attraction along the road, but make sure to stop at Las Cabezas Observation Point before heading out of the park to get one last view of the rainforest and the beaches far below on the coast.
The entrance gate to the park closes at 6 pm, giving you time to get some dinner before heading back to San Juan. I would recommend stopping in Luquillo at the kiosks. There are more than 50 different kiosks all in a row along the beach. Some are souvenir shops, but most are restaurants, open on both sides to give an outdoor feel. They're also pretty casual, so if you're feeling a little disheveled after a day in the rainforest, no need to worry! Our favorite was A Fuego for the amazing shrimp and the rooftop.