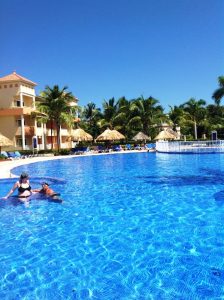 Thinking of the sun and palm trees, one snowy and stormy weekend in Toronto, I decided to take my daughter Muna, along my grandson Mazin, and his wife Margarita, as a belated honeymoon gift, to the Dominican Republic. Now as we explored the huge Bahia Principe resort complex in Punta Cana, the Republic's resort par excellence, we were living our dream.
As we walked the white sandy beach, Mazin remarked, "A great trip! I love your honeymoon gift! This is the first time that I've been to a real ocean beach!" I felt elated at his words and the seductive atmosphere as the sand and the blue waters caressed our feet. The whole aura of the beach was conducive to being on a honeymoon.
Punta Cana, a part of the eastern most province in the Dominican Republic, is best known for its beaches where the Caribbean meets the Atlantic. It has been a popular tourist destination since the 1970s.
The Punta Cana region, with a population of some 100,000, has become one of the major tourist destinations in the Dominican Republic drawing tourists from North America, western Europe, Russia and beyond. In the winter, it vibrates crowded with life of the masses from the north that pour in to enjoy the sandy beaches, the lush greenery, and the warm weather of the Caribbean.
The major part of the island of Hispaniola, the second largest island after Cuba, the Dominican Republic in the last 10 years has become the most popular vacation destination in the Caribbean. At the top of this tourist boom is Punta Cana with 40 mostly high class megaresort hotels and sandy beaches overshadowed by thousands of inviting palm trees swaying above crystal clear blue waters flowing over fine white sandy beaches surrounded by tropical gardens and coral reefs.
Standing at the top of a series of these beaches is Bavaro beach, an inviting piece of sand with high class resorts. One of these is the massive Grand Bahia Principe Bávaro complex encompassing 5 resort hotels that is home during the winter months to a near 7,000 vacationers served by 3,000 staff. The resort, claimed to be the largest in the world, is just like an independent city, catering to every need the visitor may have. A little overwhelmed at first, the visitor gets the feel of the resort after a few days. It is an ideal getaway for families, couples, singles and above all honeymooners seeking a place of comfort in the sun. This is why I chose this destination.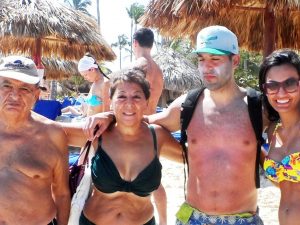 I wanted our honeymooners to relax and enjoy their belated honeymoon and I did not want to interrupt their plans. But as it turned out, it became a honeymoon where the grandson entertained his grandfather and aunt. Not exactly what I meant to happen but in all honesty, I am glad that it happened.
My grandson at times confused me. "Jiddy (Grandfather)! I love it here and I can't see me and Margarita leaving this tropical paradise!" Then, a second later, in another breath, he would complain that "I need to get back home to keep up with my emails!" Margarita, the voice of calm, shrugged all this off by constantly telling me that she was loving every second of this holiday. Oh! How gentle are the women!
Our days on the sandy beaches and soothing pools ended up with fine dining in both the buffet or the a la carte restaurants. Not being a buffet person, I suggested that we try the restaurants for a real 'taste' of good holiday. Mazin agreed especially since all he could talk about on the plane ride was real Dominican foods such as mangos and fresh seafood. In our first night dining, I asked him, "How did you like the seafood tonight? He responded, "It was only frozen seafood probably imported from the U.S.! And did you notice that they didn't even have mangos on the menu in any form?" In the ensuing days, this scenario was repeated many times. Apparently, nationalism did not seem to run rampant in the Dominican Republic. They did not appear to be pushing their own products.
As for the resort's activities, even though they were not experienced seaside travellers our newlyweds seemed to adapt well to a seaside vacation. They came to know that a resort is just what it advertises itself to be: a place where the cares of the world are swept away by ocean breezes and waters, no stress other than trying to decide on whether to spend the day at the beach or at the pools, and not worrying about what to wear other than comfort attire. But to be able to indulge in such carefreeness, one must be an experienced resort-bum.
Mazin and Margarita were novices at this. Their suitcases were the proof. However, after only 3 days of resort-living, Mazin and Margarita became the proverbial resort travellers – comfort became the name of the game and the majority of their wardrobe remained hidden away in their suitcases, untouched. Margarita summed it all up beautifully, "It's the best holiday I have ever had. I enjoyed everything except the frozen fish."
If You Go
Tips Relating to the Punta Cana:
1. For further information about Gran Bahia Principe Bavaro: see website: www.bahia-principe.com/en/hotels/punta-cana/resort-punta-cana/discover
2. The Punta Cana International Airport is one of the busiest airports in the Caribbean through which pass near 4 million annual visitors.
3. For those interested in golfing, the Punta Cana area has 12 professional golf courses – a number of these the best in the world.
4. The conversion rate of the Dominican Republic's currency fluctuates at around 40 pesos to a U.S. dollar – change money in banks – some have branches in the major hotels. However US and even Canadian dollars are readily accepted almost everywhere.
5. Drink bottled water only – never from the tap.
6. Except in tourist oriented shops where goods are excessively priced, always bargain when shopping. In some instances, prices are inflated up to 8 times their true value. Best buys are the semi-precious stones amber and larimar.
7. All hotels and resorts in Punta Cana have evening international entertainment with live music – merengue, bachata, salsa and others – which are included in the all-inclusive deals. However if visitors are searching for more night life there are bars, discos, nightclubs and other entertainment establishments that cater to every night prowler needs.
8. Three popular excursions to take when staying at the Gran Bahia Principe Bavaro are: Caribbean Festival: snorkel with sharks-$104 U.S.; Saona Golden: a catamaran cruise-$99 U.S.; and Mega Trucks Dominican Discovery: a full day adventure- $99 U.S. per person.
9. Remember always keep $20.for departure tax.
For Further Information, Contact:
In Canada -Dominican Republic Tourism Office in Toronto, 201 – 26 Wellington St. East Toronto, Ontario M5E 1S2 Toll Free 1-888-494-5050 or Tel: (416) 361-2126. Fax (416) 361-2130. Email toronto@sectur.gov.do or Dominican Republic Tourist Office, 2080 Rue Crescent Montreal QC H3G 2B8. Tel: 1-800-563-1611 toll free in Canada. Tele: +1 (514) 499-1918. Fax: +1 (514) 499-1393. Email: montreal@sectur.gov.do ;
or Dominican Republic Tourist Office in New York, 136 East 57th Street, Suite 803, New York, N.Y.240 10022. Tel: 1-888-DR-INFO-1 (1-888-374-6361) toll-free in USA, Tel: +1 (212) 588-1012. Fax: +1 (212) 588-1015. Email: newyork@sectur.gov.do