The Grenadines are a chain of Caribbean islands that have been only lightly touched by mass tourism. For water enthusiasts, it's a treasure chest of crystalline seas, undisturbed coral reefs and top-notch diving. I've visited a number of Instagram-worthy Caribbean Islands but the Grenadines are my numero uno. Time spent in this part of the world is an instant elixir to my stress-filled urban existence.
As a foodie, no vacation is complete if the culinary component is lacking. I've been to some lovely Caribbean hotels and resorts, but the bland buffets that lack regional authenticity have often left me cold (and hungry).
I hit the epicurean jackpot during my recent trip to the ultra-exclusive Grenadine island of Petit St. Vincent. The food and wine rivaled anything I have eaten at the finest restaurants. The entire experience was a win-win: my soul was revitalized by nature's beauty while my appetite was satiated with cuisine fit for Mother Nature.
The Island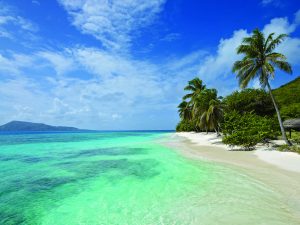 Everyone refers to this serene island as PSV. Movers and shakers flock here when they want to unplug and recalibrate in a gorgeous natural setting. You won't find telephones, Internet access or television on PSV. The low-tech philosophy is one of its hallmarks, so leave your laptop at home. PSV is all about unwinding but there are plenty of activities. Tennis, yoga, hiking, sailing, kayaking and a Balinese-inspired spa are a few of the options. The pristine coral reef is just a few feet offshore, so it's not surprising Jean-Michel Cousteau chose PSV for his Caribbean dive outpost. For an out-of-this-world day of snorkeling, hitch a ride on Beauty, a salty sailboat that will bring you to unspoiled Tobago Cays Marine Park, where you can mingle with a rainbow assortment of fish and swim with green sea turtles.
The Food

The culinary team strives to present creative meals with a healthy edge. Talented Executive Chef Andy hails from Java, so you will note local as well as subtle Southeast Asian influences. Fish is a highlight with a variety of just-caught species gracing the menu. In season, guests may indulge in lobster that they personally select.
With a large organic garden outside of the kitchen door, there is an unbeatable variety of tropical fruit, produce and herbs that the kitchen staff fully exploits. This locavore methodology has delicious advantages, with fresh, clean flavors dominating the menu. Hundreds of free-roaming chickens mean your morning eggs were collected from the coop just minutes ago, so don't you dare skip breakfast. Most guests have it brought to their cottage for a touch of a.m. luxury.
Diverse Dining Options

There are two restaurants on PSV. The Beach Restaurant is the more causal choice. You may dine under a grass-thatched palapa with your toes wiggling in the soft sand as the sunsets. The menu leans towards salads, fish and comfort food such as Black Angus burgers and pizza cooked to crispy perfection in the clay oven. There is a steel drum band that plays several nights per week, adding to the festive atmosphere.
The Main Pavilion is the property's fine dining experience. The setting is glorious, perched atop a hill with stunning harbor views. You will feast on a three-course menu that changes nightly, according to the fisherman's catch and farmer's bounty.
Service is refined yet friendly. Presentation of each dish is as composed as a portrait, so expect an eye-pleasing affair that is nearly as glorious as the view. Fresh ingredients is the star of each plate, so don't expect caramel-spangled drama. Because of the resort's intimate size, guest's culinary whims and dietary restrictions are completely catered to.
Don't skip afternoon tea enjoyed in the privacy of your cottage, perhaps while you're cocooned in your hammock. Fresh mint or ginger tea accompanied by house made cakes, are an afternoon delight.
The Wine and Rum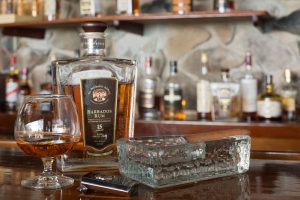 A fine meal requires a fine wine, not necessarily expensive, just something to enhance the meal. At PSV, the extensive and eclectic wine cellar offers over 4,500 bottles from both the old and new world. The sommelier has gathered a noteworthy collection of barrel-aged sipping rums from around the Caribbean so rum enthusiasts should be pleased.
As appealing as the wines and spirits selection are, what I found most interesting are the weeklong visits from boutique vintners. Each year, Rita and Silvano, the elegant owners of Tenuta Casanova in the heart of Tuscany's Chianti region, journey to PSV bringing their wines, olive oil and passion for the vine with them. Rita teaches Italian cooking classes and Silvano guides guests through a comprehensive wine tasting of his best vintages, paired with traditional menus.
Washington State's Milbrandt Vineyards owners Lisa and Butch also make an annual pilgrimage to PSV. They host a variety of educational wine experiences including dinners with top offerings expertly paired from their portfolio.
Oenophiles will want to plan their vacations to coincide with one of the visiting vintner events.
Accommodations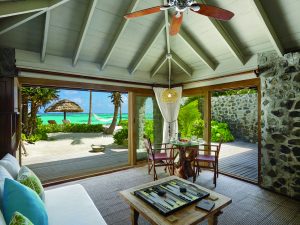 22 one-and-two bedroom freestanding cottages are discreetly dispersed for the utmost privacy. They are all either beachfront or perched atop the lush hillside with birds-eye views of the sea. The uncluttered décor is as low-key as the island itself, with natural touches of native volcanic stone and locally sourced hardwood flooring. Floor-to-ceiling glass doors and simple furnishing made of teak wood and natural fibers add serenity. The indoor-outdoor flow surrounds you with native flora and fauna.
If you've got a sweet tooth, you will be pleased that your personal cookie jar is refilled whenever you've made a dent in it. The pastry chef bakes a delectable Caribbean-inspired chocolate chip variety lightly laced with flaky coconut.
Stellar Service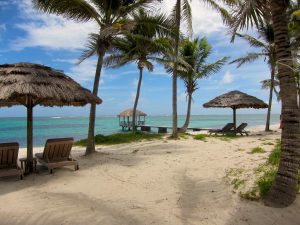 With a staff-to-guest ration of 3:1, service is impeccable. No phones mean you communicate your needs to the attentive staff via a driftwood flagpole that is strategically placed outside of your cottage. When you want privacy raise the red flag.
When you have a whim that needs attention, raise the yellow flag. You place a note describing what you desire inside a hollow tube, be it early morning coffee, afternoon tea or a cocktail, and your wish will be swiftly attended to.
Get Here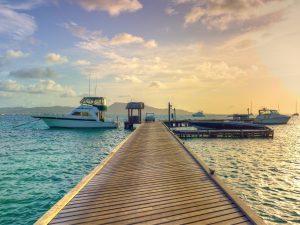 Remoteness is part of the charm and getting here can be adventurous. Most guests fly to Barbados and transfer to a Mustique Airways flight to Union. You'll fly on a tiny twin-prop plane for about an hour. You will be met in Union by a hotel representative, who will whisk you aboard the yacht where you will make your dramatic entrance to PSV, often just in time for a picture-perfect sunset.
PSV is a very exclusive all-inclusive resort and prices are as high as you might expect. Most guests appear free from financial constraints. If you're on a tighter budget, consider coming in the low season when special pricing lets you stay for seven nights but pay for five.
For additional information, visit www.petitstvincent.com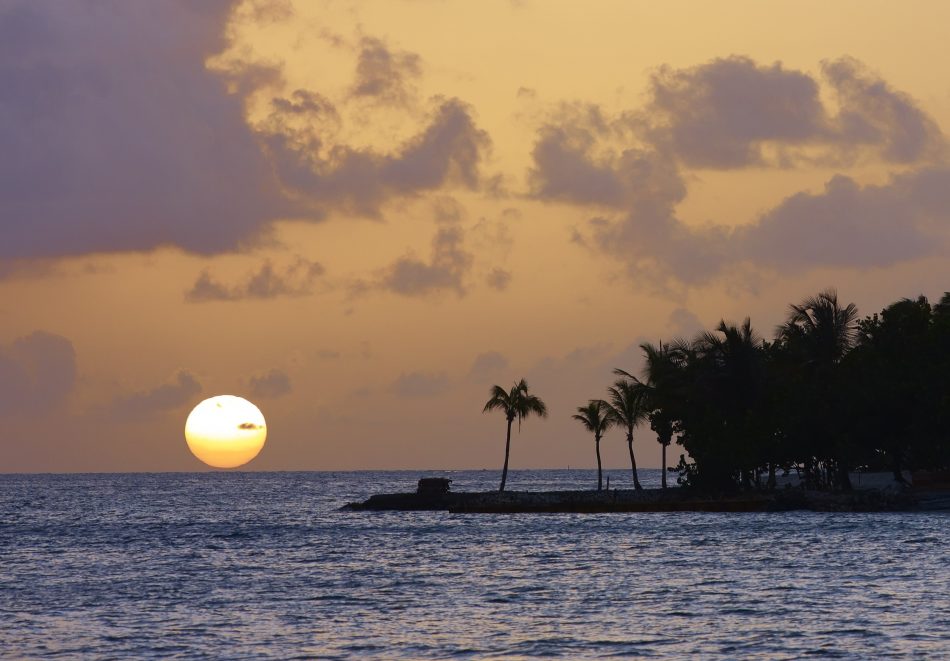 Images: Mike Toy Photography and the author